SAN FRANCISCO (KGO) -- Officials are encouraging Bay Area residents to take public transportation into San Francisco if possible to avoid traffic and detours caused by construction for Super Bowl City.
Construction along the Embarcardero is in full swing. It's going to be a challenge navigating around the city for the next three weeks. And not just for commuters, but also delivery drivers and emergency personnel. Monday morning's commute saw a massive backup on Battery Street due to closures.
RELATED: Super Bowl 50 traffic and transit resources
Drivers are being warned about the rolling detours on southbound Embarcadero, which begin at Broadway onto Battery Street, across Market Street, into the Financial District and Bay Bridge approaches. Starting Tuesday, Howard Street will be closed between Third and Fourth streets for the NFL experience at Moscone Center. Parking officers are out, trying to keep traffic moving and answering a lot of questions.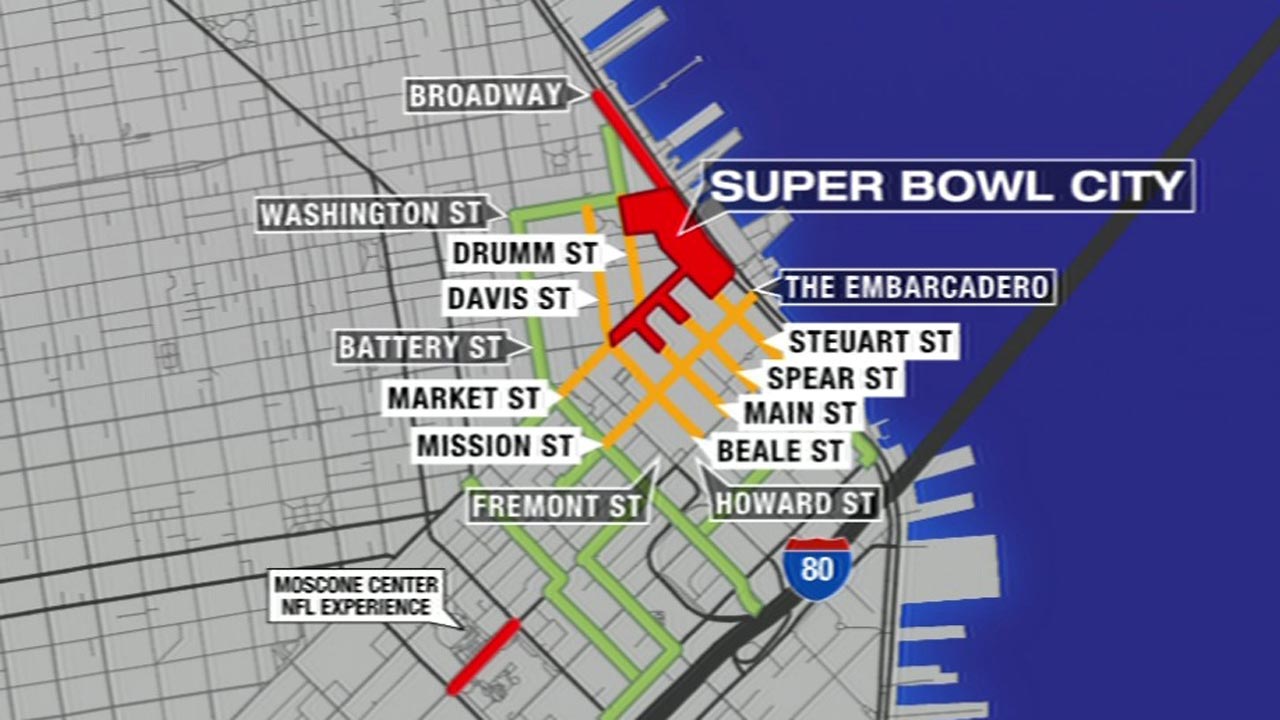 However, this morning the commute along the Embarcadero was a little smoother compared to the day before, but ferries and BART were packed and officials say it could get worse.
Battery Street was still clogged today and parking officers were out again trying to help people navigate around Super Bowl street closures, but they said it wasn't so bad. "Yesterday was really bad, so you can see today is looking like lighter traffic," parking and traffic officer Raymond Hung said.
WATCH VIDEO: Bay Lights artist gives ABC7 demonstration ahead of relighting for Super Bowl
Driving on southbound Embarcadero at 8:15 a.m. Monday took at least 15 minutes to make the detour turn onto Washington Street where officials shut down Embarcadero.
On Tuesday morning, it was clear and took a matter of seconds. It appears people did not want to make the same mistake twice. One driver ABC7 News spoke with on Washington Street said he was forced to drive by all the people taking BART. "I have been taking BART, but parking has been really bad there. I couldn't find any parking at Daly City, so I had to drive in to work today," Belmont resident Justin Chen said.
Regular BART riders agree that the ride felt different than on Monday. "Much crowded and they needed an extra train on it today. They did nine cars and they should've done 10, but it was way crowded, pushed up against the glass crowded," Berkeley resident Bridgette Copper said.
More people also took ferries into San Francisco. A spokeswoman told ABC7 News they had more sold out boats today than the day before. "Today I actually had to park in the overflow parking, which on this early of a ferry we haven't had to do in a very long time, so very crowded today," San Rafael resident Becky Pearson said.
Some may have skipped the commute altogether. "I'm going to work from home next two weeks," Pearson said.
Officials said it's expected to get worse because Super Bowl City is still under construction.
It will be open this Saturday and is expected to draw crowds of people.
Officials are offering a shuttle to help people get back to the ferry because of the parking issues.
WATCH VIDEO:
Super Bowl City businesses, parking lots gear up for big crowds
WATCH VIDEO: Super Bowl may be the best time to buy a new TVClick here for full coverage of Super Bowl 50, and click here to download the ABC7/Waze app to help navigate around the Super Bowl City construction.