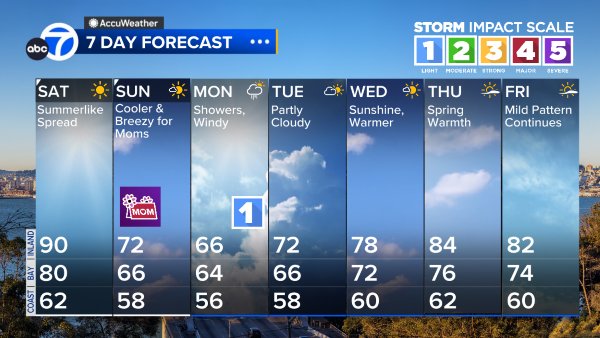 VIDEO:
Spencer Christian has your AccuWeather forecast
Tonight will be partly cloudy to mostly clear and chilly, with overnight lows ranging from upper 30s inland to mid-40s near the coast and bay. Cold, scattered showers will develop in the North Bay during the early morning hours, and spotty showers will sweep across the remainder of the Bay Area throughout the day.
RELATED: The ABC7 News Storm Impact Scale explained
Highs will range from mid 50s at the coast to near 60 inland. A wave of more widespread rain will move through the region tomorrow night, followed by scattered showers on Saturday. Showers my linger into Sunday, but a sunnier, drier, and warmer pattern will begin on Monday.
Saturday:
Scattered Showers/Chilly Highs: Low 50s Coast to Upper 50s Inland
Concord
59
Oakland
59
Redwood City
60
San Francisco
58
San Jose
61
Santa Rosa
56WATCH LIVE: Track the storm with Live Doppler 7Coast
Tonight: Partly Cloudy & Cooler
Lows: Low 40s
Tomorrow: Breezy/Spotty Light Showers
Highs: Mid 50s
East Bay
Tonight: Partly Cloudy & Cooler
Lows: Mid 40s
Tomorrow: Spotty Light Showers
Highs: Upper 50s
East Bay Valleys
Tonight: Partly Cloudy & Chilly
Lows: Upper 30s
Tomorrow: Spotty Light Showers
Highs: Upper 50s
North Bay Valleys
Tonight: Partly Cloudy & Chilly
Lows: Mid 30s
Tomorrow: Scattered Showers
Highs: Mid to Upper 50s
Peninsula
Tonight: Partly Cloudy & Cooler
Lows: Mid 40s
Tomorrow: Spotty Light Showers
Highs: Near 60
South Bay
Tonight: Partly Cloudy & Chilly
Lows: Upper 30s to Low 40s
Tomorrow: Spotty Light Showers