SAN FRANCISCO (KGO) -- A Bay Area woman was on a Southwest Airlines flight headed to the Los Angeles International Airport from Indianapolis when it was diverted to Kansas City after three passengers displayed suspicious behavior on Sunday. "It was scary not knowing all of the details or the content of anything that what was going on," she said.
The flight landed at Kansas City International Airport around 7:50 a.m. The flight crew made the decision to divert the flight when several passengers did not follow takeoff instructions and continued to display suspicious behavior during the flight.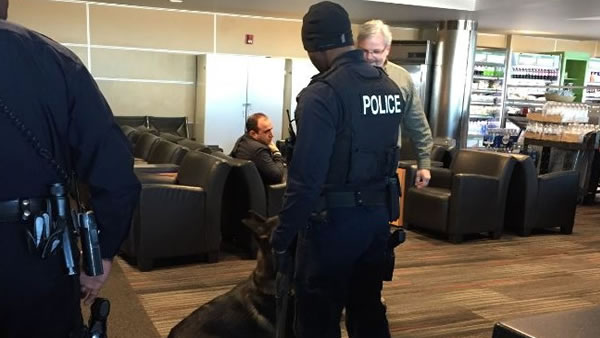 After the landing, all passengers were deplaned and three people were questioned by police. As a further safety measure, K-9 teams checked the airplane. It was re-boarded after the search and released to continue on its flight plan around 9:20 a.m.
Stacey Lee is back home in the Bay Area for Thanksgiving, but getting here was unnerving after her flight was diverted. "The moment we landed in Kansas City though we were well aware something else was occurring," she said.
A passenger shot cellphone video of one of three passengers being escorted off the Southwest plane by police and later questioned by the FBI.
K9 units were brought on board to inspect the plane.
Lee said concern began when flight attendants were making their pre-flight announcements and the three men seated in the last row acted suspiciously. "That part of the debrief at the beginning, they had gotten out of their seats and had swapped seats in the middle of that particular section and that was something that created an issue," Lee said.
"I was really scared, I didn't know what happening. It was just kind of a rough experience," passenger Nadia Banks said.
After about an hour on the ground, baggage was rescreened and passengers were allowed to re-board.
But three men were missing. "They were not in line with us to re-board," Lee said.
In a statement, Southwest said the flight crew made the decision to divert to Kansas City in response to several passengers who did not follow crew instruction upon take off and continued to exhibit suspicious behavior inflight.
After questioning, the three men were rebooked and allowed to continue on later flights.
The plane was about one hour behind its scheduled arrival at LAX.
Southwest Airlines released a statement saying: "Our crews are responsible for each customer, on every flight and continue to keep safety as their primary focus."
ABC News contributed to this report.