HUNTS POINT, Bronx -- Police say two people are in custody after human remains were found inside two plastic bags in the Bronx Tuesday night.
Thirty-one-year-old Daquan Wheeler of the Bronx is charged with murder, manslaughter, concealment of a human corpse, tampering with physical evidence and criminal possession of a weapon.
Thirty-year-old Ciara Martinez of the Bronx is charged with criminal facilitation, hindering prosecution, concealment of a human corpse, tampering with physical evidence and conspiracy.
Police walked the suspects out of the 42nd Precinct Wednesday night.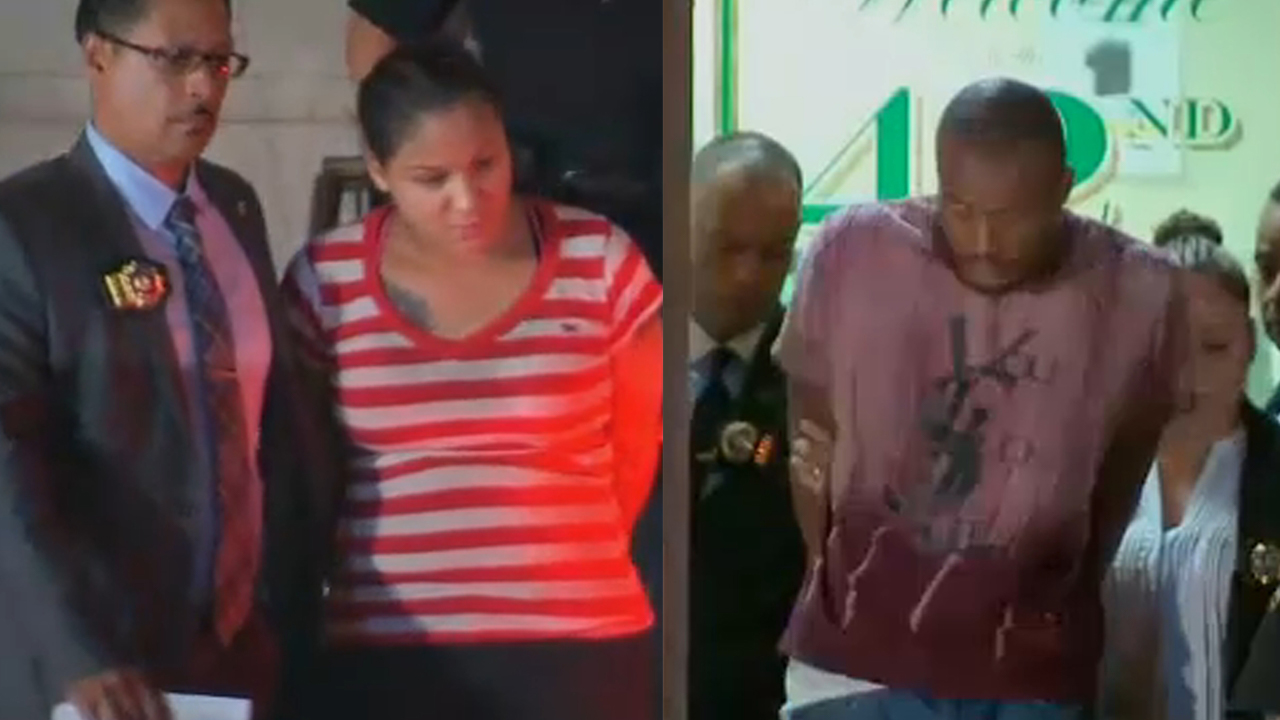 It was the second time within the past week that body parts were discovered in the borough, and authorities said both involved the remains of 25-year-old Lisa Marie Velasquez, of Melrose, the Bronx.
Officials determined that Velasquez suffered multiple blunt impact injuries of the head with skull fractures, and her death is being investigated as a homicide.
Police received a 911 call just after 7:30 p.m. after they said a child discovered a bag with a foot sticking out of it that washed ashore inside Barretto Point Park, at Barretto Street and Viele Avenue, in the Hunts Point section.
One bag had a human leg and an arm, authorities said. The left leg included the foot, which helped investigators indicating the victim was a woman. The left arm was severed at the shoulder.
TIMELINE: Body with no head, hands discovered in San Francisco
A right arm and right leg were found in a second bag, which was sealed when police arrived but later examined by the medical examiner's office. Responding officers patted down the bag at the park and had already deduced it likely contained more remains.
Velasquez's family members are desperate to understand what happened to her. "The way she was tortured! For chrissakes. She didn't deserve that," said her aunt, Jacqueline Perez.
Crime scene detectives spent hours packing up bags of evidence at a home where she was reportedly seen before her disappearance on Aug. 21, when Lisa burst into her grandmother's apartment in a panic.
"The last thing my mother remembers is her coming, grabbing her bag and being in a rush, saying that she had to go help a friend that was in danger, and she ran out of the house. That's the last thing," said Perez.
Family members posted a flyer on Facebook in an attempt to find her. Wednesday evening, police gave them the tragic news and as if it could be any more devastating, they had been through all this before.
In the spring of 2006, Lisa's mother, nine months pregnant, was stabbed and strangled in the Bronx. Now she has become the victim of an act of violence. "In this lifetime I never thought we would go through something like that again," said Perez.
Human remains were also found in two bags on a sidewalk in Crotona Park, in the Claremont section, Friday afternoon.
A head was recovered last week, leading police to release a sketch of the then-unidentified victim's likeness.