SAN FRANCISCO (KGO) -- Thousands of comedy fans descended upon San Francisco's Civic Center Plaza this past weekend for the second annual
Clusterfest
, ready to laugh.
Comedians and musicians entertained locals and tourists with wit and rhythm at the three-day Comedy Central event. Headliners included The Lonely Island, Trevor Noah, The Wu-Tang Clan, and Jon Stewart. Jokes were plentiful, however two common and related themes stood out among the audience and performers: a discussion of how and if comedy crosses the line of social acceptability and laughing resentfully at President Donald Trump.
PHOTOS: T-Pain, Lonely Island among celebs with mic-dropping sets at San Francisco's Clusterfest
One of the main features at the festival was the Daily Show's "Donald J. Trump Presidential Twitter Library," a room where attendees could experience hundreds of Trump's unconventional, and many would say inappropriate, tweets. There was even a golden toilet one could sit upon while wearing a blonde wig and bathrobe, where attendees were encourage to tweet their own inappropriate nonsense.
Many of the comedy sets included jokes and stories about Trump. Jon Stewart spent 15 minutes telling the story of a Twitter fight he said then-citizen Trump started with him in mid 2013, that resulted in Trump being the butt of a Twitterverse joke he did not comprehend.
In a Comedy Central "Fireside Chat," infamous roastmaster Jeff Ross recalled that he had to explain the concept of roasting to Trump during a commercial break at the 2005 Trump Roast. "Greg Giraldo was so funny, but Trump was trying so hard to act unamused and I said to him during a commercial break, 'You can just pretend to enjoy this and laugh, so we have something to cut to. Because right now, we're just going to cut to the audience laughing at you, and you want to be in on it.' And he goes, 'OK, got it.' And you can see him loosen up after that," he said.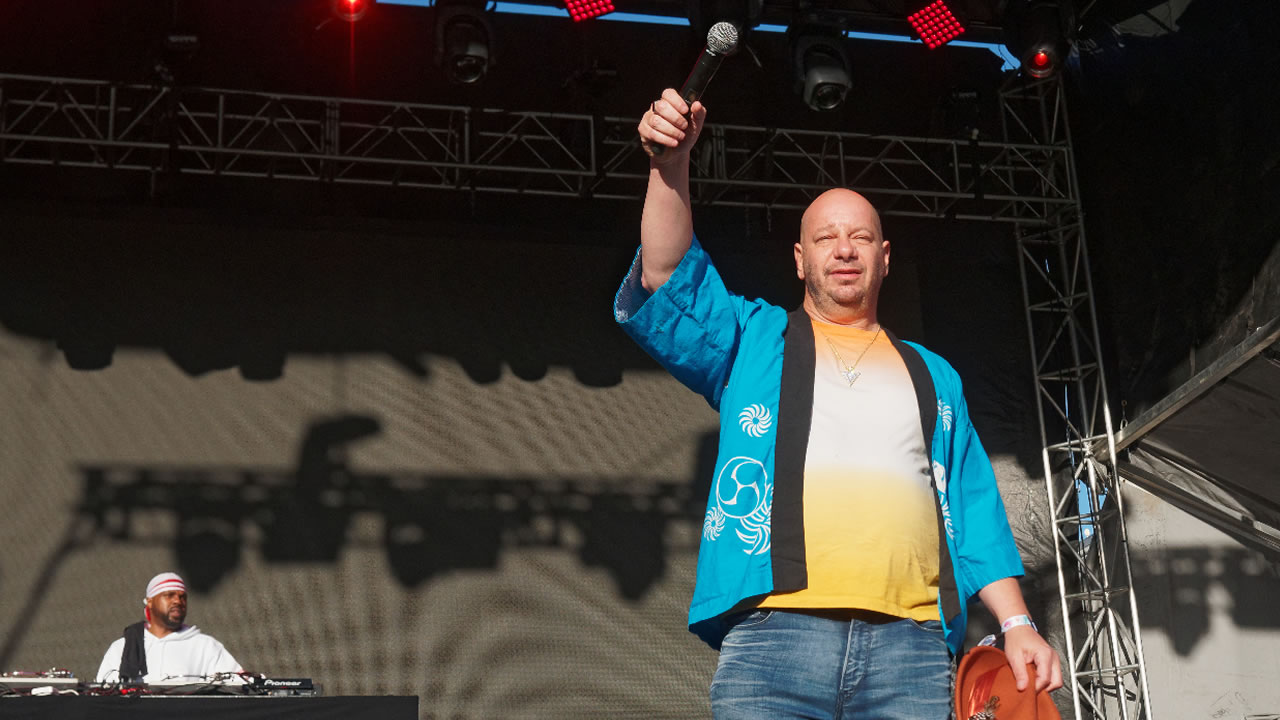 Comedian Jeff Ross is seen on stage during Clusterfest in San Francisco.
With the rocky week for comedians Roseanne Barr and Samantha Bee fresh in the air, offensive jokes were the hot topic of conversations. "I think there is consequences for inappropriate behavior, but I think that comedy has a place of its own. It has got to be the reliever of all of the stress that we have in the world today," comedy fan Cheryl Clifford said. "I think that if people need to get an example of how they should behave, they need to look at the president who is not a very good example of being respectful to women and the majority of the people that he deals with."
Opinions on the role of political correctness in comedy conflicted and varied widely. "Yeah there are words and phrases that one shouldn't say and it's possible to be funny without insulting people or hurting people," comedy fan Jackson Davis said. "She's made her life a comedian and she's a woman who can say what she wants to say and people will react how they want to," Davis said referring to Samantha Bee.
Comedians were asked for their own insight on crossing the line. "I've never apologized for a joke, but I have apologized for hurting someone's feelings, privately. But I haven't felt the need or the pressure. Like I said, the roasts are one of the safe havens for free speech," Ross said.
"I feel like Samantha Bee should not apologize to Ivanka Trump," comedian Jim Jeffries said. "You apologize if you mean it. Samantha Bee didn't mean it. TBS called her up and said 'we are getting a lot of hate'... she's not sitting at home feeling bad about calling her a feckless c---."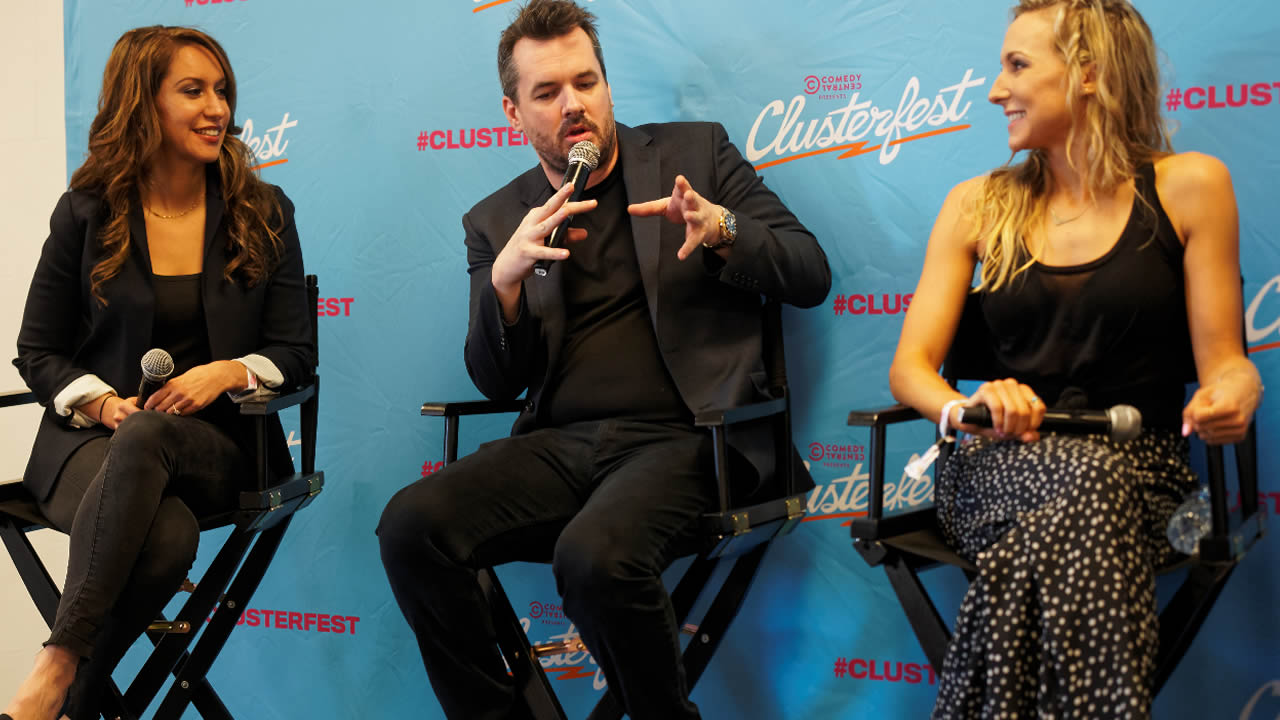 Comedian Jim Jeffries is seen during a Comedy Central "Fireside Chat" at Clusterfest in San Francisco.
Is it even possible to have decency standards for jokes, attempting to offend no one?
In his short set, Ross invited about 15 people on stage for a "speed roast." Not knowing these people personally, he didn't have much to roast other than the person's appearance, and possibly their occupation after asking them on stage. One highlight was when he told a man he looked like a pedophile and then got the guy to admit he met his girlfriend, on stage next to him, in a sleazy hotel at a dating event for cougars. It was difficult to not feel a little embarrassed for the roastees on stage, or maybe the embarrassment was for Ross, or maybe both, and maybe that's the whole point. Get a little uncomfortable, and as Ross quipped at the end of his set, "People need to learn to take a joke."
On the topic of "the line," a couple of Stewart's comments stuck out amid his warnings of the slippery slope into Trumpian autocracy he finds America sliding upon: "You will not find a kinder, smarter more lovely individual than Samantha Bee. If she calls you a name like that..." And then he shrugged knowingly. "It'd be like if you heard a story, 'And then Gandhi just punched that dude.' You'd be like, 'Well, what did the dude do?'" And, paraphrasing, he asked the audience to have patience with those less "woke," explaining that our offensive words and actions are often accidents born of ignorance. Finding ways to teach each other is far more productive than knee-jerk condemnation. He remarked that we all have good and bad moments and "we're all in this together."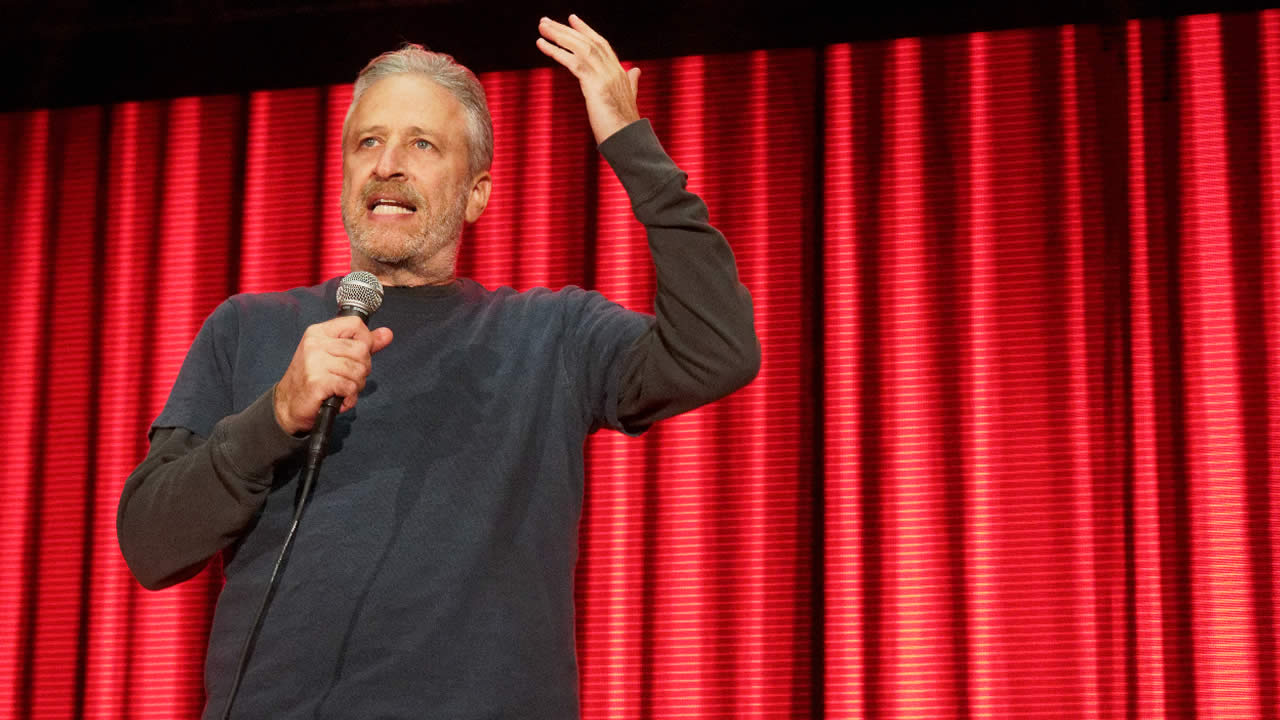 Comedian Jon Stewart is seen on stage at Clusterfest in San Francisco.