LAKE COUNTY, Calif. (KGO) --
The rain is a welcome sight in Calistoga at the Red Cross evacuee shelter. The Napa County Fairgrounds have turned into a campground where evacuees have tried their best to waterproofed their tents.
The people of Lake County are tough so a little rain won't bother them, in fact many are soaking it up. We ran into a boy who really captures the spirit of these people.
Rhett McMahon is a 7-year-old boy from Middletown who showed us around the campsite. He has become the mini-mayor of Calistoga's Red Cross shelter, where many have gotten to know him.
He admitted he loved the food donations and told us, "I really like it because you get sugar and breakfast."
"How can you not bump into this guy? He's everywhere. He's like 10-feet tall and bulletproof," volunteer Scott Stauffer said.
Rhett is fireproof and like the other 892 Valley Fire evacuees staying at the fairgrounds his story is moving.
DONATIONS: How to help victims of the Valley Fire where you live
"A little man like this, he came up to us yesterday and he actually brought a tear to me and my wife's eyes, when he told the story about his horse," Petaluma volunteer Richard Denny.
"One horse died and then two horses survived," Rhett said.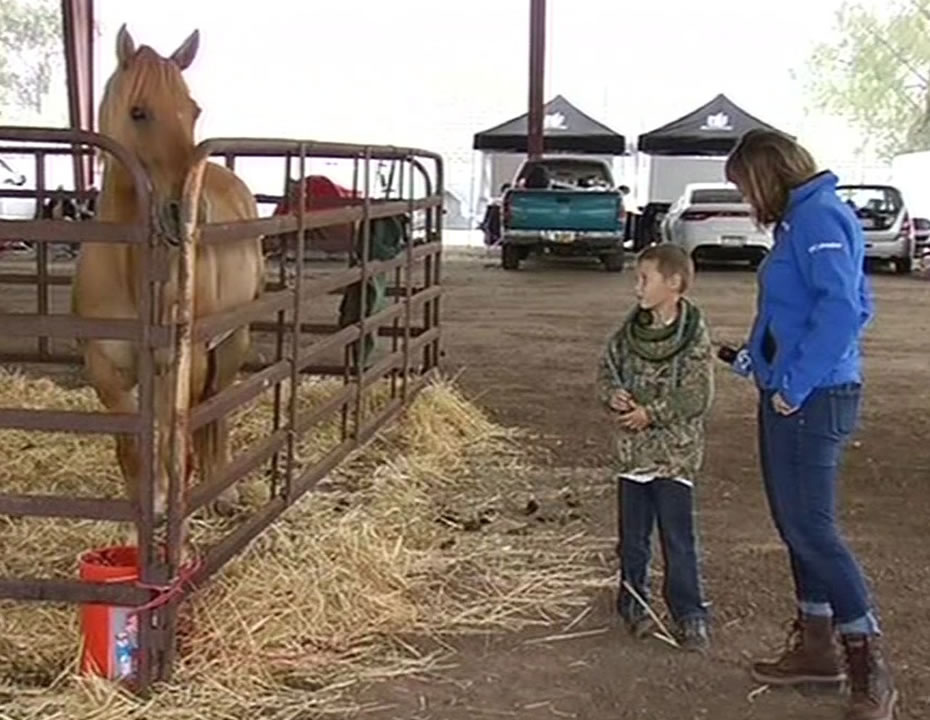 He goes to the animal lot to pass time and as he took us there and looked up at a tan horse he said, "It reminds me of my horse."
He tells people how two of his family's horses escaped the fire.
"It was a brand new gate and [Rhett] tried to open it and the horse says 'no' and just ran through it anyways. So then he's like, 'Alright, I guess we got a new area for the firefighters to get through,'" Stauffer said.
And just as a gate couldn't stop horses the rain doesn't slow Rhett, nor dampen the spirits of those learning of rain in the fire zone.
VIDEO: Volunteers strive to make Clearlake shelter feel like home
"Yes, it's raining! If we can save one more house with this rain, that's all that matters," Middletown evacuee Vicki Lewkowitz said.
Donated ponchos are keeping evacuees warm while volunteers get fulfillment in their work.
"So I've been out walking people's dogs. They can go take a shower and feel comfortable, just so they don't have to worry about their dogs as much."
RESOURCES: Valley Fire evacuation centers, school closure information
At the campground, there is a little bit of relief here and there, both practical and the comical.
Rhett, with two rubber snakes wrapped around his neck, said, "A kid over there who thought my snakes were real I pull a prank on him."
Rhett wrapped up his day by doing chores over by the horse barn. Fortunately, his home was spared.
Cal Fire says there is no estimated time for when people will be allowed to return home for good. The Red Cross says the shelter will stay open as long as needed.
Mail delivery to shelters
The Clearlake Post Office is stepping up to help residents in the fire zone get their mail. All the mail for Middletown and the Hidden Valley Lake area is now in Clearlake and can be picked up by providing your identification.
For those who can't get there, the postmaster has distributed sign-up lists at evacuation centers so the mail can be delivered to residents.
"Medications are important, and a lot of medications come through the mail, so it's important for these individuals to get what they need," Clearlake postmaster Miguel Chavez said.
That mail will be dropped off at many of the evacuation centers on Friday.
Suspected looters arrested in Valley Fire aftermath
Authorities arrested at least two suspects with burned out safes in their vehicles as they investigate reports of looting in the wake of the devastating Valley Fire.
Lake County Sheriff Brian Martin said deputies are unable to stand guard at individual homes. He characterized Middletown and Hidden Valley Lake as most vulnerable because that's where the most homes were left standing while residents remained evacuated.
Police are being diligent about trying to protect homes.
Dozens of California Highway Patrol officers and law enforcement officers from outside agencies patrolled in Hidden Valley Lake, where an estimated 100 homes were lost and residents remained evacuated.
Sheriff Deputies arrested a man with a backpack full of burglary tools in Kelseyville. They say 26-year-old Royce Moore of Lakeport was prepared to burglarize the abandoned homes of fire evacuees.
Click here for full coverage on the Valley Fire.If you see news where you live, tag your photos and videos on Twitter, Instagram, or Facebook with #abc7now.
PHOTOS: ABC7 News at the Valley Fire
VIDEO: Investigators believe they found start of Valley Fire