SAN JOSE, Calif. (KGO) --
The statewide manhunt for two fugitives who escaped from a Southern California jail leads to a South Bay hotel. Authorities announced they are offering a $200,000 reward for information leading to their arrest.
Federal authorities are searching for 20-year-old Jonathan Tieu and 37-year-old Hossein Nayeri. The two fugitives escaped from the Orange County Jail last week with 43-year-old Bac Duong.
Orange County Sheriff Sandra Hutchens said Duong flagged down a civilian on the streets of Santa Ana around 11:40 a.m. Friday and stated that he wanted to turn himself in.
The trio broke out of the Orange County Central Men's Jail in Santa Ana and it was confirmed the fugitive inmates were spotted in San Jose and may be on their way to Fresno.
At The Alameda Motel in San Jose, the manager told ABC7 News the escapees did in fact stay there in Room 14 Tuesday and Wednesday night and checked out Thursday morning.
The Alameda manager didn't want to speak on camera, but said he recognized Tieu, the youngest of the fugitives accused of murder and attempted murder. All three are described as extremely dangerous; authorities have even compared Nayeri to Hannibal Lecter.
Duong, Tieu and Nayeri
broke out of the Santa Ana jail last Friday
using an elaborate plan that involved cutting through steel bars and plumbing tunnels and rappelling down the jail's roof using folded up bed sheets.
MORE: KABC gets exclusive look at inmates' elaborate escape route
California corrections agents and U.S. Marshals are still actively canvassing the busy San Jose boulevard.
The Sterling Motel manager Ed Quito said, "There is a Marshal who came here asking for those people that escaped jail in Southern California."
Quito says agents were in his office minutes before we got there. He recognized the fugitives from seeing their photos on TV and in the newspaper every day. We asked if they stayed at his hotel and he said no.
Investigators say Nayeri, who faces torture and kidnapping charges, may have connections to the Fresno area so authorities there have been alerted.
"We think there's a possibility that they may be destined there for that area, but again, nothing specific. But we are really concerned about the San Jose area at this point," Orange County Sheriff's Capt. Jeff Hallock said.
Authorities said before Friday, Duong was last spotted on Saturday in the south end of Los Angeles and stole a 2008 white GMC Savana utility van that was for sale. A private owner advertised the vehicle and Duong responded to it, authorities said. He test drove the van, came back and at some point took off with it, said Hallock.
The license plate on the van is 8U66466, but Hallock said the plates may have been removed and replaced with yellow or green Felix Chevrolet paper plates. The two fugitives are believed to still be driving that white van.
Two searches were conducted Thursday night in Westminster in connection to the manhunt - one was at a residence and the other was at a warehouse. Multiple people were detained and released, but no arrests were made.
Also Thursday,
authorities arrested 44-year-old Nooshafarin Ravaghi
of Lake Forest who taught English at the jail. Ravaghi was booked at the sheriff's department on suspicion of being an accessory to a felony. Her arraignment was scheduled for Monday.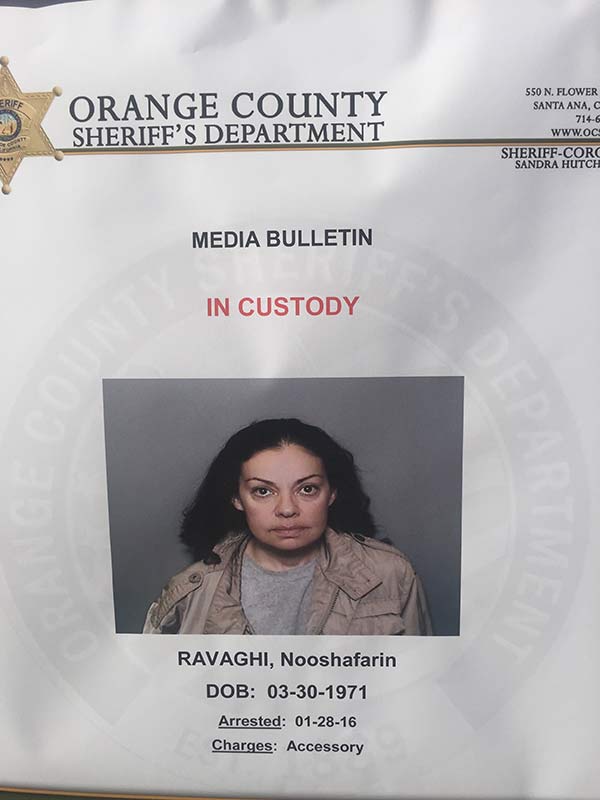 Duong had been in custody without bail since December 2015. He faces charges for attempted murder, an ex-felon in possession of a firearm, possession of a firearm, possession of stolen property, car theft, assault with a deadly weapon and shooting into an inhabited home.
Anyone with information on the other inmates' whereabouts is urged to call the Orange County Sheriff's Department hotline at (714) 628-7085. Those wishing to remain anonymous may call Orange County Crime Stoppers at (855) 847-6227.
PHOTOS: Evidence connected to inmates' escape from Orange County Jail
Our sister station in Los Angeles, KABC, contributed to this report.