MONTEREY COUNTY, Calif. (KGO) --
We didn't know Larry the Cable Guy plays golf until now. Actually, what he does is a sport that slightly resembles golf. He's one of the celebrities getting ready for the Pebble Beach National Pro Am. Round one is Thursday.
At Wednesday's 3M Celebrity Shootout most of the celebrities had a great time playing, but aren't quite up to par. Still, the event has massive appeal among the fans.
Comedians, actors, musicians all took part with high-level golf an option. Actor Bill Murray, a fan favorite, graced the golf course again and musician Huey Lewis joked he was invited back because he's "such a cool guy."
PHOTOS: AT&T Pebble Beach Pro-Am 2016
Murray never gets tired of this event and admitted, "There's going to be some bad golf here. You just don't know when it's going to arrive so you've got to be alert. There could be a piano coming out of an upper story window any second, we've got to keep our eyes open."
Larry the Cable Guy said wearing camouflage pays off on the golf course. He explained, "The cool thing about full camo is when I shank one and nobody's looking, I sneak in the woods, I kick it out. Nobody even knows what's going on."
Larry also admitted he has issues playing in front of all the cameras. He said, "The camera puts 10 strokes on ya... and this is a five-camera shoot."
WATCH VIDEO: SF Giants beat 49ers in Pebble Beach Chevron shootout
There were no winners on all five holes so it came down to an $100,000 chip-off on 18 and musician Kenny G won it all.
Players, fans and charity all enjoyed this event.
Wait, what? There's a bobblehead in golf?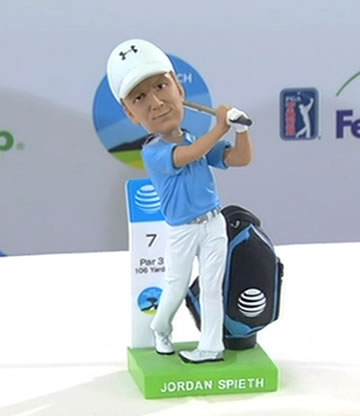 The big story for this tournament is the newly-created
Jordan Spieth
bobblehead, fashioned after the 22-year-old winning professional golfer from Dallas, Texas. We're used to seeing bobbleheads in other sports such as baseball or basketball, but not in golf... until now.
This weekend 8,000 Spieth bobbleheads will be given away on Saturday at Pebble Beach. Some people think, if you look closely, the bobblehead looks more like Denver Broncos quarterback Peyton Manning. We're in new territory here.
After seeing it, Spieth himself said, "I don't know how, but somehow I think it's even better looking than me. Yeah, it's a pretty good presentation, I think."
Former San Francisco Steve Young heard about the bobblehead and said, "Where are we headed? He doesn't understand... I guess he's been practicing signing golf balls because there's nothing harder than signing a golf ball. So signing the bobblehead is probably more challenging than a golf ball."
Of course, we've heard what a troublemaker that Spieth bobblehead can be.
YouTube Video: Jordan@Work | Coffee Hazard
Click here to follow Shu on Twitter and click here to follow him on Facebook.