FRESNO COUNTY, Calif. --
Firefighters continue to hold lines and protect property near the Rough Fire, which has now charred over 138,000 acres. So far, the fire is 40 percent containment.
Evacuation orders are still in effect for some parts of foothill communities like Dunlap, Miramonte and Pinehurst.
Photos from Neptune Aviation Services show striking images of the Rough Fire from the air taken on Friday evening.
On Monday, crews battling the blaze had some help in the form of rain. Fire officials say it further slowed the advance of an already creeping fire. But they say it also interfered with plans for important firing operations in some areas.
"But now you can't do that because right now these lighter fuels are just soaking up the moisture up like crazy, so you have to wait until those dry out," said Rough Fire Information Officer John Nichols.
Road closures from last week were still in place, blocking access to Kings Canyon National Park, which is still under a mandatory evacuation order.
Down the hill in Sanger, Kathy Pettit volunteered to house 32 horses from areas under evacuation orders from the Rough Fire late last week. Her stalls at Verde View Farm have never been so full. But it wasn't exactly easy. Only a few horses cooperated with the move into trailers and stalls.
"They are incredibly fragile animals, and when you're moving them like this in stress, they pick up on everybody's stress, and so the key was to get them someplace safe and then let them calm down so they could get back to normal," said Pettit.
She says she has room for 20 more, and is even willing to take in horses displaced by the Valley Fire after these horses are returned to their owners. But evacuation orders are still in place, so the horses stay here for now.
"So the message to the folks that have been evacuated, we appreciate your patience, we know what you're going through, we're going to try to get you back in there as soon as we can," said Nichols.
The Central California Animal Disaster Team is also assisting with the Rough Fire. They had a shelter set up in Sanger, but some of those animals were picked up by owners on Monday, and others were moved to different locations in Fresno.
Rough Fire Information
Size
: 138,053 Acres
Containment
: 40 percent
Total Personnel
: 3,229
Total acreage increased to 138,053 acres and is currently the largest active fire in California. There are 3,229 personnel currently assigned to the Rough Fire. Containment remains at 40 percent. Rough Fire Information: West Zone (925) 519-6303; South Zone (559) 332-2028 and (559) 549-4837; and North Zone (559) 842-6248.
Air Quality Today:
The smoke that has been impacting the foothill communities west of the fire should see clearing skies as the winds move up from the southwest and west today. This will shift the impacts to those areas immediately adjacent to the wildfire, and to the Owens Valley to the east and northeast of the incident. Mostly moderate impacts are anticipated due to the reduction in active burn areas, with a few areas of higher readings in close proximity. Overall, much improved conditions throughout the impact area.
Sequoia National Park remains open and visitors can still use the Ash Mountain Entrance Station. Vehicles longer than 22 feet (including trailers) are not advised between Potwisha and Giant Forest Museum.
Forest officials have been forced to close the Hume Lake Ranger District. This includes Forest Service managed land from the southeast side of Pine Flat Reservoir to the boundaries of Kings Canyon National Park, and the Eshom area north of Badger. A closure map can be found on the Sequoia National Forest website
www.fs.usda.gov/sequoia/
This closure is expected to continue until the Rough Fire has been brought under control.
Air Quality on Tuesday:
Similar smoke conditions are forecast for the modeled area, with continued impacts to the Owens Valley.
Weather Concerns:
A weak disturbance off the coast will bring slightly increased cloud cover to the area. A gradual cooling trend will continue through Wednesday, with slowly rising relative humidity values. Fair relative humidity recovery tonight. Winds will remain terrain and diurnally driven. Inversion and thermal belt will form overnight, but not as strong as recent nights, trapping smoke. Highs in the upper 70s to near 90. Relative humidity values in the upper teens to lower 30s.
Click here to view Daily Air Quality Forecast
MANDATORY EVACUATION ORDERS
The Fresno County Sheriff's Office and fire officials would like to clarify the guidelines of the current evacuation situation.
Residents who have a Dunlap, Miramonte, or Pinehurst zip code must understand they are considered to be in either a mandatory evacuation area or an evacuation warning area.
Mandatory Evacuation Areas
- All properties on the north and south sides of Highway 180 east of the Highway 180/Dunlap Road junction.
- All properties adjacent to the north side of Dunlap Road from the Highway 180/Dunlap Road junction to the Dunlap Road/Millwood Road Junction.
- All properties on both sides of Millwood Road.
- All properties on both sides of Todd Eymann Road from Millwood Road to Highway 245.
- All properties on both sides of Highway 245 from Todd Eymann Road to Highway 180.
Evacuation Warning Areas
- All properties on the south side of Dunlap Road from the Highway 180/Dunlap Road junction east to the Dunlap Road/Millwood Road junction
- All properties on both sides of Dunlap Road from the Dunlap Road/Millwood Road junction east to the Dunlap Road/Highway 245 junction.
- All properties on both sides of Brookside Road. Evacuation Areas Impacted by Rough Fire
Definitions of Fire Terms
An evacuation warning is defined as an alert to community members in an area of a potential threat to life and property from an emergency incident. An evacuation warning may be issued when the potential or actual threat to civilian life is more than 2 hours away. When a warning is issued, residents are being warned to prepare to leave their home. The Sheriff's Office tries to issue the advisory as early as possible based upon the fire's activity so residents will have time to remove their pets, livestock, large boats, RV's and any other personal effects in an orderly, unrushed manner. However, because a wildfire can be unpredictable, the time frame between an advisory and a mandatory evacuation can change quickly. You must be prepared to go at any time.
A mandatory evacuation is declared when a wildfire directly threatens a community and residents are placed in danger. You must leave the area for you and your family's safety. Once you leave, you will not be allowed to return to your property until the mandatory evacuation is lifted.
EVACUATION CENTER
The Red Cross closed its evacuation shelter at the Sanger Community Center at 5 p.m. Sunday. Any evacuees needing disaster relief services can call the local Red Cross office at (559)455-1000 for assistance.
Evacuation Map
-
Evacuations are along the blue line. Authorities are starting at Millwood Road and moving east.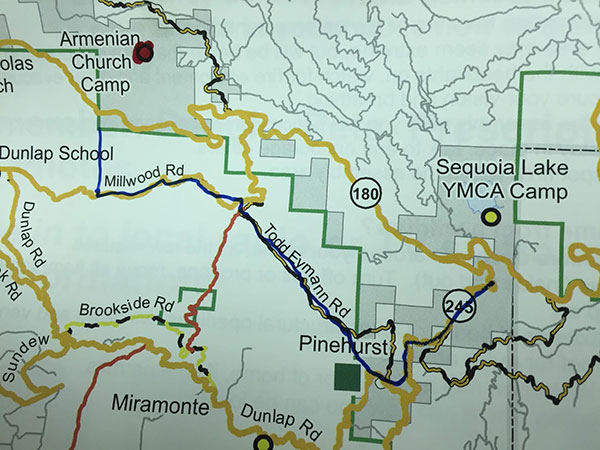 Rough Fire Progression Map