Palo Alto police need help catching a man accused of aggressively groping a woman in a popular park near Stanford.
The woman said she was attacked last Friday morning by a man. This happened at Werry Park in the College Terrace neighborhood, right off the southern edge of Stanford's campus.
Michelle Bailey and her 6-year-old son Jackson have lived in their home that borders Werry Park for more than four years. She was shocked to learn a woman had been attacked here.
Bailey said crime was "never a problem with this park, but never any cops in this neighborhood either because there has never been a need."
But there is now. The quiet space that sits at the end of the tree-lined cul-de-sac, tucked away from foot traffic and strangers, is now part of a police investigation.
Palo Alto Police Lt. Zach Perron said, "This is a very unusual occurrence,"
It is unusual and serious enough for Palo Alto police to release a sketch. They say their suspect groped and tried to force himself on a woman after she tried to get up and move away from a bench the two had been sharing. Police tell ABC7 News, the victim did not know her attacker.
Perron said, "She was grabbed by him, almost like a hug and he started kissing her neck. She was resisting and trying to get away."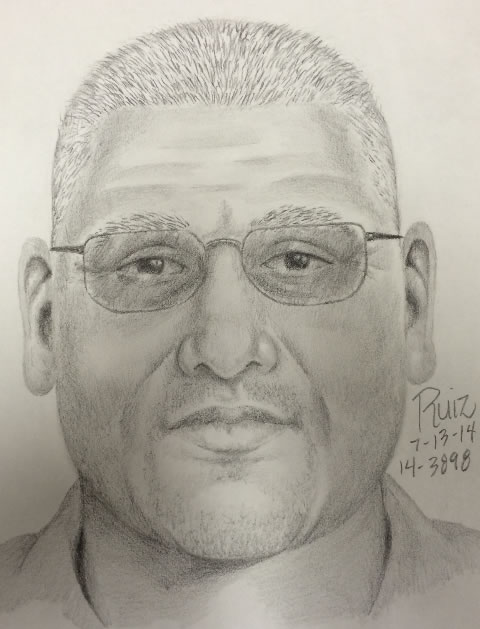 And police say the attack didn't stop there; the stranger's actions became more aggressive.
"He grabbed her chin and actually pulled her chin closer to him as if he were going to try and kiss her mouth..." Perron said.
Police say she was able to shove him off before eventually running away and contacting police.
"The community here is very responsive and if they recognize this guy in the sketch, they're going to give a call," Perron said.
Police describe the man as a Middle Eastern man, between 45 and 55 years old, standing about 5' 3" tall, and weighing about 170 to 180 pounds. The man was also described as having a pot belly, slightly unshaven with short salt and pepper hair.
Police aren't the only one's keeping an eye out for anyone fitting the suspect description. Barron and Solon Finkelstein are looking for anything and anyone out of place.
"None of us knew who that was, but it's the sort of thing we'll keep an eye out for," Finkelstein said.
Anyone with information about this incident or anyone who recognizes the suspect in the sketch is asked to call the Palo Alto police 24-hour dispatch center at (650) 329-2413.
Anonymous tips can be sent via text message or voicemail to (650) 383-8984, or emailed to
paloaltotipnow.org
.