STOCKTON, Calif. (KGO) --
Stockton police have released new information about the bank robbery suspects who set in motion a
tragedy
that left three people dead, including a hostage.
Stockton police spokesman Joe Silva identified the third and surviving suspect as 19-year-old Jaime Ramos and said Ramos was booked into San Joaquin County Jail on suspicion of homicide, kidnapping, robbery and attempted murder. Two suspects were also killed and police say both men, ages 30 and 27, are known gang members.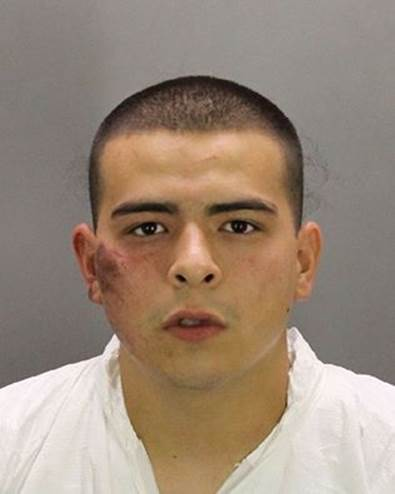 Police say at 2:30 p.m. on Wednesday, the three were heavily armed when they robbed a Bank of the West branch at Thornton Road and Hammer Lane. They took off with three hostages -- bank customer Misty Holt-Singh and two female employees. In the meantime, Holt-Singh's 12-year-old daughter was waiting in their car in the bank parking lot.
"She goes inside, it happened, her daughter has to text her husband and say, 'Hey, they took Mom,'" said the victim's cousin, Devin J.
For 45 minutes, police chased the bank robbery suspects through Stockton. Officials say the suspects shot at officers with an assault rifle almost continuously. The two bank employees were pushed from the SUV at 50 miles per hour during the chase. Both were shot but are expected to survive.
When the chase ended, there was a big shootout between the suspects and police. Fourteen cop cars were hit by gunfire, but no officers were hurt in the shooting. Holt-Singh was found dead in the SUV after the shootout.
Investigators believe the only reason the remaining suspect was unharmed is because he used Holt-Singh as a human shield.
Stockton Police Chief Eric Jones defended his decision to fire at the suspects, even with their hostages. He said, "These suspects at some point had to be stopped because of the fear of the continued killing or attempted killing of police officers and others where they were driving."
Neighbors can't believe what happened on their quiet, tree-lined streets.
Resident Darcy Altheide said, "All the sudden we heard gunshots and I mean there were hundreds of gunshots. I've never heard anything crazy like that." She says that at the time, her children were outside at the ice cream truck. She knows the Singh family; their daughters play softball together. Altheide said she is praying for the family. "I feel really bad for Paul and his kids."
Altheide was visibly shaken by the dramatic and deadly events and scared for her children. She said, "They wonder why they can't walk to school and back by themselves, this is why."
There is a growing memorial at the Bank of the West where it all started. There is a sign that reads, "A lot of beautiful lives were destroyed yesterday." The man who made the sign spoke to ABC7 News and said he is angry about what happened. Others are heartbroken by the violence that erupted in their city.
People silently placed flowers, notes, and candles outside of the bank. It's a place where more than just money was exchanged, tellers remembered customers there. It's also where Stockton permanently changed.
"I'm sorry this happened to us. I'm sorry it happened to the family, to our community period. It should never have happened," Stockton resident Cheryl said.
Stockton resident Jason Sigman said, "It definitely makes me angry. That could have been my wife, could have been anybody's wife, anybody's mother. Like I was telling you, it hit close to home."
Holt-Singh's family was understandably too upset to talk on Thursday.
Friends, family, and even total strangers are offering condolences on Misty Holt-Singh's
Facebook page
. Many are saddened by this tragedy. Others are writing "Rest in Peace Misty," and offering prayers to her family.
If you'd like to post a message, you can do so on our Facebook page
here
.