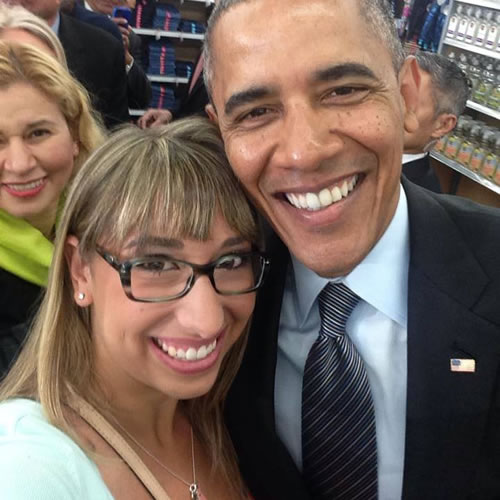 SAN MATEO, Calif. (KGO) -- Not just anyone gets in to see a president speak. Those in the first few rows at presidential events are usually selected. The president's staff doesn't like surprises, but President Barack Obama got a surprise today.
This preoccupation with selfies has become an epidemic. Soon-to-be college grad Krystina Bertoldi, a product of her generation in that regard, took an invitation to see Obama speak as an opportunity to get a once in a lifetime selfie with the president.
When the president spoke in Mountain View Friday, Kristina and her parents were on the list.
Krystina became an inadvertent poster child for presidential policy when at 18, she was deemed uninsurable after doctors found a brain tumor.
But that lifetime insurance cap that disappeared with the Affordable Care Act.
Krystina's mom Pam Bertoldi had written a thank-you note to the president. It touched him enough that he wanted to meet them.
Then, after the speech, Krystina waited patiently, got the president's attention, and took the picture now spreading around the word.
You know how we used to get fifteen minutes of fame? Now, it's clicks. And a lifetime memory for a girl who is about to graduate from college, with no worries.