ORMOND BEACH, FL --
A young man's act of kindness toward a senior citizen at a Florida grocery store has gone viral.
Publix employee Gage Boucher noticed an elderly man struggling after his shoe become untied. Boucher quickly jumped into action to help the man lace back up.
"I just seen he was struggling," Boucher told a
TV station
. "I looked over and he was going to do it and I just asked him to do it. I did his one shoe and I did the other. He was trying to give me money... and I said 'don't worry about it. I'll just do it.'"
Another shopper saw the random act of kindness and quickly snapped a picture on his iPhone.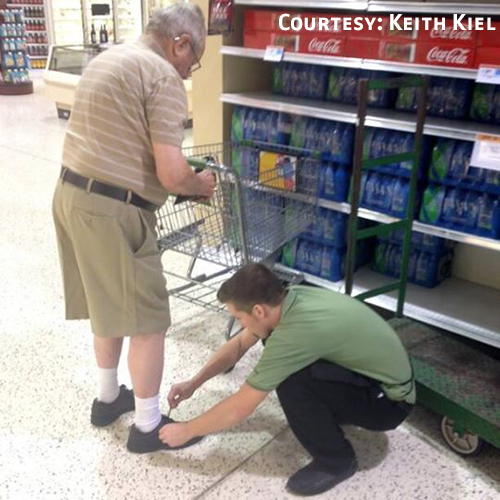 "I've never seen that in a long long time, other than opening a door for someone and I was touched," said
Keith Kiel
. "I actually physically got a little emotional and I fumbled for my camera and I was going 'please let me get this shot.'"
Boucher says he didn't think it was a big deal to help someone else out, and hopes his good deed will be an inspiration to others.
"Just do it. Start being kind and if you see somebody needs help, just help them out," Boucher said.