ORINDA, Calif. (KGO) --
Steph and Ayesha Curry may have made headlines Thursday night for their behavior, but their former town of Orinda is sticking by them.
RELATED: Steph Curry's wife Ayesha apologizes for tweet saying Game 6 was fixed
There's a little bit of surprise, with people saying it seems out of character. But there's a lot of love.
People enjoyed seeing the Currys stroll downtown. They say they were always nice to people here in the community and Orinda is ready to return that love.
RELATED: Warriors Steph Curry and Steve Kerr fined $25K each by NBA
"He is always so kind, just unassuming, a great guy. I just think it was frustration," Orinda resident Lori Huhn said.
Curry was fined $25,000 for
throwing his mouthpiece
at the crowd, hitting a fan. His wife, Ayesha, later tweeted she thinks the game was rigged for money or ratings.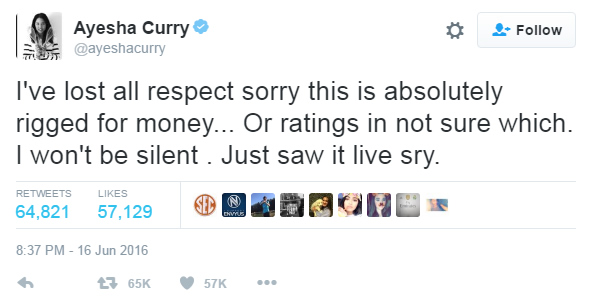 From the East Bay to San Francisco, we found it was the talk of the morning.
"I was a little surprised by her comments, to be honest. I thought that was a little out there to say the NBA is rigged or they're doing it for money," San Francisco resident Michael Mitchell-Adams said.
"I just hope she doesn't get in trouble for it, to be honest with you. I hope the league looks past it," Orinda resident Tom Rector said.
Ayesha did not want to talk in front of cameras on Thursday night, but she did say more on Twitter. She apologized, saying she tweeted in the heat of the moment and then followed up saying her father had been racially profiled at the game and it had been a long night for her.
tweeted in the heat of the moment because the call was uncalled for.

— Ayesha Curry (@ayeshacurry) June 17, 2016
"I agree with her. I think it was really sad," one supporter said.
Twitter wasn't as positive as Orinda. One person called her "Cry-esha." Another said, "Your husband lost, get over it."
Others told her to stop tweeting.
PHOTOS: Golden State Warriors fans 2015-2016
But here at home, they can expect a warm embrace. "We love him and wish him the best and hope that they bring it home on Sunday, for sure," Huhn said.
It was an eventful night for the Currys. Her tweet was retweeted more than 80,000 times before she deleted it.
People in Orinda are hoping that the next time the Currys make headlines, it's for a championship.
For full coverage on the Golden State Warriors, click here.