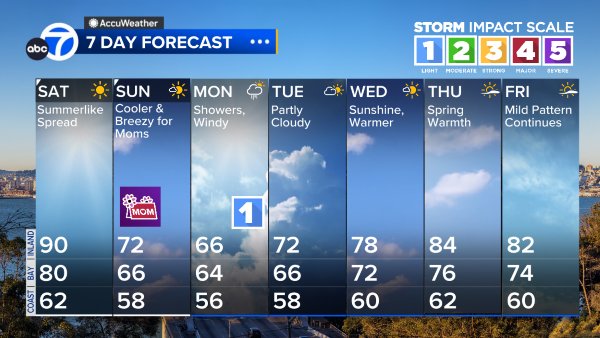 VIDEO:
Weather Anchor Spencer Christian has your AccuWeather forecast
Tonight will be rainy and gusty, with light to moderate rain and wind gusting 15 to 30 miles per hour. Overnight lows will be in the upper 40s to around 50. This storm ranks "1" on the ABC7 Storm Impact Scale. Tomorrow will begin with rainy and windy conditions in the morning.
WATCH LIVE: Track the storm with Live Doppler 7
Rain will taper off before midday, but gusty wind will persist, and there's a chance of isolated thunderstorms.
The afternoon will be a bit milder than today, with highs ranging from low 60s at the coast to upper 60s inland. Another storm will arrive tomorrow night and continue into Thursday--bringing moderate rain, occasional downpours, and gusty wind.
This storm ranks "2" on our
Storm Impact Scale
. Showers will linger into Friday, and a drier pattern will develop over the weekend.
Concord
67
Oakland
65
Redwood City
66
San Francisco
64
San Jose
68
Santa Rosa
63RELATED: The ABC7 News Storm Impact Scale explainedCoast
Tonight: Rainy & Gusty
Lows: Near 50
Tomorrow: Showers Likely
Highs: Low 60s
East Bay
Tonight: Rainy & Gusty
Lows: Near 50
Tomorrow: Showers Likely
Highs: Mid 60s
East Bay Valleys
Tonight: Rainy & Gusty
Lows: Upper 40s
Tomorrow: Showers Likely
Highs: Upper 60s
North Bay Valleys
Tonight: Rainy & Gusty
Lows: Upper 40s
Tomorrow: Showers Likely
Highs: Mid 60s
Peninsula
Tonight: Rainy & Gusty
Lows: Near 50
Tomorrow: Showers Likely
Highs: Mid 60s
South Bay
Tonight: Rainy & Gusty
Lows: Upper 40s
Tomorrow: Showers Likely
Highs: Upper 60s
Thursday:
Windy/Morning Rain
Highs: Upper 50s Coast to Low 60s Inland