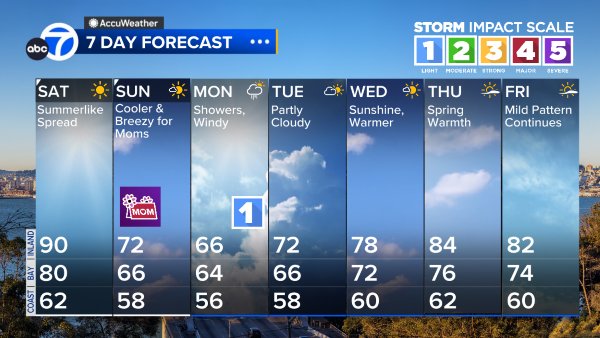 VIDEO: Meteorologist Mike Nicco has your AccuWeather forecast for Friday
Tonight will be mainly clear and mild, with overnight lows ranging from mid-50s to low 60s. Tomorrow will be sunny and exceedingly hot. Highs will range from low 70s at the coast to mid-90s near the bay to about 105 degrees inland.
Because of the excessive heat, low humidity, and gusty wind, fire danger is high. There are also health risks in prolonged exposure to heat and direct sunlight. Tomorrow will also be a Spare the Air day, with poor air quality in the inland East Bay and Santa Clara Valley.
The good news is that the heat will moderate on Sunday, with temperatures dropping as much as 12 to 15 degrees in some areas; and further cooling is likely on Monday.
SPARE THE AIR
: Today & Tomorrow
HEAT ADVISORY
: Saturday 11a.m. - 8p.m.
FIRE WEATHER WATCH
: Saturday 11A.M. - Sunday 8p.m.
RED FLAG WARNING
: Saturday 12a.m. - Sunday 8p.m.
Concord
103
Oakland
88
Redwood City
94
San Francisco
82
San Jose
96
Santa Rosa
99Coast
Tonight: Mostly Clear
Lows: Low 50s
Tomorrow: Sunny & Mild
Highs: Low 70s
East Bay
Tonight: Clear & Mild
Lows: Mid 50s
Tomorrow: Sunny & Warm
Highs: Upper 80s to Low 90s
East Bay Valleys
Tonight: Clear & Mild
Lows: Low to Mid 60s
Tomorrow: Sunny & Hot
Highs: 102 to 105
North Bay Valleys
Tonight: Clear & Mild
Lows: Low 50s
Tomorrow: Sunny & Hot
Highs: Upper 90s to above 100
Peninsula
Tonight: Clear & Mild
Lows: Upper 50s
Tomorrow: Sunny & Warm to Hot
Highs: Low to Mid 90s
South Bay
Tonight: Clear & Mild
Lows: Upper 50s
Tomorrow: Sunny & Hot
Highs: Mid 90s to above 100
Sunday:
Mainly Sunny/Heat Moderates
Highs: Mid 60s Coast to Mid 90s Inland