ABC7 News
GOES PINK
to raise awareness about breast cancer! This October, members of our ABC7 News team and staff will take the pledge and wear pink in tribute of Breast Cancer Awareness Month.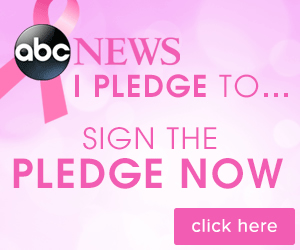 JOIN US AND GET INVOLVED
Information is our best weapon against breast cancer. Join ABC7 and
TAKE THE PLEDGE
! Support Breast Cancer Awareness
throughout the month
.
SHARE YOUR STORY
Has breast cancer touched your life or the life of a loved one? Are you a survivor? Have you taken the pledge? Send a photo and share your story with ABC7 to help raise awareness! Email us at uReport@kgo-tv.com.
PHOTOS: ABC7 News talent and staff go pink for Breast Cancer Awareness Month!GET THE FACTS
Breast Cancer facts from the ABC News Medical Unit
1. Over the course of a lifetime, a woman living in the United States has a 2.7% chance of dying of breast cancer - a 12.3% lifetime risk of being diagnosed with it.
2. Breast cancer is the second leading cause of cancer deaths among women in the U.S. (lung cancer is #1).
3. There are 2.9 million breast cancer survivors in the U.S. today - more people than the population of Chicago.
4. Statistics are not destiny -- your individual chance of survival after 5 years may be more than 89%.
5. Mammography was first used in 1969 when the first specialized X-ray unit for breast imaging was developed.
6. Dense breast tissue can make it harder to "see" breast cancer with standard mammography.
7. 53% of women 40 and older in the U.S. reported having a mammogram in the last year.
8. As little as two and a half hours per week of brisk walking can reduce the risk of breast cancer by as much as 18%.
9. Breast implants do not increase the risk of breast cancer, but implants do make it harder to see breast tissue on standard mammograms.
10. It has been estimated that if every woman over the age of 50 had her yearly mammogram, breast cancer deaths in this age group could drop by 25% or more.
11. Though certain gene mutations greatly increase a woman's risk for breast cancer, the truth is that only 10% of breast cancers are directly attributable to inherited gene mutations.
12. Only about 15-20% of breast cancers that run in families are attributed to BRCA1 or BRCA2 gene mutations - this year, scientists discovered a
new risk gene, PALB2.
13. If you're overweight (as measured by body mass index) and/or if you gain weight after menopause, your risk of breast cancer rises.
14. Women who consume more than 3 alcoholic beverages per day are 51% more likely to be diagnosed with breast cancer than women who do not drink.
15. Breastfeeding not only helps babies, it's been shown to reduce breast cancer- the more months you breastfeed, the greater the benefit.
16. The left breast is statistically more prone to developing cancer than the right breast - scientists aren't sure why.
17. When you look at your "family history" of breast cancer, your father's side is as important as your mother's.
18. It can take 10 years for breast cancer cells to reach a size that can be felt as a lump.
19. Physicians in ancient Egypt described breast cancer more than 3,500 years ago.
20. Nurses who work night shifts and flight attendants who have the same sorts of circadian rhythm disruption have a higher risk of breast cancer
the longer they hold those jobs.
21. New studies show that in women without genetic mutations, taking off the "other" unaffected breast when having a mastectomy does not lead to a longer life.
22. Signs of breast cancer can include breast pain, thickening of the skin of the breast, nipple discharge, or a change in breast size or shape;
it's not all about lumps.
23. 3D Mammography is an emerging method of breast imaging the reconstructs a picture from multiply x-rays - like a CT scanner.
24. Did you know these top celebrities have survived breast cancer...? Cynthia Nixon (Sex and the City), Sheryl Crow, Robin Roberts, Christina Applegate, Melissa Etheridge.
25. The American Journal of Clinical Nutrition reports a higher risk of breast cancer in women who take multivitamins.
26. Breast cancer in men is rare, accounting for approximately 1% of breast cancer rates in the U.S. But that means nearly 400 men die of breast cancer each year.
27. Breast cancer patients with diabetes are nearly 50% more likely to die than those who don't have diabetes.
28. The radiation exposure of a single mammogram is equivalent to the normal background radiation exposure of someone living in Colorado for 1 year.
29. Women who detect their own breast cancer usually don't find it doing a "self-exam". They find it in the shower, or while getting dressed.
30. Over 60 chemotherapy drugs have been approved for the treatment of breast cancer.
31. Most women undergoing mastectomy for breast cancer choose not to undergo breast reconstruction.
32. The biggest single risk factor for breast cancer is age.
33. The National Cancer Institute spends more than $600 million dollars a year on breast cancer research.
34. The majority of invasive breast cancers involve the milk ducts, but there are more than 5 other forms of invasive breast cancer. Breast cancer, detail guide 2013. American Cancer Society.
35. The United States Preventative Services Task force recommends discontinuing mammogram screening after the age of 75. Screening for Breast Cancer. US Preventative Services Task force
36. Contrary to popular belief, bra wearing is not associated with breast cancer.
37. Angelina Jolie's BRCA announcement and subsequent surgeries last year led to more than double the usual amount of women referred for genetic testing in the UK. Doctors are calling it the "Angelina Effect."
38. There is no single recommendation for when and how often mammograms should happen. One task force says a mammogram every 2 years after age 50 - another recommends an annual scan starting at age 40. It's up to you and your doctor to decide what's right for you.
Find out more at
ABCNewsGoesPink.com