SAN FRANCISCO - Life Is Your Runway. Walk In Style With Etcetera.
Find your fashionable strut with Etcetera wardrobe consultants Susan and Lynn who provide a one-stop wardrobing experience - contemporary chic, to sophisticated professional, to weekend casual.
Etcetera, one of the top fashion design agencies in the U.S., is known for unique contemporary styles meticulously designed for comfort and confidence. Four collections each year are available exclusively via appointment-only trunk shows.
At the Etcetera 'trunk show' Susan and Lynn will help you discover your personal style. Learn how to simplify your wardrobe and your life - take 7 Collection pieces and create 18 outfits. And what about that beautiful, unique blouse, sweater or jacket hanging in your closet that you love but never wear? Bring it to your appointment, Susan and Lynn will help you coordinate it with a few Collection Pieces. Etcetera gives you ownership of your choices - mix-and-match separates, distinctive designs, affordable prices.
Susan and Lynn know fashion: the looks, trends, runway buzz, and how to put together everything from an outfit, to an entire sustainable wardrobe. More importantly, they take pride in knowing each client personally. This combination of professional expertise and highly personalized service ensures every client has the wardrobe that expresses her best self.
The Fall Collection Trunk Show will be at the elegant Galleria Park Hotel's MacArthur Room, located at 191 Sutter Street in San Francisco. Appointments currently are available October 13th through October 20th. Book today - items are exclusive and limited in quantities. Susan and Lynn always accept new clients, while loyal clients with referrals receive a gift in appreciation.
APPOINTMENTS AVAILABLE NOW, OCTOBER 13 - 20
Let Susan and Lynn be your personal stylists, using their fashion expertise to develop and customize a fun, functional wardrobe tailored to your personality and lifestyle. Every day is a fashion show: Susan and Lynn will prepare you to walk in style down the runway of your life.
SUSAN SAPPINGTON
AREA DEVELOPMENT MANAGER
WARDROBE CONSULTANT
susan@etcstyles.com
Susan is an expert stylist with a devoted and extensive clientele. As ADM, Susan is leading Etcetera's expansion into the Bay Area - San Francisco, South Bay, Marin, East Bay and the Peninsula. Last month, Susan received Etcetera's prestigious National Award for #1 Area Development Manager for increase in new sales. Susan currently is looking for sales consultants in all of Northern California, Northern Nevada, and Wyoming to become part of the Etcetera success story. She studied Business Administration at the University of Phoenix.
You can find Susan on Facebook or LinkedIn.
"Life is too short to wear boring clothes!"
Susan Sappington
LYNN CHURCHILL
WARDROBE CONSULTANT
lynn4etc@gmail.com
After a long and productive career in the Arts and Publishing, Lynn became a Wardrobe Consultant for Etcetera. Lynn began designing and constructing clothes at a young age and went on to study Fine Art at SUNY, Buffalo and Fashion Design at FIT, NY. After a decade in NYC when she created women's fashion for private clients and retail, Lynn segued to publishing where she was a successful editor. Keenly interested in fashion, style and beautiful clothes, to be a wardrobe consultant is a natural for Lynn.
You can find Lynn on Facebook.
"Dress With Style - It's What People Notice!"
Lynn Churchill
The renewed interest and increased popularity of trunk shows in San Francisco is attributed, in part, to Susan and Lynn's concerted networking efforts among Bay Area women. They are actively spreading the word on the benefits of this type of personal wardrobing service: a convenient, comfortable, hassle free, alternative shopping experience. With Etcetera's high-quality clothing, Susan and Lynn can focus on outstanding customer service.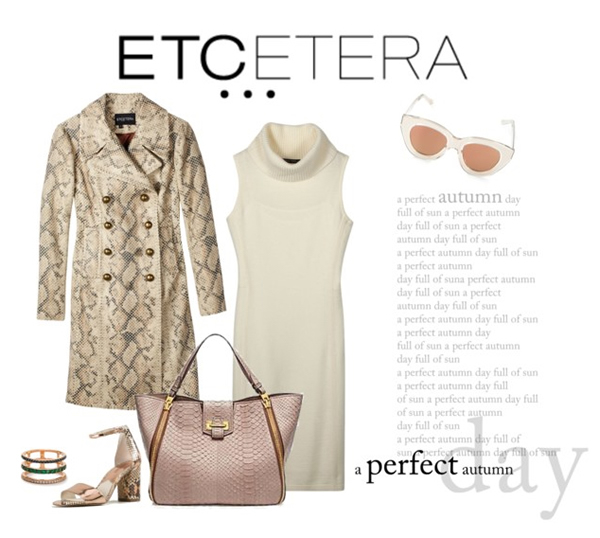 HOW IT WORKS: A TRUNK SHOW
Experience the the individual attention to your wardrobing needs you deserve. Susan and Lynn work by appointment-only so each woman will have privacy, attention and dedicated service. As with any trunk show, there is a sample set of the collection. The sample set will have an assortment of sizes. Everything in the show will be available to order in sizes 00 - 16 (XS - XL) with a fast turn around once you place your order, and an easy exchange/return policy.
Entering the showroom, you will be greeted with a warm welcome and a glass of champagne. You can view the Collection in a relaxed, friendly environment. The goal is your complete satisfaction - that "Aha" fashion moment. Always mindful of your time and budget, Susan and Lynn provide knowledgable, non-intimidating service. Their combined experience makes the showroom consultation a meaningful engagement for all women, as expressed by Lilian Pea, a newcomer to the trunk show concept, "I didn't know what to expect when arriving at the showroom. Their passion for fashion paired with providing a pleasant experience was so calming, I easily followed their lead as they created styles for me that were within my comfort level, both in apparel and economically. It was a real, no-pressure environment."
The Etcetera management and design teams possess an outstanding fashion pedigree, having gained experience at Oscar De La Renta, Tahari, Rachel Zoe, and Ann Klein, among others. Each Collection is the result of this collective knowledge, intuitive design sense and studied understanding of the perfect fit and function for their designs. The designers create garments and looks that are classic, yet fashion forward. The boutique line perfects the looks you're after: professional, classy, chic, smart, casual, Etcetera. These experts consider aspects that go beyond 'just wearing.'
While each season's collection is stylistically distinct, all offer superior textiles from the best mills in Italy, France and England. Whether it's a rich boucle for a jacket, an amazing silk for a lining, or a high-tech stretch for a pant, the fabrics give each piece quality and character. Fit is a crucial component to comfort, therefore a lot of the fabric stretches. The clothes are designed on a size 8 fit model (not sizes 2-4 used by most designers) - that's a big deal when the average woman's size in the U.S. is 12. Garments have generous seam allowances for alterations to achieve a more perfect fit to your unique shape. Typically, ankle length pant styles have a 29"/30" inseam; full length styles a 33"/34" inch inseam. Most pants have a 2" hem. All styles are available in sizes 00 - 16.
From concept to completion, each Etcetera piece is impeccable in detail. Each flawless garment is the result of longtime relationships with the most discerning manufacturers, ensuring the highest level of consistency and quality.
Because the Etcetera Collection is sold exclusively via trunk shows, the conventional and costly retail overhead is eliminated. This direct sales business model allows Etcetera Consultants to offer clothing of unparalleled quality at extremely competitive prices.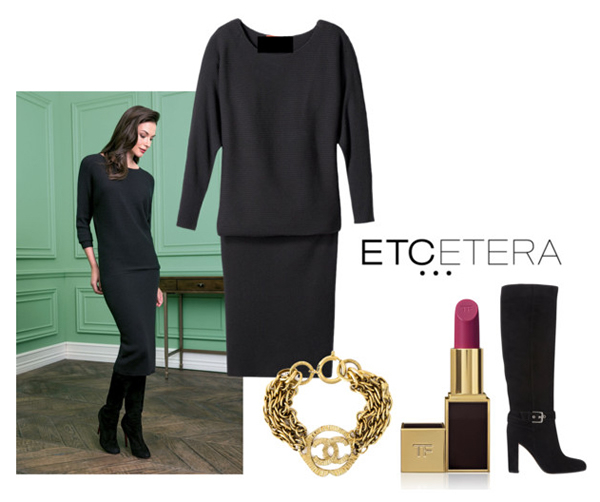 View the Etcetera Fall Collection Lookbook
www.etcetera.com/collections/lookbook
Etcetera is a division of Carlisle Etcetera, a leader in direct sales fashion for women. Launched in the year 2000, Etcetera has cultivated a reputation as a chic, everyday lifestyle brand for women on the go by creating exquisite clothing held to couture-level design standards.