SAN FRANCISCO (KGO) --
There were major backups on Thursday because of the I-280 closure. The shutdown starts at the Highway 101split and continues until King Street. The road won't reopen until next Monday.
By early Thursday evening, Caltrans crews finished tearing a gaping hole in the freeway and now comes the slow part -- forming the rebar and concrete to build a new section of road that'll last another 50 years.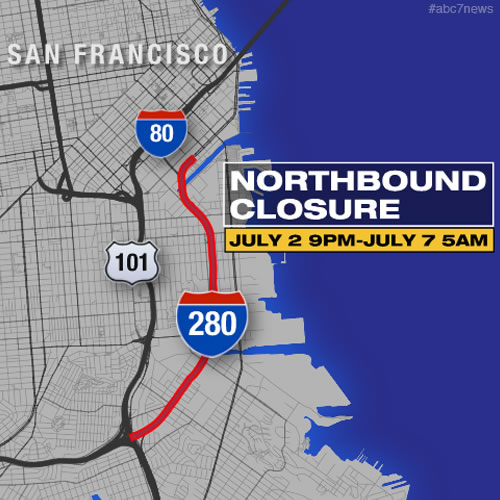 San Francisco Giants fans came into the city, but they're not fans of the traffic.
Instead of a cruise down the freeway, Giants fans had to take a scenic tour through Potrero Hill and South of Market with a few hundred close friends who might have forgotten their manners. Some drivers ran through red lights, blocked lanes and blocked intersections.
Predicting the mess, the Giants asked fans to take Caltrain. Fans said the train may have been a little late and crowded, but it was a smooth ride. For many it beat sitting in traffic.
Meanwhile, up on the freeway, workers were pounding away, finishing the demolition they began overnight.
They weren't the only ones up late, with a front row seat from his loft by the freeway, Adam Gould set up his camera to shoot a time lapse. He said, "There's a lot of sparks, concrete falling, you know, cranes picking up equipment and setting it down. Once you speed it up, it's a lot more interesting.
But aside from the sparks and the smoke, there's other work going on. Caltrans used the closure to clean storm drains, change light bulbs and trim trees.
Caltrans spokesperson Bob Haus said, "You can accomplish a lot as far as maintenance goes when there's no traffic on the highway."
Now, the most important task is filling in that giant gap with a new hinge. It's the part of the freeway the bends with traffic and earthquakes.
"I tell people that it's easy to think of these overpass structures as solid objects, but the fact is they have a lot of moving parts and so they're more like machinery than solid objects," Haus said.
There are dozens of hinges. The old hinges are about six inches wide, but the new ones are two-feet wide.
When the work is done, all you'll see from above is a black line in the road. Between now and then, Gould hopes to see a few more sparks fly. If it is foggy, he's more likely to see those tan the fireworks.
Avoid traffic jams by downloading the
ABC7 News Waze app
.