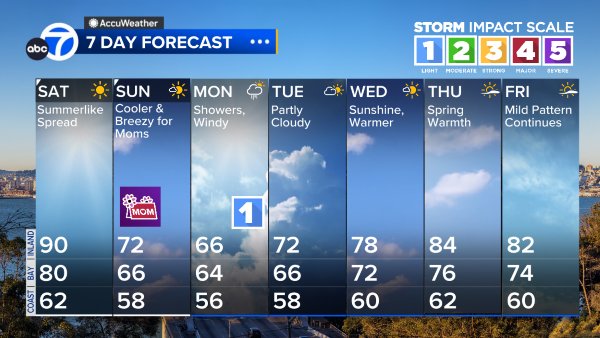 VIDEO:
Weather Anchor Spencer Christian's forecast
FROST ADVISORY
&
FREEZE WARNING
: Tuesday 12AM - 9AM
Monday night will be clear and cold, with overnight temperatures expected to reach record low levels--mid 20s in the North Bay valleys, upper 20s in the inland East Bay, and low to mid 30s in the South Bay, near the bay shoreline, and on the coast. Tuesday will be mostly sunny and chilly, with highs ranging from upper 40s at the coast to mid 50s inland. Wednesday will also be chilly, with near-record low morning temperatures; and there is a slight chance of freezing rain or light snow showers in Bay Area hills and mountains on Wednesday and Thursday. This cold, wintry pattern will ease up a bit by the end of the week.
Concord
54
Oakland
52
Redwood City
53
San Francisco
50
San Jose
56
Santa Rosa
53Coast
Tonight: Clear & Cold
Lows: Mid 30s
Tomorrow: Mostly Sunny & Chilly
Highs: Upper 40s
East Bay
Tonight: Clear & Cold
Lows: Mid 30s
Tomorrow: Mostly Sunny & Chilly
Highs: Low 50s
East Bay Valleys
Tonight: Clear & Cold
Lows: Upper 20s to Near 30
Tomorrow: Mostly Sunny & Chilly
Highs: Mid 50s
North Bay Valleys
Tonight: Clear & Cold
Lows: Mid 20s
Tomorrow: Mostly Sunny & Chilly
Highs: Low to Mid 50s
Peninsula
Tonight: Clear & Cold
Lows: Mid 30s
Tomorrow: Mostly Sunny & Chilly
Highs: Low 50s
South Bay
Tonight: Clear & Cold
Lows: Mid 30s
Tomorrow: Mostly Sunny & Chilly
Highs: Mid 50s
Wednesday:
Partly Cloudy & Chilly
Highs: Near 50 Coast to Mid 50s Inland