There are signs of recovery and some new struggles in Napa following Sunday's powerful
6.0-magnitude earthquake
.
With more than 100 buildings red-tagged and more 200 injuries, the Napa City Council has voted to seek federal disaster relief. The Solano County supervisors declared a state of emergency.
VIDEO: Months of clean up expected after South Napa quake
In their latest earthquake briefing, city officials said the injury total is now 209. They say one person was admitted to the hospital Monday night after suffering seizures.
All but one of the schools in the Napa Valley Unified School District will reopen on Wednesday. Stonebridge Charter School will stay closed because of possible structural damage.
VIDEO: City declares Napa schools safe to reopen
The city is dealing with more than 800 calls for home inspections and has waived permitting fees and planning reviews to speed-up the rebuilding process.
City officials also say 640 customers remain without water. Crews are working to repair 120 water main breaks. But as quickly as they fix one, they find additional problems. At this point, they're just doing their best to keep up.
VIDEO: Napa teen badly hurt in quake says he's fortunate to be alive
Andrew Hall picked up free water from the Red Cross shelter at Crosswalk Community Church on Tuesday. His family has been without running water since Sunday morning's earthquake.
"It's been tough," he said. "Just personal hygiene and cooking and cleaning and drinking and just the things and everyday use you take for granted."
City Manager Mike Parness says the city hopes to restore all leaky pipes in the next couple days. Utility crews are working around the clock.
"What we're doing is we're seeing the break, going out, isolating, shutting off the water and working on it and then moving to the next," said Parness. "Problem is we're adding more as we fix more."
So far the city has identified 120 leaks, including one on Laurel St. Others can be found on Homewood Ave. and on Foothill Blvd.
PHOTOS: Earthquake damage around the Bay Area
"I know, it is a waste of water," Napa resident Cathy Marco said. "And it's just sad because we're in a drought."
"From our house over to here, which is less than about three miles, we counted five leaks," Napa resident Bob Buhler said.
Anyone who lost water service completely any time after the earthquake is advised to use bottled water for drinking or cooking or boil tap water for a full minute. Some customers may have their water cut off while repairs are made nearby. The city also has two water stations, one on Pearl Street another at the Las Flores Center on Linda Vista Avenue.
Meanwhile, Napa Mayor Jill Techel is calling on assistance from FEMA to help businesses affected by the quake get back on their feet. On Monday night, the city began fencing off much of the downtown area so heavy machinery can start hauling away debris.
The timing of the quake was not good for Napa's famous wineries, many of which had already started this year's harvest. Owners are working quickly to clean up the massive mess, so they can continue the harvest process before it's too late. Between wineries, homes, businesses and more, Kinetic Analysis Corporation - a firm that studies natural disasters - estimates overall damages could top $4 billion.
And though Techel says 80 percent of wineries escaped the quake without damage, many shops and restaurants that depend on tourism are afraid images of broken barrels and ruined vintages will keep tourists away.
VIDEO: Napa merchants want tourists to know they're open for business
"Last week, this place was packed, there were people hanging out the door, waiting to get in and this week it's like a ghost town," said Alan Arnople of Peju Province Winery.
San Francisco Mayor Ed Lee toured the damage on Tuesday morning.
"I just want to express my support to all the residents and certainly to people working around the clock," he said.
VIDEO: SF mayor tours Napa quake damage
Beyond that, the mayor is hoping his constituents will pitch in; namely, corporate citizens. He says Napa and San Francisco are tightly linked by tourism.
"I'm going to ask volunteers, ask for donations, ask for corporate citizens to be generous in their time and resources to help people of Napa, Vallejo, and Sonoma," he said.
A
series of aftershocks
put a lot of North Bay residents on edge Tuesday morning. The strongest was a 3.9 magnitude earthquake that struck 1 mile northwest of American Canyon at 5:33 a.m. It was followed by several smaller aftershocks throughout the morning.
The U.S. Geological Survey, the federal agency that monitors earthquake activity, released a map showing where more than 1,400 people reported feeling the aftershocks. Even though they quakes were centered in the North Bay, people in San Jose and almost as far as Stockton reported shaking.
Tom Brocher with the USGS told us in a phone interview that it's not over yet.
"We can get stronger aftershocks," he said. "Yesterday the probability of a magnitude 5.0 was 25 percent, 1 in 4. That chance is probably even lower today, but we are going to see more aftershocks."
There were no reports of damage or injuries from the aftershocks, though they did cause some concerns along Highway 29 in Napa. Caltrans and the California Highway Patrol closed one of the two southbound lanes of Highway 29 near the Butler Bridge. Sky 7HD was overhead around 10 a.m. and footage showed inspections being done on the span.
Road officials said they believe there has been some settlement of the soil in the area that needs to be looked at. No damage to the highway bridge has been found yet. The road reopened Tuesday evening.
Map of red-tagged homes in Napa and an interactive map on the hazards
The City of Napa has removed all debris boxes from Napa schools and is urging people who may be cleaning up their homes to take their debris to sanctioned sites. A list of these sites can be found on the
City of Napa's
website.
INTERACTIVE GOOGLE MAP: DROP BOXES FOR DEBRIS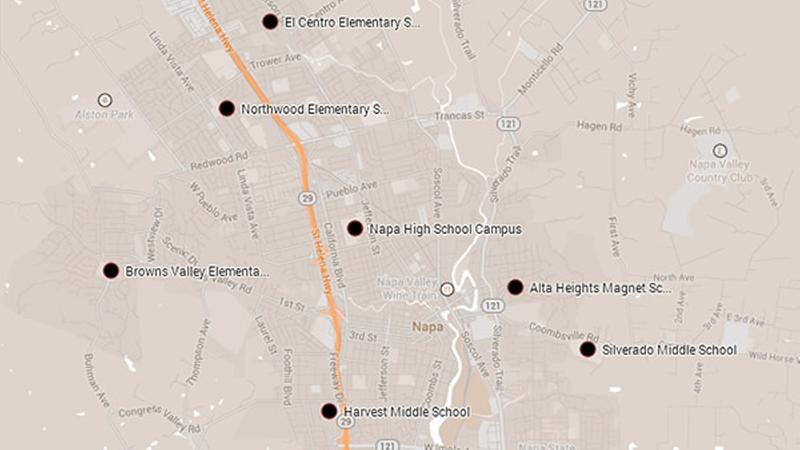 For residents and businesses doing cleanup, drop boxes for debris have placed at the following locations:
Alta Heights Magnet School
15 Montecito Blvd, Napa, CA
Browns Valley Elementary School
1001 Buhman Ave, Napa, CA
El Centro Elementary School
1480 El Centro Ave, Napa, CA
Harvest Middle School
2449 Old Sonoma Rd, Napa, CA
Napa High School
2475 Jefferson St, Napa, CA
Northwood Elementary School
2214 Berks Street, Napa, CA
Silverado Middle School
1133 Coombsville Rd, Napa, CA
Bay City News contributed to this report.