PORTLAND, OR -- We are hearing from two key players in the so-called "hug shared around the world."
This photograph of a Portland, Oregon police officer
hugging a 12-year-old boy
during a protest last week has gone viral. The police officer in the picture and the photographer who took it both agree that the boy named, Devonte, is a special human being. Devonte was at that protest holding a "free hugs" sign.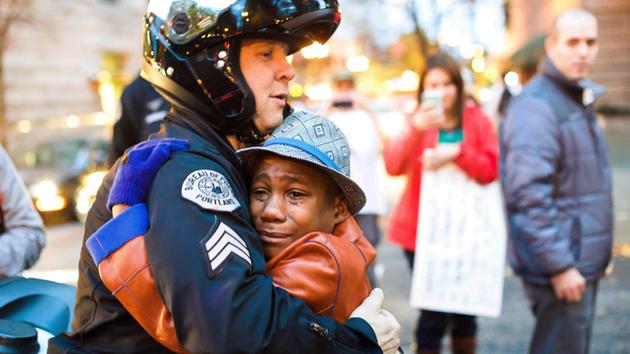 It's an unusual image as people around the country protest a grand jury's decision to not indict a white police officer in the fatal shooting of an unarmed black teenager in Ferguson, Missouri.
Photographer Johnny Nguyen wanted to know from Devonte why he was at the protest. He said, "My intuition was like, 'You need to stay here. There's something special about Devonte.'" It's why he first struck up a conversation with the 12-year-old tucked within a group of protesters holding a "free hugs" sign.
"I was like, 'Hey, what's your name?" asked Nguyen. "He said, 'My name is Devonte.' And I asked, 'Do you know what's going on?' He said, 'A protest.' I asked, 'Do you know why?' He said, 'Yeah.' And I said, 'Do you think it's good or bad?' And he didn't say anything. He just broke down and cried," said Nguyen.
Nguyen said he took a few pictures of the crowd and when he turned back around he saw Devonte speaking with Sgt. Bret Barnum with the Portland Police Department. Barnum had motioned for Devonte to come closer.
"He slowly came on over and he was a little trembly," said Barnum. "First thing I said was, 'Why are you crying?' And he said he was sad. He was sad about the protest. He was sad about what was going on in the world, and all I could do was just sigh."
Barnum continued, "I just looked down at his sign, which he had set down on the ground and I had seen him holding it earlier, and I saw that it said 'free hugs' and I pointed to it and said, 'Hey, do I get one of those?'"
They embraced and Nguyen caught the touching moment. Thousands have shared the photo of the hug and the message of hope it brings.
Devonte's mom says her son has a heart of gold and compassion beyond anything she's ever experienced.
ABC7 News contributed to this report.