SAN FRANCISCO (KGO) -- At the end of October, we reported car break-ins were down 14 percent from the year before. A month later, they're down 16 percent. That's according to data from the San Francisco Police Department. And now, a new effort could make it easier to prosecute and convict the perpetrators.
What happened to Beth Kane's son in-law's truck on Thanksgiving morning sounds all too familiar in San Francisco.
"Justin went on his run, but he came back and found glass smashed and everything!" said Beth as she showed us the ground, still littered with some pieces of broken window outside her building in Pacific Heights.
EXCLUSIVE: San Francisco residents pleading with thieves to spare their vehicles
Crestfallen, Justin and Beth continued with their Thanksgiving meal in Pacific Heights and went back outside afterward to clean the mess up, only to find a sweet sign.
"Taped on the side of the window it says, 'Walking by your car and saw it was broken into. Sorry it happened to you, covered your open window with some plastic since it's due to rain tonight. Happy Thanksgiving.' Isn't' that nice?" said Beth with a smile.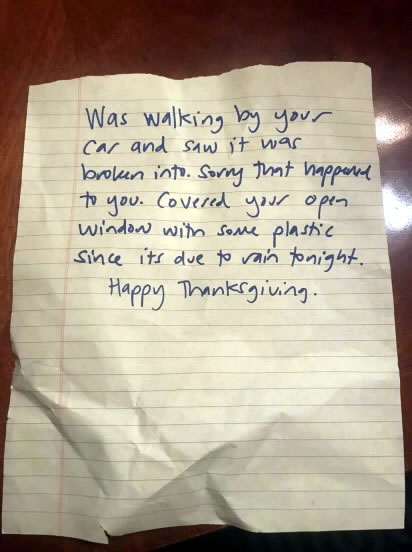 Via FaceTime, Justin said the experience made him feel like "there are still good people left in the world."
But there are plenty of those who are not so good, which is why state Senator Scott Wiener, alongside District Attorney George Gascon and SFPD Chief William Scott, held a conference to discuss new legislation to crack down on these crimes by closing a little-known loophole.
"I didn't know about it until district attorney called me about a year ago!" Weiner exclaimed.
Under the current law, in order to get a prosecution in a break-in case, it must be proven the car door was locked, even if the window is smashed in.
EXCLUSIVE: Australian couple says it took email from ABC7 News for SFPD to respond to car break-in
"A large number of break-ins in the city are being done by a very small group of people we know that is organized. Organized rings that work with a fence" said Gascon.
ABC7 News covered a story showing a shipping container with a massive amount of items these crime rings can rake in. In some cases there was more than $1 million in stolen goods. It's all the more reason why community members who showed up in support of the legislation-are hopeful for change.
"I really do feel like the whole city the police department is working hard," said Betsy Eddy, president of the Diamond Heights Community Association.
RELATED: Ashes stolen from tourists' rental car in SF reunited with family
It's reassuring news for Beth and Justin as well. But for now, all they want to do is send this message to whoever did this good deed.
"We just want to let them know what an amazing impact their kindness has had on both of us, our grandchildren and our neighbors who have heard about it."
The legislation will be introduced when the new session begins on Monday.