SONOMA COUNTY, Calif. (KGO) -- It is not unusual for the Russian River to flood, pushing water into the streets of Guerneville. It usually causes little damage. However, this is an El Nino season when weather can suddenly shift into the extreme. ABC7 News takes a look back at 1986 when a blast of rain caused Guerneville's biggest flood ever.
When the Russian River is on its best behavior it is calm and serene, just what people who live in Guerneville love about it, but the old-timers know better.
"There's a lot of people who have moved into this town since 1986, and they don't have a clue," said Guerneville resident Laura Wilson.
VIDEO: 1998 Rio Nido mudslide victims recall El Nino experience
"It was like... you're almost like breathing water. It was so incredibly dense, the water just never stopped coming from the sky. And it was so loud it was deafening," Patty Halstead, a Guerneville resident.
At the time, one resident told ABC7 News, "Over Sunday night into Monday morning, it came up 10 feet in about eight hours."
The streets were flooded after two feet of rain fell in 10 days and people had to travel by boat to go down the street.
The Russian River swelled to grotesque proportions and the water level rose to the height of the walkway on the old Guerneville Bridge. It set a record of swelling to 48.8 feet.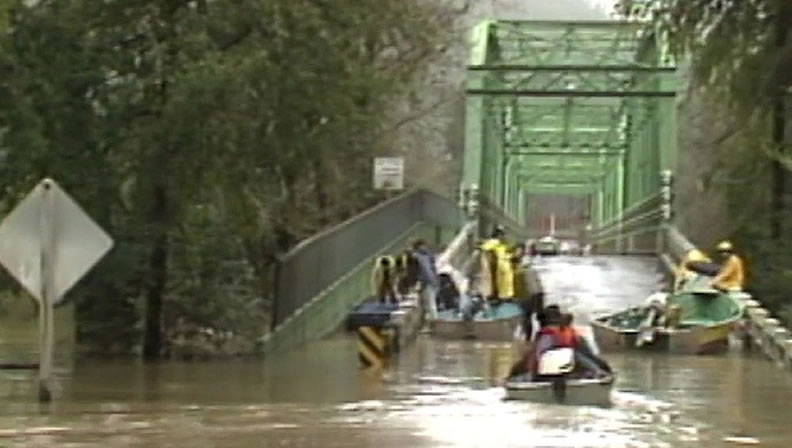 The night before the river rose to record levels, rain fell for 24 hours straight. Locals still call it the "Great Valentine's Day Flood of 1986," but there was no romance there, not when water consumed the community, causing $40 million in damage.
VIDEO: What is El Nino? ABC7 Meteorologist Mike Nicco explains
River Road lived up to its name when the pavement became completely submerged. Cars looked more like boats. The local delicatessen was more of a wade-through restaurant. And in the center of town water flowed so fast that to cross residents clung to a rope.
One man carrying two bags on his back said, "Nobody told us nothing. They just said it wasn't going to flood bad and my house is like now underwater and everything I own."
READ MORE: Prepare NorCal disaster preparedness tips
Residents had no food and no power. There was no way out for more than 1,000 people, except by National Guard helicopter. For those who remained behind, the Red Cross shelters moved to higher ground three different times.
In the shelter, one man said, "It's taught me one thing -- damn it, don't be so gullible, get prepared for things next time."
To a degree, they have. Now when Guerneville floods, waters rarely reach the built-up homes. It's a big lesson learned.
If you see news where you live, tag your photos and videos on Twitter, Instagram, or Facebook with #abc7now.Click here for full coverage on El Nino.