Hurricane Florence was downgraded to a Category 2 storm with 110 mph maximum winds but it remains a very large and potentially catastrophic storm as it churns toward North and South Carolina.
As of 11 p.m., the storm was moving northwest at 17 mph and was positioned about 280 miles east-southeast of Wilmington. The storm's eye continued to show deterioration -- some cautiously good news for those in its path.
While Florence has weakened below major hurricane intensity, the wind field of the hurricane continues to grow in size, the National Hurricane Center said. The threat of rainfall has also not diminished.
LATEST RADAR IMAGE: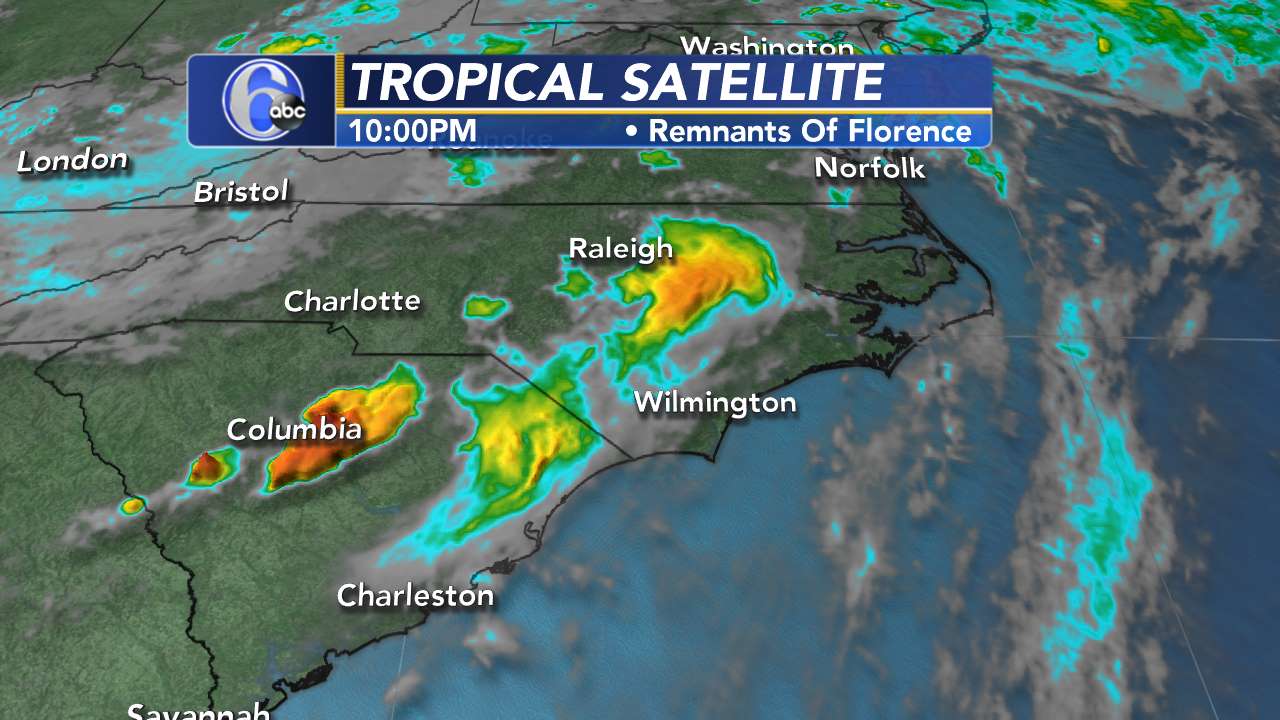 The National Hurricane Center said Wednesday evening that the storm is expected to bring life-threatening storm surge and rainfall to the Carolinas as it approaches the coast Thursday and Friday.
11 p.m.
Florence was downgraded to a Category 2 storm with winds of 110 mph but still poses a significant threat to much of the Carolinas, particularly with heavy rain and surge alongwith damaging wind gusts.
8 p.m.
Florence has weakened slightly, but still has 115 mph winds, down from a top speed of 140 mph earlier in the week.
5 p.m.
North Carolina Gov. Roy Cooper says at least 50 shelters are open across the state as up to 1 million residents have been asked to evacuate ahead of Hurricane Florence.
Cooper spoke at a news conference with emergency management officials Wednesday. He announced that officials were opening a large shelter at the Lawrence Joel Veterans Memorial Coliseum in Winston-Salem at 6 p.m. Wednesday with a capacity of at least 1,000.
The governor issued an evacuation order for the state's barrier islands, and local officials have issued some evacuation orders inland as well. Altogether, Cooper says between 750,000 to 1 million residents have been asked to leave their homes.
He warned that the coast will "feel the wrath" of Florence starting Thursday morning but said all parts of North Carolina will see some impact. He's urging people not to wait to evacuate or get prepared.
FULL HURRICANE FLORENCE COVERAGE3:30 p.m.
The track has shifted south, meaning the impacts are a bit less for the Triangle, but we don't want to be too optimistic in case people think we're giving the all clear., said Chief Meteorologist Chris Hohmann. Power outages are likely for the Sandhills and certainly at least some in the Triangle.
2:45 p.m.
With potential heavy rain and winds from Hurricane Florence forecast to blow into the Triangle later this week, GoTriangle, GoRaleigh, GoCary and GoDurham are altering bus service schedules through Thursday and at least Friday to keep riders and employees safe.
Latest information here.
1 p.m.
The City of Raleigh has identified approximately 26,000 resident who live in low-lying areas. The city is calling those residents and urging them to leave their homes.
12:15 p.m.
President Donald Trump is urging those in the path of Hurricane Florence to act now to "get out of its way."
Trump is telling residents, "Don't play games with it. It's a big one."
The president made his comments in a videotaped message from the Rose Garden that he tweeted out on Wednesday morning.
11 a.m.
The storm is currently 450 miles from the North Carolina coast.
Big Weather said while Florence is moving south, residents still need to prepare for flooding and make sure their hurricane kits are prepared.
Models are still unsure when Florence will make landfall.
It could hit Friday morning or it could stay out in the ocean and then head south toward Myrtle Beach as a Category 2.
10:40 a.m.
Zac Brown Band has canceled its scheduled Raleigh concert.
Please see below statement regarding this week's shows. We are urging everyone to stay safe and our thoughts are with all of you during this difficult time! pic.twitter.com/KxTsH9elcz

— Zac Brown Band (@zacbrownband) September 11, 2018
10:30 a.m.
RDU will operate on normal flight schedules Wednesday
10:30 a.m. update: We are operating normal flight schedules today, Wednesday 9/12. Overnight, the track of Hurricane Florence changed significantly and we do anticipate flights operating on Thursday. Please visit https://t.co/2DCCNaN33E for the full update.

— RDU Int'l Airport (@RDUAirport) September 12, 2018
10 a.m.
Wake County was placed under a State of Emergency Wednesday morning due to the projected impacts of Hurricane Florence such as high winds and flooding.
NC Emergency Management has activated to level 2 -- 24-hour staffing from State Emergency Response Team members.
5 a.m.
Hurricane Florence shifts farther south. The storm is now 575 miles southeast of Cape Fear, moving 17 mph with winds of 130 mph.
Latest tracks have the storm making landfall south of Hatteras or possibly staying in the ocean.
If the storm shifts west, it will still dump tons of rain in North Carolina; coast could see up to 20 plus inches.
Big Weather said there will be a moderate risk for a tornado Friday. The Triangle could also see high winds, power outages, and flooding.
4 a.m.
Flash Flood Watch issued for Cumberland, Sampson, and Wayne counties until 8 p.m. Saturday.
2 a.m.
At 2 a.m., the storm was moving west-northwest at 17 mph with maximum winds of 140 mph. Depending on which side of the coast the hurricane hits, it could make landfall Thursday night or Friday morning.
Tracks are bringing the storm more south but that doesn't mean the Triangle is worry-free.
What happen if Florence hits the NC coast
Coastal areas are going to get destructive and in places catastrophic damage from winds and a storm surge of 10 to 15 feet with large waves on top of that.
Unfortunately, this may reshape some coastal areas and the infrastructure for years.
This can be true from southeasternmost Virginia south into parts of South Carolina.
How much wind there is in and around the Triangle will depend on where the center comes ashore.
Winds of more than Tropical Storm force have become somewhat less likely.
Because of the slow movement, there is the likelihood of historic rain accumulations in parts of North Carolina and Virginia with totals of 8 to 16 inches with an AccuWeather StormMax(TM) of 40 inches along and north of whatever path Florence takes.
That storm maximum will not cover the entire state, but with the uncertainty of where it could occur, we need to cover for that just about anywhere.
Flooding could be historic and catastrophic.
Between flash flooding and longer duration river flooding, some areas may be cut off from the outside world at least for a short period of time, perhaps days in the worst-hit areas.
Washed out and flooded roadways could isolate some communities.
People anywhere near streams to large river system need to have a plan to evacuate should the need to rise. If one lives in a low-lying area, plans to leave before the storm may be prudent.