The 87th Oscars ceremony
started at 5:30 p.m. on ABC7 Sunday February 22, 2015. Whether you were watching from home or on the go, all the action before the big show and during the ceremony was available on your TV, mobile device, or computer.
Click here
for all our Oscars photos, stories and video.
- The
Fashion Cam live stream
was live from 2 p.m. to 4:30 p.m.
Click here
to check out photos from the red carpet.
- The
Oscars Backstage Director's Cut live stream
was live from 4 p.m. to 9 p.m.
Click here
to learn more about all the other ABC7 News mobile apps.
For full coverage on the 87th Oscars, click here.UPCOMING LIVE VIDEO: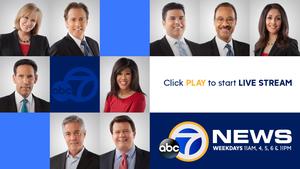 ABC7 Live Newscasts
Every weekday you can watch ABC7 News at 11 a.m., 4 p.m., 5 p.m., 6 p.m. and 11 p.m. live online!
>>WATCH HERE EVERY WEEKDAY
VIEW FULL ABC7 TV SCHEDULE