YOSEMITE NATIONAL PARK, Calif. -- A wildfire has charred nearly 2,600 acres in Yosemite National Park, officials said. The so-called Meadow Fire is located east of Half Dome and near Little Yosemite Valley, a backcountry camping area.
All roads, entrance stations and park facilities in Yosemite are open and operational, but trails near the Half Dome area remain closed due to fire activity.
The fire is still burning but all who were in the path of the flames have been successfully evacuated. About 200 were airlifted by helicopter on Sunday.
The high country around Half Dome remains off limits, disappointing some visitors like John Shaw from New Jersey.
"Well, I came all the way out here to go on a hike and we got burned out," said Shaw.
VIDEO: SoCal family has close encounter with Yosemite wildfire
For Robert Lechner, Jr., who had to rush down Half Dome to escape the flames, it was a pretty scary experience.
"It was intense," he said. "I've never seen flames that big or smoke that intense so close to me. You looked up and the entire sky was just black and red."
The fire was believed to have started when a small lightning-caused fire which was allowed to smolder since July reignited. Now the plan is to completely snuff out those flames.
"We are going to suppress this fire because of its proximity to popular trails, and to some structures and the high sierra camps," said Park Ranger Ashley Mayer.
Rain cleared smoke from the fire out of the Yosemite Valley on Monday, but it is still burning intensely.
PHOTOS: Wildfire burns inside Yosemite National Park
The park is open with the exception of the high country campgrounds and Half Dome.
Unless the wind changes and smoke blows back in, most park visitors won't be aware of the fire.
Firefighters hope to have the fire contained soon.
------
Yosemite Fires Update
Meadow (37 42.738 x 119 30.541 - Mariposa Co., 7,870', August 16) A fire, that may be a spot fire, from the Meadow lightning-caused fire, was discovered at approximately 12:30 PM, Sunday September 7. The fire is approximately 2,582 acres. It is burning within the Little Yosemite Valley (LYV) on both sides of the Merced River. All trails in the area are closed. Approximately 100 hikers and backpackers were evacuated from the fire area in LYV. The fire is burning in Yosemite Wilderness. The High Sierra Camps were seasonally closed today.
Eighty-five hikers and climbers were also evacuated from the summit of Half Dome by helicopters from the California Highway Patrol, US Department of Agriculture Forest Service, Sequoia Kings Canyon National Park, and CAL Fire.
The South Central Sierra Interagency Management Team will begin management of the fire at 6 PM, September 8, 2014.
Resources:
4 Type 1(heavy helicopters),
3 Type 2 (medium helicopters)
1 Air Attack
3 Air Tankers
Over 100 firefighters are assigned, including Yosemite fire crews and 6 Hot Shot crews
Closed Trails:
Echo Creek Drainage to Little Yosemite Valley
Sunrise Creek Drainage to Little Yosemite Valley (John Muir Trail)
Merced River Corridor to Merced Lake Ranger Station
Nevada Fall east through Little Yosemite Valley along the Merced River corridor.
Sunrise trail to Clouds Rest from Tenaya Lake
Smoke Impacts: Visitors, campers, employees are likely to have air quality smoke impacts overnight and early morning hours in Yosemite Valley. Key points:
Fires of this magnitude, in this area of the park have in the past produce heavy smoke that drains down into Yosemite Valley, so be prepared for smoke in the Unhealthy AQI range or worse in the mornings, with some clearing in the afternoon hours.
Information for schools can be found on this site, and links to current air quality updates for this incident will be posted on the California Smoke Information blog.
As with any fire incident in Yosemite National Park, firefighter and public safety is our number one priority. We appreciate everyone's assistance with this priority.
Map showing fire area: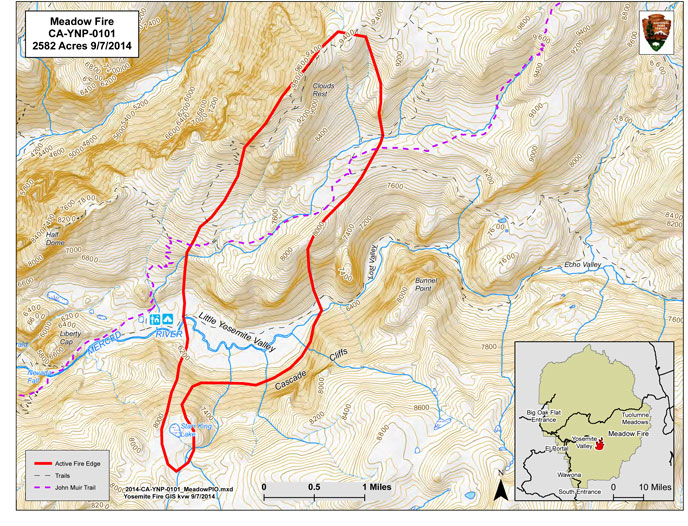 Map showing wilderness trail closures: