NAPA, Calif. (KGO) -- The Napa Valley Wine Train is one of the most popular attractions in the area. But members of a black women's book club are not happy because they say they were unfairly ejected from the train.
The women aboard tell us they were humiliated after they were led off the train and handed over to police officers who were waiting.
"We were paraded through with all the passengers looking at us and coming up with assumptions as to why this group of 11 African-American women was being escorted from this train," said book club member Lisa Rene Johnson.
Eleven women in total were aboard the Napa Valley Wine Train Saturday. They are all members of a book club that had been planning this trip since last year and were excited to be aboard.
"We are a group, we are respectful," Johnson said. "We have been together for 17 years, we go to fine dining establishments, which is what some people want to call the Napa Valley Wine train."
They say a manager did come by a couple times to ask the group to pipe down, but didn't think they were being disruptive to other passengers.
So they were more than surprised when the train pulled into the St. Helena Station and police were waiting outside.
According to a statement from train spokesperson Kira Divitt, "The Napa Valley Wine Train's standard policy is to remove guests who are being disruptive. We do not enjoy asking guests to depart early, but we take these issues seriously to ensure the safety and enjoyment of all guests. Unfortunately, we have to remove guests from our train about once a month."
The women say they were refunded their money and everyone was very pleasant with them at the Saint Helena Station.
But then they saw a post, which has since been removed from the wine train's Facebook page. It says, in part, "Following verbal and physical abuse towards other guests and staff, it was necessary to get our police involved."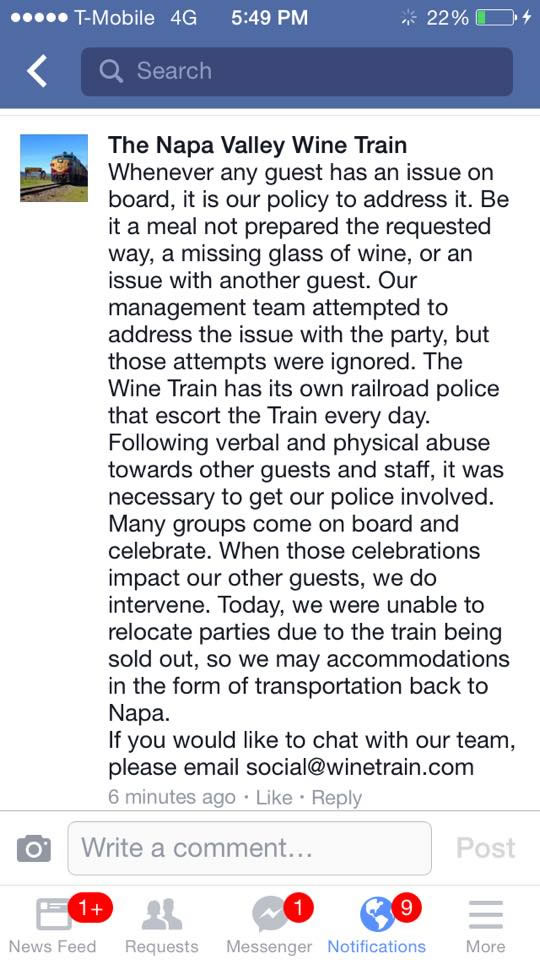 That post touched a nerve.
"And that is absolutely not true, we never touched anybody," Johnson said.
A wine train spokesperson said train managers will make sure all their procedures were followed.