OAKLAND, Calif. (KGO) -- Whether you're at a coffee shop, hotel, or airport, you'll likely find free Wi-Fi to connect to the Internet. But if you're not careful, you could fall prey to a scammer. 7 on Your Side's Michael Finney shows you the threat and how to protect yourself.
Even experts say there's no sure way to know when you're a victim. The good news is there are safeguards in place, but you need to take advantage of them.
Doug Tygar browses the Internet in his Oakland neighborhood of Rockridge. The UC Berkeley computer science professor doesn't like what he's seeing.
"The evidence that I've seen over time in this neighborhood seems to suggest that there are bogus Wi-Fi networks set up," Tygar said.
He suspects someone may be mimicking Comcast Wi-Fi service and attempting to fool people into using it. Thus, leaving people vulnerable to thieves stealing their passwords, intercepting their private information, or assuming their identity.
Similar scams can be pulled impersonating the services of any Wi-Fi provider
Greg Beach is with the Wi-Fi networking equipment company Ruckus. The Sunnyvale company helped deploy free WiFi hotspots in San Francisco and San Jose.
"Public Wi-Fi in general is inherently insecure," Beach said. "Anybody can come in with a rogue access point, into a public access setting and have the same network name."
In other words, anyone can call their network, Wickedly Fast Wi-Fi, the same network name used by the city of San Jose.
Even worse, experts say it's not that hard to do.
Vijay Sammeta is San Jose's Chief Information Officer.
"Based on how easy it is, it wouldn't be uncommon to see rogue hotspots," Sammeta said.
Some people we talked with seemed surprised.
"I wasn't aware at all. That's good to know," said Livermore resident Syvia Martinez.
"I'm weary of it. I would like to learn more about how to counter that," said San Jose resident Robert Nielsen.
Tygar found several suspicious signs: Common network names that are misspelled.
This shield with an exclamation point next to the network name is a warning the site is unencrypted and anyone can listen in.
Then there's an alert at one hotspot that might be a different network with the same name."
"Those warnings are there to tell us that were potentially entering into a dangerous situation," Tygar said.
You may also be on a bogus hotspot -- if your apps stop working or your browser starts spitting error messages.
"It's always a cat and mouse game, since there's no such thing as a 100 percent security," Sammeta said.
But you can win that game by taking some simple steps. When on public Wi-Fi, encrypt your data by connecting to a virtual private network. VPNs are available for free or through subscription services.
Connect to the Next-Generation hotspot -- Passpoint or Hotspot 2.0 -- like those deployed in San Jose and San Francisco. And always connect to URLs' with "HTTPS" in the address.
"All these things are inconvenient, especially for the layman to even understand. If that person is security conscious, and knows what to do, they can be extremely secure," Beach said.
Not taking these measures opens you up to more risk.
XFINITY offers these tips to help customers protect their devices when using XFINITY WiFi:


Get the XFINITY WiFi security profile on their wireless device. Learn more at xfinity.com/wifi/security.
If they have an XFINITY Wireless Gateway in their home, we recommend to log into the hotspot network for the first time while at home, get started by choosing the "xfinitywifi" SSID.
Turn off file sharing when using your computer or handheld on a network, at home or on the road.
Keep your anti-virus programs up-to-date and perform regular system scans to detect any problems early.


Here's a look at free municipal Wi-Fi hotspots:Hayward
Hayward Public Library:
510-293-8685
835 C st. 94541 Hayward
27300 Patrick Ave, Hayward, CA
Hayward Police Department:
510-293-7272
300 W. Winton Ave. Hayward, CA 94544
* The Hayward Police Department free WiFi is still in the testing phase
Hayward City Hall:
510-583-4000
777 B St, Hayward, CA 94541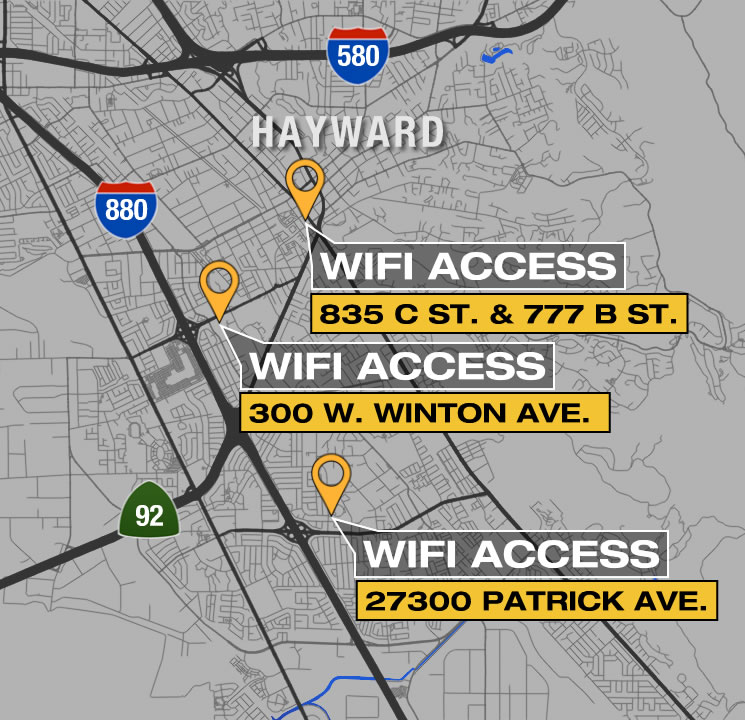 Livermore
Public Library
925-373-5500
1188 S Livermore Ave, Livermore, CA 94550
Police Department
925-371-4900
1110 S Livermore Ave, Livermore, CA 94550
City Council Chambers
3575 Pacific Ave, Livermore, CA 94550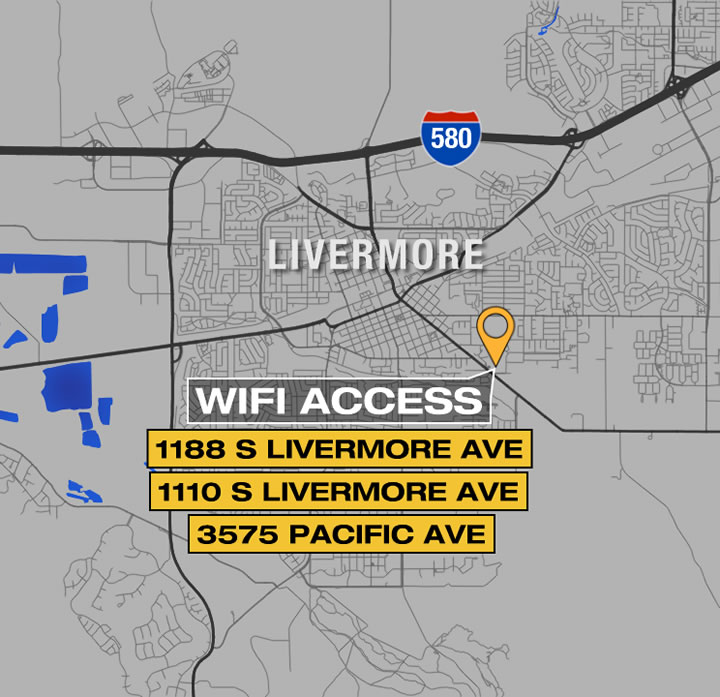 San Carlos
Youth Center
(650) 802-4471
1001 Chestnut St.
Monday - Friday, 9:00 am - 5:00 pm
Adult Community Center
(650) 802-4384
601 Chestnut St.
Monday - Thursday, 9:00 am - 5:00 pm*
*Open evenings for classes as scheduled.
San Francisco
Click here
to see all free WiFi service is offered.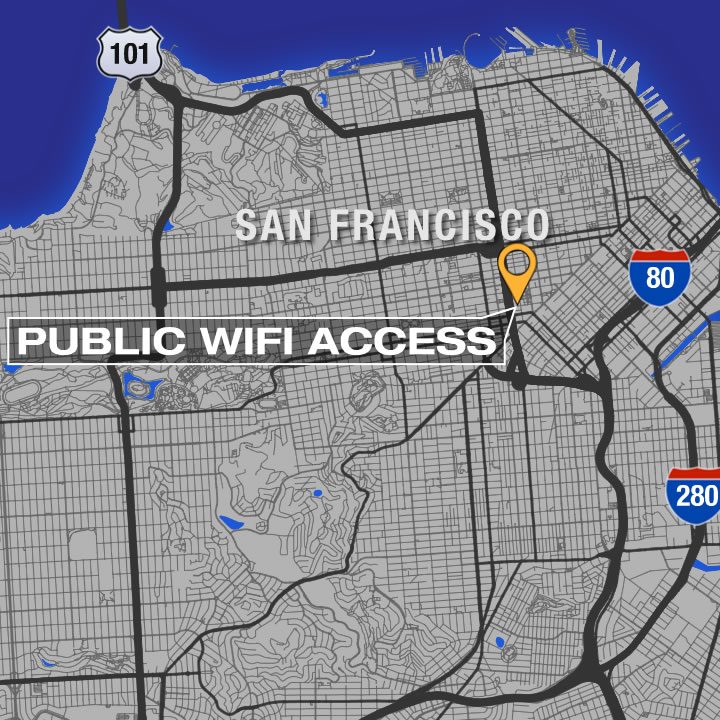 San Jose
Click here
to see where free, outdoor Wi-Fi is available.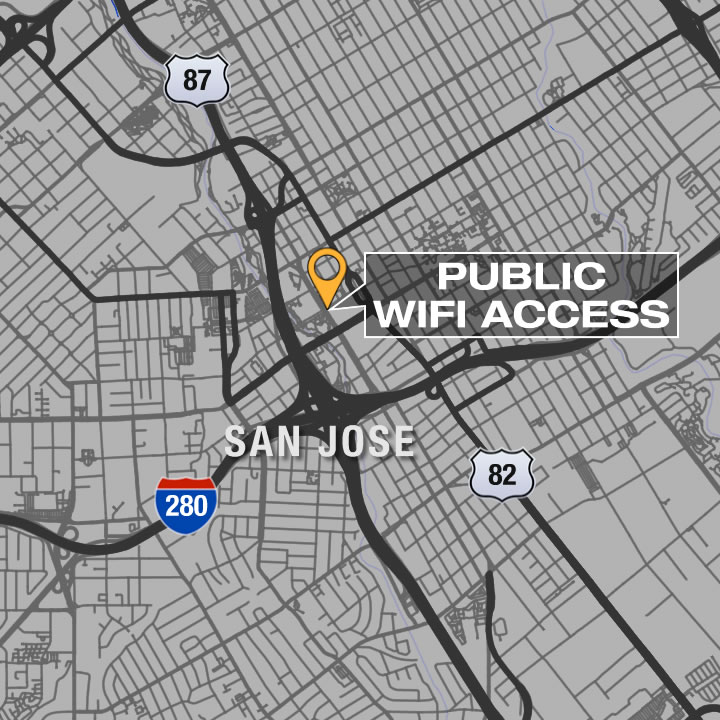 Santa Clara
Click here
to learn more about citywide outdoor Wi-Fi.