NAPA, Calif. (KGO) -- The Napa Valley Wine Train is apologizing to a women's book club after booting them from the train this weekend for allegedly being too loud. The incident has triggered its own hashtag -- #LaughingWhileBlack.
In all the years this black woman's book club has been together they say they've never been asked to leave an establishment.
"We are a group, we are respectful, we have been together for 17 years," said book club member Lisa Rene Johnson. "We go to fine dining, which is what some people want to call the Napa Wine Train."
She says they were as loud as any other group of 11 people would be if they were having fun on a Saturday.
So, they were shocked to be escorted off the train and met by police at the Saint Helena station.
And they were offended to see a Facebook post from the Wine Train, which has since been deleted. It read in part: "Following verbal and physical abuse towards other guests and staff, it was necessary to get our police involved."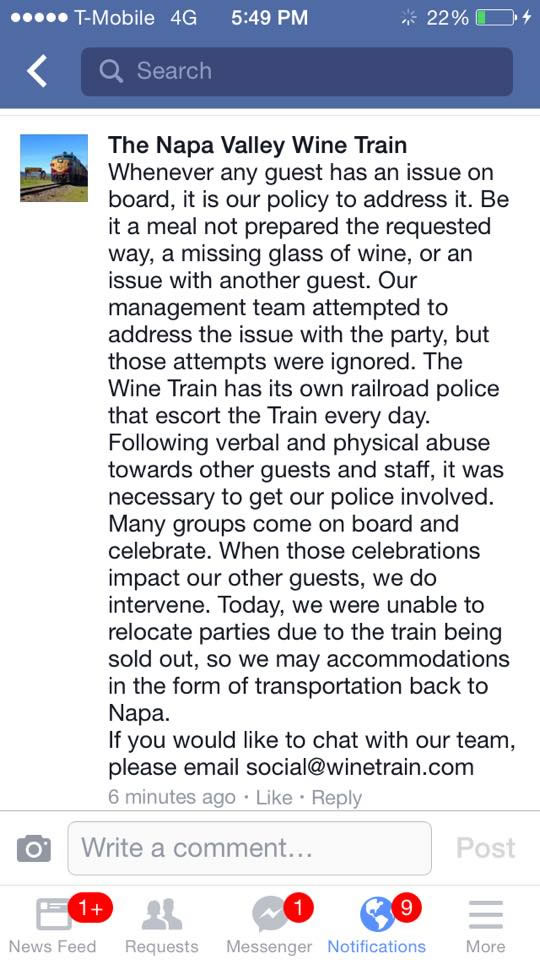 "That is absolutely untrue," Johnson said. "We have never, we never touched anybody."
PR consultant Sam Singer, has been hired as a spokesperson for the Napa Valley Wine Train, he says that post was a mistake.
He also says the police were never called in to make an arrest.
"I think the police were called to ensure that in case there had been liquor consumption that they were okay to drive home," said Wine Train spokesperson Sam Singer. "That wasn't the case, so it was unnecessary to have them there."
Managers now want to make a personal apology.
"We're trying to reach these book club members and these women so that we can apologize in person and set things straight," Singer said. "We want to respect them and we want them to respect and enjoy the wine train as well."
He said a guest is asked to leave the train at least once a month for being too loud or too intoxicated.
But this situation could have been handled better.