NEW YORK -- Inclusive storytelling gives children from all backgrounds and walks of life the ability to feel seen, heard and connected to the environment and society they live in. This, however, was not the experience for 11-year-old Nikole Hannah-Jones, who was born in the predominantly white town of Waterloo in her home state of Iowa.
Her background is weaved into the Pulitzer Prize winner's groundbreaking "1619 Project," a collection New York Times essays, a podcast and a book that has now expanded as a six-part docuseries for Hulu.
"I talk about, in the preface of the book, 'The 1619 Project,' being a young Black girl growing up in a very white state and desperately searching for myself in the American story. [I wanted] to know that I had relevance, that our people had contributed something to this nation, and not finding that," Hannah-Jones told On The Red Carpet. "And so, you feel a disconnect from your own country when you never see yourself reflected in the stories of your country."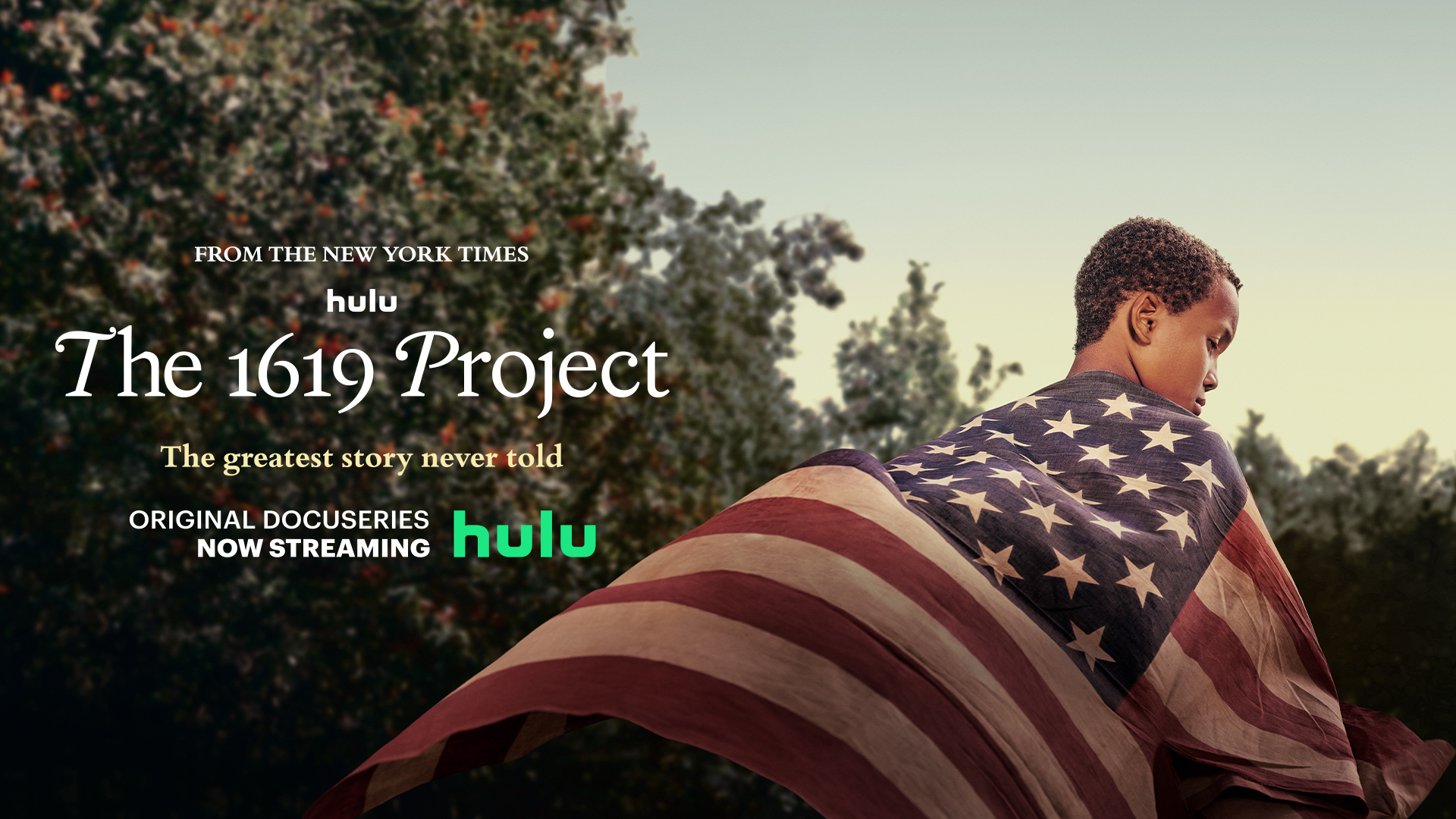 The 1619 Project
Hulu's six-part 1619 Docuseries is an expansion of "The 1619 Project" created by Pulitzer Prize-winning journalist Nikole Hannah-Jones and the New York Times Magazine.
Hannah-Jones further explained the impact it had on her to constantly try to find how she fit into the story of America.
"I think sometimes it can be hard for white Americans to understand what it's like to never see someone like you -- how demeaning that is, how it feeds into feelings of inadequacy, and how we're all being shaped then by this false narrative about who are, the true Americans who are the people who helped build this land," she said. "'The 1619 Project' hopes to fill in some of those holes. Other types of storytelling like 'The 1619 Project' are so important for us all to be a part of the story."
Hannah-Jones' curiosity about her African ancestral past peaked at the age of 15 when she took a Black studies course at her high school. That's when her teacher introduced her to a book by LeBron Bennett, "Before the Mayflower," and how the year 1619 became etched in her mind, sparking her interest in the first enslaved Africans who stepped foot on American soil.
"I've been thinking about the year 1619 since I was 15 years old, thinking about it both as a historic event, but also the power of the erasure," Hannah-Jones said.
Some years later, when Hannah-Jones was an investigative reporter covering racial injustice for The New York Times, she saw an opportunity to mark the 400th anniversary of the year the first African slaves were sold into U.S. slavery. This, she thought, was the moment to put the year 1619 into the national lexicon.
"I really wanted ... to force us to grapple with what it means that slavery is one of the oldest institutions in our country, that few things outdate African slavery, and yet we've treated this as a marginal story," she said. "At its heart, 'The 1619 Project' is a story of America. But it's the story of America told through the lens of slavery and the Black people who built so much of this country but get credit for building very little."
The New York Times' landmark "The 1619 Project" was born with a series of essays, photos and podcasts. The publication of the book in 2019 was met with a response that surpassed Hannah-Jones' expectations.
"The original project sold out of more than one print run," she said. "It was something that people wanted to keep for their families and pass on. It is something that so many Americans have embraced. It is being taught in thousands of schools across the country."
This was a project on slavery and its legacy, something that we as a society have not wanted to deal with," she added. "So the fact that so many Americans embrace this project, and we're learning from this project, I couldn't have imagined when I first pitched the project."
Consequently, some responded unfavorably to "The 1619 Project," including many individuals in power.
Hannah-Jones described an "intensive and enduring backlash" that reached "the most powerful people in this country." This includes a slew of Republican lawmakers, like Sen. Tom Cotton and Senate Minority Leader Mitch McConnell, who pushed to prohibit schools from using the project to focus on slavery's legacy.
Even former President Donald Trump took direct action to target the project.
"School boards and state governors have targeted the project and tried to ban the project. And I, of course, am the face of the project," she said. "I've also then faced a particular backlash that, in some ways, has astounded me, because I've been a journalist for two decades. I spent my entire career writing about racial inequality, and I've never been targeted in this way."
The national debate around the banning of African American studies in school still continues. Just recently, Florida Gov. Ron DeSantis' administration banned a proposed Advanced Placement African American studies course.
Amid this pushback, what Hannah-Jones describes as an "erasure" of Black history, she hopes a series like "The 1619 Project" can help bring about understanding.
"What we're asking people to do is to stare into that discomfort, because that's how you get in touch with your humanity. It's that discomfort that allows you to say, 'This was wrong.' What we did, and facing it, is the only way that we can overcome what happened," she said.
Each part of the docuseries is titled after one of six topics: "Democracy," "Race," "Music," "Capitalism," "Fear" and "Justice." They're adaptations of essays for The New York Times' bestselling "The 1619 Project: A New Origin Story," which looks at how the legacy and institution of slavery has shaped various aspects of American life.
Most importantly, the series demonstrates how the institution of slavery impacted current systems that are in place that affect all Americans. In order for us to move forward and heal as a nation, Hannah-Jones believes that education about the nation's history, about the full Black experience, while celebrating the contributions that Black Americans have made to society, will indeed lead to understanding and national healing.
"If Americans were better educated on the history of this country, if we had a better understanding of why our society looks like it does ... [If they have that understanding of] why do Black Americans suffer as a people in the way that they do, what built it, what constructed it ... then they will support policies and actions that will work to alleviate that harm. It's not that we are a hateful people. It's not that Americans don't want to be better. It's that we don't know better," Hannah-Jones said. "So to me, if you don't have to reeducate adults, but you can educate children from an early age into the truth about our society, then you empower those children to go out and create the society that we that we all wish for."
Hannah-Jones is also the co-founder of the Ida B. Wells Society for Investigative Reporting at the University of North Carolina, named after civil rights activist, suffragist and investigative reporter Ida B. Wells. The mission of the organization is to create more opportunities and retention of investigative reporters and editors of color.
"The 1619 Project," from executive producer Nikole Hannah-Jones, is now streaming on Hulu.
The Walt Disney Co. is the parent company of this ABC station.