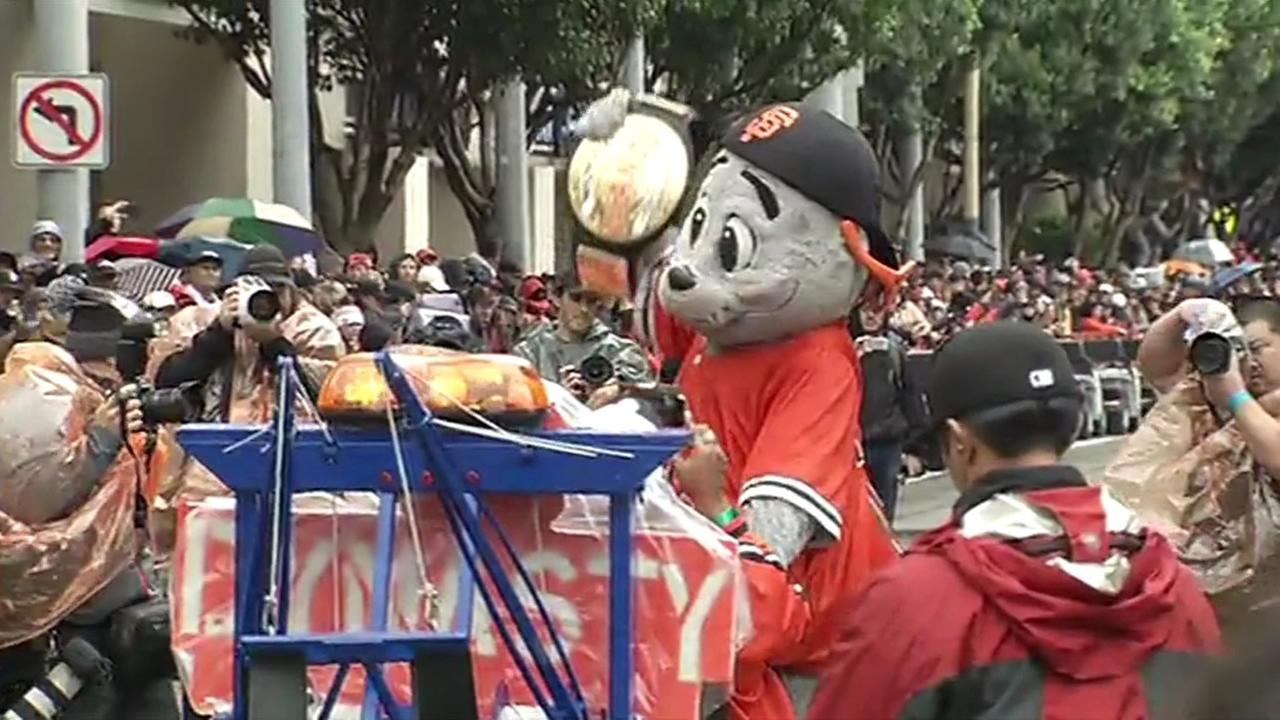 Congratulations to the World Champion San Francisco Giants!... 2010... 2012... and now
2014
! Again, ABC7 News was in the air and on the ground all along the parade route to make sure you didn't miss a minute of the World Series Championship celebration!
GET SF GIANTS VICTORY PARADE HIGHLIGHTS
HERE
!
PARADE ROUTE
The parade begins at noon and the route will start at the foot of Market and Steuart streets near the Ferry Building. Here is a
map
of the parade route.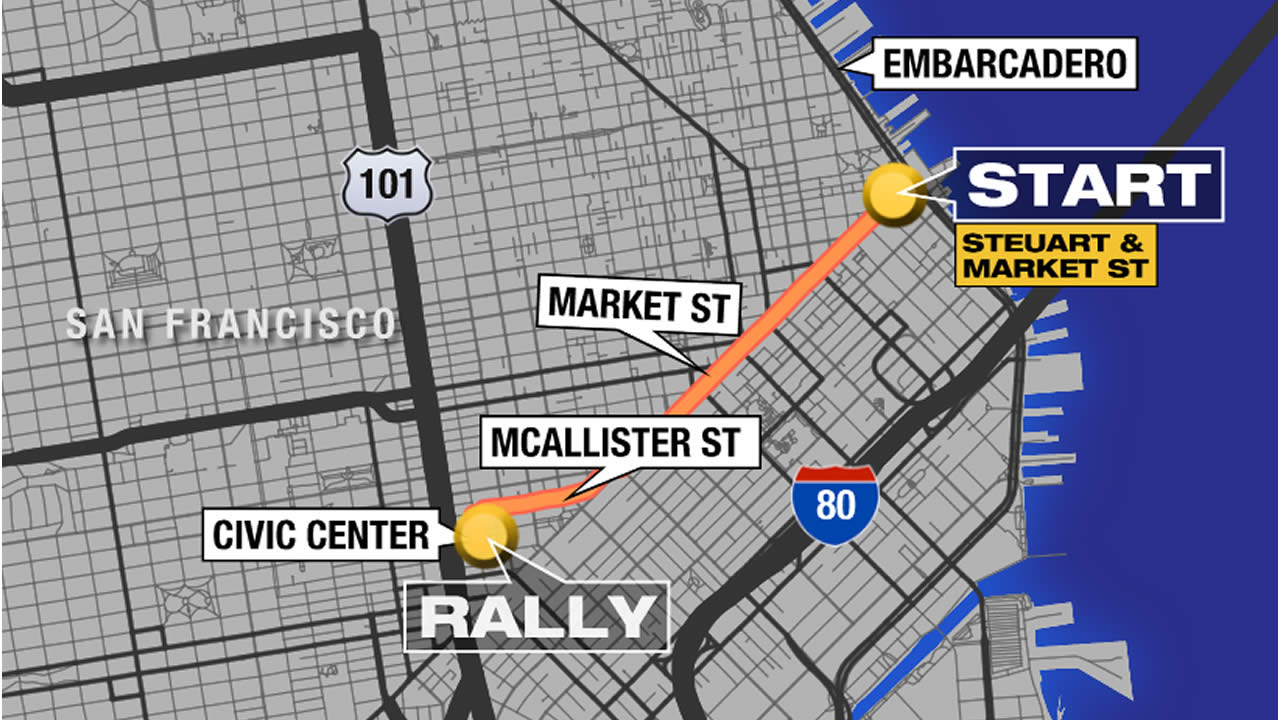 WEATHER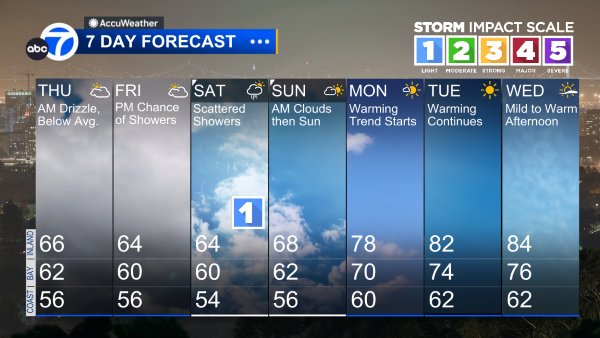 Will it rain on our parade? Early birds will probably get a little wet. But make sure to get the latest forecast
here
or download our
ABC7 News Weather app
and watch the system move through the area on
Live Doppler 7 HD
.
TRANSIT INFO
Allow yourself some extra time to get to San Francisco before the parade begins at Noon! BART is gearing up to carry hundreds of thousands of baseball fans to downtown San Francisco on Friday. They will run rush hour service all day using every available train possible. And because Friday is Halloween, trains will run until 2 a.m.
Use the
Waze app
to get real-time traffic updates and avoid congestion if you're driving around the city (or anywhere in the Bay Area)
STREET CLOSURES
Starting Thursday at approximately 7PM:
McAllister Street (between Larkin Street and Van Ness Avenue)
Grove Street (between Larkin Street and Van Ness Avenue)
Civic Center Plaza and streets around and adjacent to City Hall
Muni will reroute
Starting Friday at approximately 9AM:
Steuart Street (between Howard & Market streets)
Spear Street (between Howard & Market streets)
Main Street (between Howard & Market streets)
Market Street (between Steuart 1st & 10th streets)
Mission Street (between Van Ness Avenue & The Embarcadero)
Also be aware:
Mission Street will be closed to private automobiles but open to public transit, taxis and first responders only. Muni routes will be diverted off Market Street onto Mission Street because of the parade
No traffic or cross traffic will be permitted on Market Street, Steuart Street, and Van Ness Avenue after 9:30 a.m. and streets will re-open at approximately 5:00 p.m. or sooner
FREE WATER:
At 9 a.m., the San Francisco Public Utilities Commission will provide free Hetch Hetchy drinking water at filling stations during the San Francisco Giants parade and celebration. Locations include:
Southeast corner of McAllister and Polk streets
Mid-block at 75 Fulton St.
Northeast corner of Grove St. at Polk St.
ABC7 PROGRAMMING NOTE
Due to our San Francisco Giants Victory Parade coverage, Millionaire, Jeopardy and Rachael Ray will not be seen on Friday. The following shows will also not air, but can be seen on Saturday morning:
General Hospital - 1:08 a.m.
The Chew - 2:07 a.m.
STORIES
Tim Hudson says this is the 'best time of my life!'
Tim Lincecum enjoys another World Series parade
SF Giants' Pablo Sandoval says 'I just love the fans'
Hunter Pence rallies crowds during World Series parade
Steve Perry hands out high fives at Giants parade
More than 1 million Giants fans expected at parade
SF festooned in balloons, banners for Giants parade
Police say 'jerks' caused trouble at San Francisco Giants celebrations
Jockey celebrates SF Giants' World Series win with 'MadBum' undies
SF Giants' Crawford shares sweet moment on field with daughter
MadBum's hometown, father relish in Giants victory
San Francisco working hard to prepare for Giants Day Victory Parade
San Francisco Giants Fans Greet Returning Champs
It's definitely an orange-and-black Halloween here in the Bay Area! Share your celebration photos and videos with us on our
apps
,
uReport
,
Facebook
,
Instagram
or
Twitter
!
Don't you just love
Where You Live
?