Note: This article was published before Golden State's Game 2 win, in which Draymond Green bounced back with a strong performance on both ends.
After missing the All-Star Game for the first time since 2015,
Draymond Green
in these playoffs has reminded everyone what kind of two-way force he is -- a former Defensive Player of the Year who already ranks among the greatest playmaking big men ever.
Ask insiders to name what makes Green special, and two qualities come up over and over: intelligence and anticipation -- his ability to read the game ahead of everyone else. That Green is the one Golden State will need tonight to even the NBA Finals (Game 2, ABC, 8 p.m. ET) after a fearless
Pascal Siakam
scored over and around him (and every other Warrior) in Toronto's Game 1 win.
Before the
NBA Finals
, ESPN.com picked 10 plays from the
Golden State Warriors
' postseason run and asked Green to take us inside his mind.
Green's comments have been edited for clarity and length.
Play No. 1
It looks so simple --
Klay Thompson
and Green negotiating a standard pick-and-roll. But
Clint Capela
's screen drills Thompson.
Chris Paul
comes open on the other side. Green slides toward Paul, and appears ready to switch onto him. And then, bam: Thompson recovers, Green slides back to Capela, and a window that opened wide for a split second is slammed shut.
How did Green know not to switch? How did Thompson know what Green would do?
Chris is always going to be a pass-first player. He's coming off to his left hand. I know he's not comfortable coming off to his left hand. The chances of him just firing are slim. I know when we've been switching, they've made it a point to try to hit Capela on the dive. If Klay gets nailed like that and I jump to switch, there's no way Klay gets back to affect that pass to Capela. And I know -- Klay is a ball hawk. If he doesn't hear "switch," he's going to chase the ball.
Look at Green's feet as Paul sizes him up: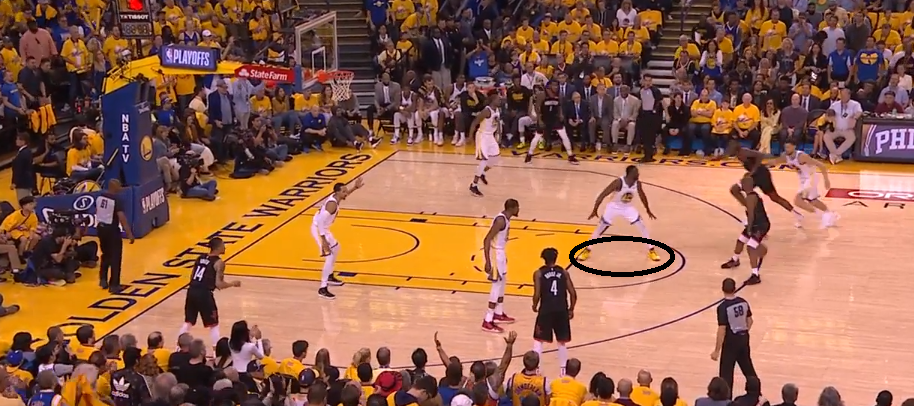 His left foot is directly in front of his right foot; his hips are wide open. That's a little unusual -- some coaches would say dangerous -- and Green does it a lot. Why? It's about weight distribution and recovery speed. Green can plant on that left foot, convince Paul he is moving forward, and push off that same foot to begin his retreat to Capela.
If my left foot is up, it's going to tell [Paul] I'm coming to him. If my feet are parallel to half court, there's no way I can drop back at the rate I need to. I'm back on my heels that way. I can't jump.The only other way I can get back to [Capela] that way is to turn and sprint, which takes another second. If I've got one foot up, I can play a cat-and-mouse game with the ball-handler and the roller.For a split second, it allows me to guard two people even though I'm not all the way up to the 3-point line.My uncle [Bennie Baber, Green's coach during elementary school] taught me to play defense with one foot in front of the other. You have to be careful of giving somebody a lane. But my mindset on that is different: If I open my hips like that and I give you that way, I know you're going that way and I can react better. You're taught to send some guys to their weak hand. But one thing I've figured out -- some guys, I like to send to their strong hand, because I know exactly what you're gonna do. That gives me a better chance. If I try to send you to your weak hand, chances are you're a great player -- if I'm worried which hand I'm gonna send you to, you've made a living out of still getting to that strong hand. So now I'm guessing what you're gonna do as opposed to knowing, "OK, I know he's going this way."
Play No. 2
How is Green, like, everywhere before the Blazers expect him?
I'm at the free throw line analyzing the entire possession. I know it's CJ [McCollum] coming off, so it has to be a blitz. At that point, it's really Klay's rotation [to Meyers Leonard at the rim]. He's the low man.

But Klay is guarding Damian Lillard. So we'd rather not have Klay go help. If he does, we're leaving a 2-on-1 on the weak side with Dame and Seth [Curry]. We don't want that. I'm guarding the non-shooter, so I'm the help man.
Before Green slides to Leonard, he takes a half-step in McCollum's direction. The pass to Leonard appears open.
CJ has Andre [Iguodala] and [Kevon Looney] on him. CJ's 6-3? The likelihood of him seeing that pass and actually getting it through is slim to none.
And then comes perhaps Green's hallmark defensive play: winning a one-on-two situation by stunting at
Evan Turner
, and baiting Turner into a lob pass. Green is already on his way back to tip that pass before Turner releases the ball.
I am going to force Evan Turner to hit this shot from the foul line. Chances are, he probably won't even take it. What I can't give up is the automatic two with the lob. I stunt at him to make him think I'm coming, but I'm never going to Evan Turner at the free throw line. Once I stunt and get back, now I can affect the lob. But I'm also putting myself in rebounding position, and we're off to the races.
Smart players have figured out Green plays possum for the pass. In the second round,
James Harden
stopped throwing it, and attacked Green at the rim. Green didn't mind.
You could tell as the series went on, James threw the lob out of his repertoire. If that guy continues to drive, I'm going to meet him at the rim. Every now and then I'm going to get dunked on. I don't care. I think I affect way more shots than I get dunked on.
Play No. 3
This looks similar, except that
Maurice Harkless
slips that pass behind Green -- leading
Al-Farouq Aminu
toward pay dirt.
I really f---ed this up. I have to keep my feet open there. My left foot should have been higher. Instead, I have to drop my right foot again [when the pass gets behind him], and it's wasted motion.I know Harkless is not shooting that from the foul line. If he does, that's a win for me. I should stunt to him and get back. He'd throw that pass, and I'd have a steal. But I f---ed up and started coming toward him too much.Jordan Bell saved me. He makes Aminu stop for a split second, and that's all you need.
Play No. 4
McCollum splits a trap, draws Green, and fakes Green off of his feet before dumping to Harkless for what looks to be a dunk. Instead, Looney and Green smother him. Green stops himself before leaping too high on the first jump, and bounces into a super-quick second jump.
I wouldn't say CJ fooled me. I wouldn't say I guessed wrong. I have to honor CJ, or it's a floater, which is money for him, or a layup. There's no more trying to stunt and faking him out. When you're beat, your only job is to make the offense make one more pass. That allows for the possibility of another rotation. Right here, we're dead. CJ's either going to get fouled or get the layup. I have to sell out to him. I force the pass, and Loon covers for me.Once Loon covers for me, I'm able to get back and help get the block. But Loon slowed Harkless down.
On that first mini-jump, and the burst after:
I didn't jump and take myself out of position like most guys do. I've always had a quick second jump. I basically couldn't jump, so my second jump was always more important than my first jump.
Play No. 5
Imagine being
Seth Curry
. You come off this
Zach Collins
pick with room to launch, but then Green flies at you. OK, Plan B: Green's momentum is carrying him toward you, so there's no way he can get back to interfere with any pass to Collins.
Nope. Green opens his stance again -- left foot way in front of the right -- and bounces back to intercept the pass.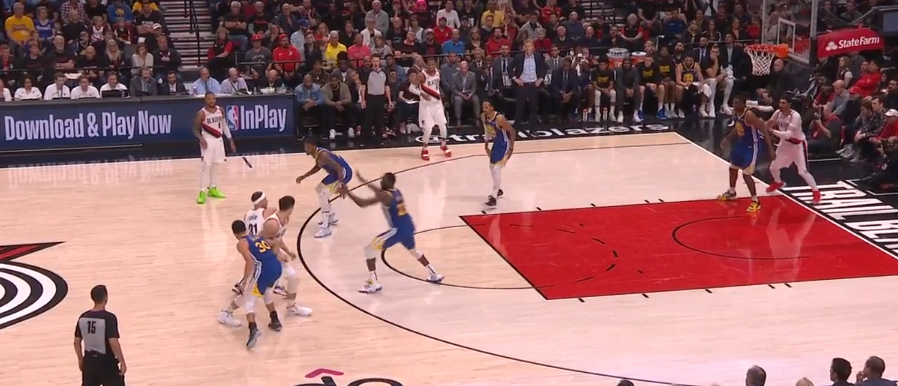 Seth loves shooting going to his left. Steph [Curry] has done his job. He forces Seth over the top. It's my job to be up at the level of the screen and take that shot away. So I go at him. But knowing Steph is right on his hip, if I can take the shot away, I can start right back to Zach Collins. He tries to wrap that pass around me, but it's not getting there. I can just take it. The most important thing is to force another pass. If I do, Looney's there [under the rim, guarding Enes Kanter] waiting on it. That's his rotation. Now I gotta fly back and crack back on Kanter.
On his footwork:
I'm not selling out to Seth. If I sell out, I'm coming up in an all-out blitz, which means my feet are parallel to the baseline. I don't sell out here. I try to cover up but not break our whole defense down.
Play No. 6
This one-on-two looks trickier, with
Austin Rivers
coming from a diagonal and more space for Green to navigate. Turns out, it wasn't so tricky.
He severely telegraphed his pass. He don't even look at the rim. He looks at Capela from the time he starts dribbling. The entire time. So I'm stunting and getting back to Capela. If Austin wants to come to the rim, I'll meet him up top.
What does Green fear most in these situations?
The lob. Notice I drop back to the rim. I don't recover to Capela at the dunker [spot, along the baseline]. I stand at the rim. Capela is not about to catch this and shoot a floater.
Is there a spot on the floor Green knows he can't cross without exposing the lob?
If you get out of the restricted area, you can forget about it. There's no way to recover.
Play No. 7
This is classic roving Green. He's technically guarding Harkless, but he ignores Harkless to overload Lillard's side of the floor.
I just do this. The coaches trust me to make reads, to do whatever I want.
Green's gambit risks Harkless flashing open at the foul line, and into a 2-on-1 -- the sort of play Green would make on offense, actually. Green doesn't care.
If he flashes, I'll meet him at the rim.
Green's one-man zone is so brazen. He hides nothing about his intentions. He is right in Lillard's line of sight, daring him to pass to Leonard, almost taunting him. Was he surprised Lillard tried it?
Not necessarily. The goal is to make him play on one side of the floor, or force him to try the skip pass [to the other side]. You have a 6-7 guy and a 6-8 guy on a -- what is Dame, 6-2? How is he gonna see [the skip pass]? So my job is to then take the first pass away. If you blitz Dame, like we have Jordan Bell do here, you can't give up that first pass. Otherwise the trap is pointless. He shouldn't make that pass. But to him, I'm not taking Meyers Leonard away -- in his mind. I'm not denying him directly. But I'm close enough to get it.
Play No. 8
What a visual: two stars as mirror images -- crouched to the same height, leaning forward nose-to-nose, lead feet (James Harden's left, Green's right) almost touching toes.
Most guys who press Harden end up staring at the back of his jersey.
I'm giving him his right hand. If he wants to take off right, I already have a head start to get on his hip. Not necessarily that I'm gonna cut him off, but I can force a tougher shot. Because I'm giving him that lane, I can press up more. If he's going to drive, I know exactly where. I'm also trusting the help. I know if he does get by me, I have to make the next rotation. I'm just taking stabs at his dribble. James and several other guys in the NBA -- they use their dribble to get rhythm. James really uses his dribble for rhythm. I'm just trying to keep him off balance. Steve [Kerr] always talks about controlling the point -- a tennis analogy. You want to be the person charging the net, not the person on his heels. When James Harden has the ball, I don't care who you are, you're at a disadvantage. He is that good with the ball. So what can I do to try to give myself an advantage? I try to force him one way and I play the step-back. I know he's trying to get to the step-back. If I'm two steps off him, I'm at his mercy. I jump out to get a contest, and it's more than likely going to end up a foul. I win this possession because I take the step-back away.
Green again has one foot in front of the other, and can almost rock back and forth on that lead foot -- so that even as he jabs toward Harden, he can push back toward the rim in one quick motion.
I'm playing him to beat me off the drive, so I'm ready to react to him driving.
Play No. 9
This is the play I will always remember from Golden State's clinching Game 6 win in Houston. Golden State destroyed the Rockets with this Curry-Green pick-and-roll on the right side.
P.J. Tucker
blitzed Curry, and for most of the fourth quarter, Green responded by slipping open toward the paint, taking a pass from Curry, and rampaging into his trademark 4-on-3s for floaters, layups, and lobs to Looney.
Watching from afar, it seemed as if all that rim-running set up this dagger. At a pivotal moment, Green stopped short. He seemed to know Tucker would again lunge at Curry and then scramble back toward the paint, and that if he hit the brakes for a handoff, Tucker would not be able to reverse momentum in time to contest Curry's 3-pointer.
I can't remember if it was him [Curry] that said "hand back" or me that said "hand back," but one of us said, 'Yo, the hand back is about to be open."We've been playing together for seven years now. We got chemistry. We don't need a stoppage in play to get a signal to each other. You can't make that up -- the big moments and big experiences. The last three or four plays, I've rolled out of this into the paint. So I know, once I catch [Curry's pass], P.J. is going to retreat the paint. And once he takes one step, he's dead. Steph's release is that fast. Even if Capela takes me and P.J. tries to crack back and take Looney, his first step has to go toward the paint. And if he takes one step, he's dead. And we had beaten them so much going to the hole, I know he's taking that step.
Was Green surprised Houston didn't switch more?
I was surprised. But Steph had it going. If they do switch, I'm taking Steph in that matchup. P.J.'s a great defender, but I'm taking Steph 10 times out of 10.
Play No. 10
This has become perhaps Green's signature pass, and Looney is its most frequent recipient. It is the great irony of Green's game: In defending one-on-two situations, Green baits the offense into passing; in leading 2-on-1s in the half court, Green baits defenders into thinking he'll shoot. Smart defenders have realized Green wants to pass; they sit on the lob, and dare Green to finish layups over a late challenge. Green largely obliged against Houston and Portland.
This play seemed unusual in that Green appeared to wait a very long time -- until the ball is rolling off his fingertips -- to decide whether to pass or shoot. That looks like a floater until you realize it's heading a few feet left of the rim.
What had Green known, and when?
Most of the time, I know already once I catch the ball what's gonna happen. This is different. Even when I jump here, I'm thinking shot. Montrezl [Harrell] did a really good job of taking my shot away and taking the lob away. But he still commits. He jumps at the last second. And look where he jumps at. He didn't meet me at the rim. That's what I'm telling you. You gotta drop back and meet me at the rim. Once he commits, he tells me what to do as a playmaker. He picked one. Looney has sneaky bounce. He has long arms. He has feel. The connection we have is that he's smart.