WASHINGTON (KGO) -- There's word of a possible new executive order involving children. In an interview with "Axios on HBO," President Donald Trump says he's considering ending birthright citizenship. The U.S. would not be the first in the world to do so. Right now, 30 countries have birthright citizenship. And all but Fiji are in the Western Hemisphere.
RELATED: Can the president change the Constitution?
Ireland ended it in 2005 and France in 1993.
Birthright citizenship is a constitutional right. The 14th Amendment states that babies born on U.S. soil are citizens, despite the immigration status of their parents.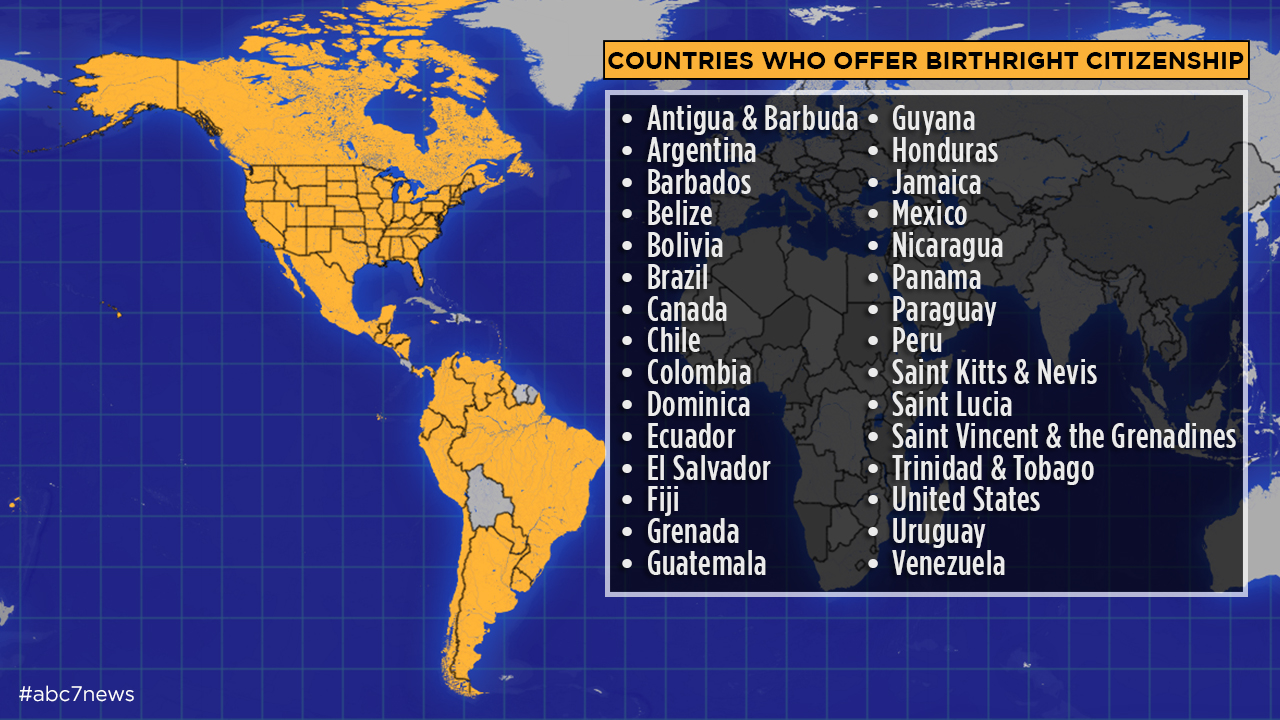 The president now says he can end all of that with an executive order.
But the legal groups say the constitution can only be changed through a constitutional convention, ratified by three-fourths of state legislatures, or a two-thirds vote in both houses of Congress, Then, three-fourths of the states affirming the proposed amendment.
RELATED: Trump claims he can end birthright citizenship for children of noncitizens
In a statement, The ACLU called the president's proposal a "blatantly unconstitutional attempt to sow division and fan the flames of anti-immigrant hatred in the days ahead of the midterms."
Here's a list of the 30 countries that offer birthright citizenship:
Antigua and Barbuda
Argentina
Barbados
Belize
Bolivia
Brazil
Canada
Chile
Cuba
Dominica
Ecuador
El Salvador
Fiji
Grenada
Guatemala
Guyana
Honduras
Jamaica
Mexico
Nicaragua
Panama
Paraguay
Peru
Saint Kitts and Nevis
Saint Lucia
Saint Vincent and the Grenadines
Trinidad and Tobago
United States
Uruguay
Venezuela
Get the latest stories and videos about President Trump here.