SAN JOSE, Calif. (KGO) -- A fallen San Jose police officer will be laid to rest on Tuesday. Officer Michael Katherman is being honored during a ceremony at SAP Center
RELATED: Fallen SJ Officer Memorial Service - WATCH LIVE
VIDEO: Thousands line streets for Officer Katherman's procession
Barriers are out in front of the SAP Center.
PHOTOS: Procession for fallen San Jose Police Officer Michael Katherman
This image shows the procession for fallen San Jose police Officer Michael Katherman on June 16, 2016 in San Jose, Calif. (KGO-TV)
Security will be tight. Doors open up at 9:30 a.m.
Flags are also at half-staff.
Attorney General Kamala Harris will be there. She'll join police officers from all across the Bay Area, the state and even from around the nation to honor Officer Katherman.
The 34-year-old officer was killed in the line of duty one week ago.
A minivan turned in front of Officer Katherman while he was riding his police motorcycle. He crashed into the van and later died at the hospital.
RELATED: San Jose motorcycle officer injured in crash dies
Police Chief Eddie Garcia says the 11-year veteran loved his job and loved his family.
This is the second San Jose police officer killed in the line of duty since Match of last year.
"Right now, it's a time for the officers to reflect on the job they do, why they do it, and really think of Mike's sacrifice and what he did for this community and try to live up to that sacrifice every day they come to work," Garcia said.
Officer Katherman lived in Hollister and had a wife and two sons, ages 10 and 8.
VIDEO: Procession for fallen officer winds through South Bay
He grew up in San Jose and attended Valley Christian High School.
ABC7's media partner, the Mercury News, says Officer Katherman was sworn in on July 2005 and earned the department's Outstanding Police Duty Award in 2009.
RELATED: Memorial grows for fallen San Jose police officer
His memorial starts at 11 a.m. The public is invited to attend.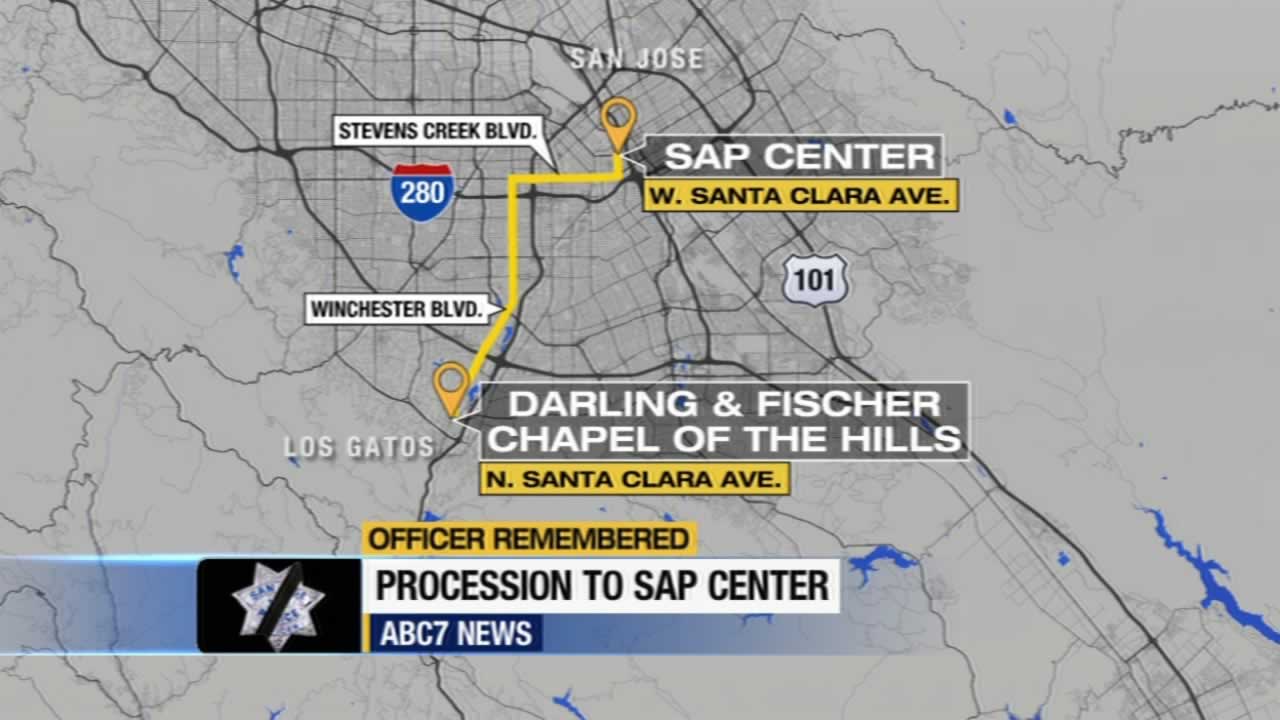 Click here to donate to the Katherman Family.
Click here for full coverage on the death of veteran San Jose Officer Michael Katherman.