A little inspiration goes a long way. That's why ABC7 is always on the lookout for real people, doing great things. Your stories are why we come to work every day. We believe in the game changers, the dream chasers, the explorers, the REAL stars where you live.
SWAN DREAMER: Being a black woman in a world dominated by white dancers is not easy. Aesha Ash travels the country with the message that talent shouldn't be constrained by race or socio-economic status. Her goal: to encourage young people to persevere and dare to dream.
Watch her story here!
PASSION CREATORS:
Three Bay Area filmmakers are following their passion and using it to tell stories about the human experience. Sephora Woldu, Nicolas Jara and Reid Davenport are local filmmakers who shared with us what drives them to tell stories. Check out their stories and find out how they are using their craft to tell important stories.
RAISING THE BARRE:
San Francisco Ballet's youngest male principal dancer believes in spreading kindness when he's off stage. Benjamin Freemantle is also a self-taught barber and hits the streets around Civic Center to offer free haircuts to those who are down on their luck. Learn about his story
here
!
AMBASSADOR OF DANCE:
As the Oakland Ballet Company celebrates its 48th season performing the Nutcracker, ABC7 News is recognizing a man, making a difference for his dancers and to the community around him.
Read on to find out why Artistic Director Graham Lustig is this month's ABC7 Star
!
GREYWATER RECYCLER:
Sixteen-year-old Shreya Ramachandran isn't just TALKING about saving the planet, she's taking her own steps online, in the classroom and on the international stage. Her nonprofit Grey Water Project is the result of years of research and advocates repurposing lightly used water from the home to flush toilets and irrigate landscape.
Watch her inspiring story here
!
SEWING INSPIRATION:
Fashion and footwear designer Devlin Carter's sneakers have blown up on Instagram. His unique style has gained the attention of thousands of people and celebrities all over the world. Inside Carter's Oakland show room, you'll find his designs. But, upstairs on the weekend, a fascinating operation is underway. He's teaching kids how to sew.
Here's his story
!
OPEN-HEARTED ORGANIZER:
Some of us can barely keep our own closets organized. Dori Freitas has been a steady volunteer at Bay Area Crisis Nursery, helping organize thousands of donated items each year to help those in her community, and in turn, prevent child abuse. Learn about her
story here
!
Lisa Gauthier has earned star status through her inspiring journey to reclaiming her education. Lisa is not your typical college student- she's also a third term East Palo Alto Mayor! Through her position as Government Affairs Manager at Study.com, she paved a new path for herself and others like her who lack the time or money to enroll in a traditional college setting. Gauthier recently graduated and received a Bachelor's degree from Thomas Edison State University while simultaneously serving as Mayor. Lisa proved her own motto as true: Education delayed is not education denied.
Go here
for her full story!
JAZZ HERO:
"Transforming lives through music." That is the mission of ABC7 Star, Stacey Hoffman's non-profit,
Living Jazz
. Their annual
Jam Camp
reserves spots for disadvantaged young people to help more kids make meaningful connections through music.
ROOT BUILDER:
Heidi Cartan is planting seeds of hope at
Common Roots
Farm. She is helping young adults with disabilities cultivate new skills and a sense of belonging.
Go here
for her full story!
JOY MAKER:
Lauren Kobashigawa is "nuts for change." She turned her love of peanut butter into a way to help kids. A growing business and a giving heart are definitely sweet, star-worthy qualities.
Go here
for her full story!
LOVING SUPPORT:
Pets can be a great comfort to someone suffering from illness. But sometimes sickness gets in the way of caring for cuddly companions. ABC7 Star and
PAWS
volunteer, Jesse Harrison-Noonan makes caring for a furry friend easier for people who need it most. Learn how you can become
PAWS volunteer
too. For the full story
go here
.
ALL-PURPOSE HEART:
Good chefs love to cook for others. Great chefs love to teach others how to cook. Chef Olive, co-owner of
Kitchen On Fire
, is one of the great ones. This warmhearted ABC7 Star is a volunteer instructor with
The Bread Project
, an intensive bakery training program that is free to people facing economic barriers. Chef Olive earns star status for using his passion as way to help others succeed. For Chef Olive's full story,
go here
.
VOLUNTEER JOHN:
If you're affectionately known as "Volunteer John" you can bet you're making a big difference and people are paying attention. ABC7 Star, John Hammond definitely deserves to be recognized. He gives an impressive amount of time to a long list of volunteer projects. John earns a spot among our ABC7 Stars for always jumping in to help out any way he can. John is an ambassador for
Best Buddies
, an organization dedicated to empowering people with intellectual and developmental disabilities like himself. Learn how you can get involved with Best Buddies
here
. For John's full story
go here
.
GEARHEAD MENTOR:
A positive point of connection and a good mentor can go a long way. That's why
Project Wreckless
founder
Jordan Langer
buys classic cars for strangers to fix up. Actually, not just strangers but troubled teens in need of new tools for life. This ABC7 Star knows how to restore cars and build confidence. Learn how Project Wreckless is giving at-risk youth the keys to a new future
here
. More about Project Wreckless
here
.
KIND SURVIVOR:
One small object can mean a world of comfort to a kid in crisis. ABC7 Star and
CALICO
volunteer,
Ally Loo
, knows that well. She turned her story of survival into a way to share kindness with kids who have suffered child abuse. CALICO works to seek justice and healing for abused children. Learn how they do it and how you can help
here
. More about Ally Loo
here
.
SAFETY GUARD:
Kate Robinson is making streets safer for many San Francisco students who walk to school. She leads the
Safe Passage
Program for the
Tenderloin Community Benefit District
. This ABC7 Star knows that connecting her community is key, "We meet people. We talk to people. We involve everybody in this process...that alone, makes everyone feel safer." TLCBD and Safe Passage are counting on you! Learn how you can help
here
.
Click here
to read more about Kate Robinson.
HEALTHY CONNECTOR:
Serena Meyer is a nurse who knows connections. As a lactation expert for
Bay Area Breastfeeding Support
, she runs a program that helps connect mothers with their newborn babies and also connects women with breastfeeding experts. Serena earns her spot among our ABC7 Stars for giving parents and babies a healthy start based on loving support, regardless of their ability to pay.
Click here
to learn more about Serena's mission.
MENTOR IN MOTION:
It's said that determination is the key to success. For
Judith Smith
, determination is the key to just about everything. She's the founder and director of
Axis Dance Company
, where dancers with and without disabilities perform side by side. A former championship equestrian, Judith's dream of riding horses ended at age 17, when a car accident left her disabled. Movement is what allowed her to connect to her body again- and ultimately...make a permanent mark on the world of dance. Her determination to show people what's possible, brings us hope and inspiration. This ABC7 Star is changing the perception of physical disability and reminding us that we are all part of humanity. Learn more about Axis Dance Company here:
axisdance.org
and
click here
for the full story.
INDEPENDENCE GUIDE:
When you're a young adult on the Autism spectrum, finding a place to belong can feel overwhelming. ABC7 Star, Liz Kane is working to change that. She started Shire House to help young adults on the Autism spectrum learn the life skills needed to live on their own. We love Liz for guiding so many down a path of hope, optimism, and independence. Learn more about life at
Shire House
.
FRUITFUL FOUNDER:
Growing up in Senegal,
Nafy Flatley's
grandmother taught her how to make nutritious juice from the superfood fruit, baobab. Now, Nafy is sharing what she learned to help people lead healthier lives. She founded Teranga, a company "on a mission to create refreshing and healthy drinks, handcrafted in small batches, using baobab and other unique ingredients from around the world." Nafy's passion for making healthy food affordable and accessible to all, makes her an ABC7 Star. Check out
Teranga's
mission and super fruit juices.
CAFE CRUSADER:
Teresa Goines founded a Bay Area supper club built on second chances.
Old Skool Cafe
is a place where at-risk youth find hope for a better future through a creative mix of food and fun. Teresa's inspirational recipe for success earns her a place among our ABC7 Stars. Check out the menu and mission
here
.
HOMEWORK HERO:
Ninive Calegari has a profound belief in young people. She's known for taking learning to new heights and inspiring kids to read. Ninive co-founded
826 Valencia
. Many people know it as the pirate store in San Francisco's Mission District but there is a greater good happening behind all the fun. This ABC7 Star is changing kids' lives one book at a time. Check out
826 Valencia
and see how they expanding the love of learning to new neighborhoods.
PROMISE KEEPER:
As a teacher, Dr. Joseph Marshall, Jr. was tired of seeing his students end up on drugs, in prison or dead. Without knowing how, he promised his students that if they worked hard, he'd help them get a college education. One student at a time, and 226 college graduates later, he's kept his word. That's why we're proud to honor him as an ABC7 Star. At 70 years old, Dr. Joseph Marshall Jr. is still at it. Check out how he's transforming the lives of young people through
Alive & Free
and spreading the words his grandmother taught him: "The more you know, the more you owe."
Click here
for his story.
GUARDIAN SCHOLARS:
The people who support us and push us to fulfill our dreams, leave a lasting impression. Sometimes they're parents or favorite teachers. Other times, they're strangers with big hearts who take the time to care. ABC7 Stars, Sonja Lenz-Rashid and Xochitl Sanchez definitely take time to care about others. At San Francisco State, they've created a unique support system to help former foster kids succeed, in and out of the classroom. This ABC7 Star Story is just as much about these two impressive women, as it is about the young people they inspire.
Click here
to learn more about how Xochitl and Sonja are helping former foster kids with the Guardian Scholars program. And
click here
for her story.
HOPEFUL HELPER:
Every Friday, Maria Guevara and her team of volunteers navigate the streets of their community, delivering lunches to people in need. That's just one of the many reasons Maria is an ABC7 Star. She founded the group
Vallejo Together
and sees every day as a new opportunity to help someone. It's a mission we believe in, and one you should see.
Click here
for her story.
FOOD ANGEL:
When the North Bay wildfires were burning, Meredith Elliot and her team of Sandwich Angels showed up to help feed first responders. She's a trained chef, a caterer, a survivor, and now, a deserving ABC7 Star.
Click here
for her story.
EMPATHY EDUCATOR:
Vicki Abadesco helps kids connect and work problems out together. She co-founded
Soul Shoppe
, a group that teaches respect and empathy as a way to battle bullying. A builder of safer learning environments is definitely someone we are proud to have as an ABC7 Star.
WELLNESS WARRIOR:
When life takes an unexpected turn, a little support can do a lot of good. That's what unstoppable
ABC7 Star, Stan Rosenfeld
does best; provide support. Stan was diagnosed with prostate cancer in 1997. He was scared at first, but ultimately saved with the help of good doctors and treatment. But Stan realized he needed more than medicine could provide. He needed people to heal with. So Stan found something that can be hard to find- a men's, prostate cancer support group that provides participants a way to connect each and every week. He found out quickly that, "men want to talk to other men right away and share their experiences." Stan now runs the group and has helped over 1300 men deal with the life-changing reality of a cancer diagnosis. The support he provides doesn't stop when the meetings end. He takes phone calls at all hours, is an experienced patient advocate, and volunteers with a local nonprofit fighting to end prostate cancer. Stan, your dedication and courage has landed you right where you belong: happy, healthy and recognized for helping others find their path to wellness. Learn more about the support group that Stan runs
here.
Join the fight with Stan. Get involved
here
.
RING LEADER:
Keeping kids out of trouble can be a fight.
ABC7 Star Jimmy Ford
is up for the match. He's a retired boxer who started Fire in the Ring; a boxing gym that's also a safe haven for at-risk youth. People of all ages can train at Fire in the Ring, but weekday evenings are all about free boxing lessons for kids. Jimmy and his team teach the kids all sorts of sparring skills, but there's something bigger going on at Fire in the Ring. Along with right hooks and left jabs, these kids learn how to focus their energy in a positive way. They learn discipline, respect, and most importantly, they learn a fight belongs in the ring, never outside. To Fire in the Ring kids Jimmy is a big brother. He's been through a lot of the same things they have, he keeps them on-task, and he's always in their corner. The kids at the gym already know Jimmy is a star. We definitely believe this knockout mentor deserves that title.
Click here
to learn more about Fire in the Ring on Facebook.
CUPCAKE KING:
No matter who you are, second chances are sweet. That's especially true if you've fallen on troubled times. A small business in Richmond is "baking a better world" with that in mind and ABC7 Star, Andrew Stoloff is leading the charge. Andrew owns Rubicon Bakers, a caring company that hires many employees who've endured life on the streets, prison, and substance abuse. He even offers no-interest loans to Rubicon employees if a car breaks down or if they need to pay an unexpected bill. Andrew's not a just boss, he's is a true leader with a big heart, and for that this Cupcake King is an ABC7 Star. Supporting Rubicon is as easy as treating yourself. Find out where you can find these delicious cakes and cookies at
http://www.rubiconbakery.com
RECOVERY ATHLETE:
One day can change everything. For Theo St. Francis that day came right before he was about to start college at his dream school, MIT. He was all set to study engineering and compete on the swim team. A week before orientation, Theo dove into the Boston Harbor, breaking his neck and injuring his spinal cord. He woke up in the hospital unable to move, facing a new reality. Instead of despair, Theo chose determination. With the help of his trainer, he started to regain sensation in his body, piece by piece. He could move his head, his neck, his shoulders and his arms. Despite his mobility challenges, Theo is charging ahead on a new mission...to give back. He and his trainer created Zebrafish; a passion project to provide online tutorials for people recovering from spinal cord injuries. The tutorials don't cost a thing but they do provide a wealth of human-powered healing tools. Theo remains very active and still finds freedom in the water. He wants us all to know, that his accident is only one part of his story; a single lap in a much larger race. Keep going the distance, Theo! Your unstoppable determination makes you an ABC7 Star. Keep up with this inspiring athlete's journey at
TheOvercoming.org
.
HOSPITABLE HEALER:
We all have that one friend who changed the game for us. That unexpected person who makes you believe great things are possible. For ABC7 Star, Dr. Alan Wong, that person was JW Knapen. They didn't meet under the best circumstances. Dr. Wong was a pediatric oncologist. JW, his patient, diagnosed with Leukemia. The two became very close. Until JW died just before his 17th birthday. Before he passed, the teenager helped raise hundreds of thousands of dollars to build a welcoming home for families who need an extended stay at local hospitals. After JW's death, Dr. Alan Wong picked up right where his friend left off. Dr. Wong finished the fundraising, opened the home, and now volunteers there every Saturday. He's proud of the "home away from home" that he and JW helped build, and even though, Dr. Wong lost his friend, the hope, healing, and hospitality that came from their bond, lives on at JW House in Santa Clara. JW's mother sums up Dr. Wong's spirit very well, "He's just a good guy. He's a really good human being. In his own quiet way he does so many good things. He became a family friend. He went above and beyond." A generous and loving spirit is always worthy of mention. A generous and loving spirit who takes it to the next level like Dr. Alan Wong did for his friend and patient, now that's an ABC7 Star! Learn more about the house that JW and Dr. Alan Wong built
here
.
MUSIC MAN:
When he was young, Michael Valcour did not speak. He couldn't find his words. Now, he can't stop singing them. At a very young age, Michael was diagnosed with autism. For his entire life, the disorder has made it difficult for Michael to communicate with others. Even a simple conversation is isolating for him. So Michael found his own way to connect; he sings. And he's really good at it. In fact, he's a professional baritone! Pop, opera, musicals...there's no genre out of reach for this ABC7 Star. Michael will sing them all at the drop of a hat, or maybe a mic. A lot of people look at a stage and feel fear but Michael sees opportunity. An opportunity to express himself, to be part of something, and to make his biggest fans (his parents) proud. We want the entire Bay Area to be proud of this music man too; for overcoming the odds and showing us all that facing our fears can reveal our true strength. Take a bow, Michael! You deserve a standing ovation fit for the biggest star.
COMPASSIONATE STYLIST:
There's a small sense of personal satisfaction in a fresh haircut. Looking your best can help you feel your best. Now, imagine that one, simple thing were taken away from you. You know you'd miss it. A lot of the people that come to see
Raquel Fajardo
for a haircut, definitely miss that simple pleasure and a lot more. Every Tuesday, Raquel offers haircutting services for the homeless and, really, anyone in need. She calls her free services, TenderCuts, after the Tenderloin neighborhood where most of her clients live. While people sit in her chair, she cuts with compassion and earns a lot of trust. Her clients share, she shares, and through it all, there's an invaluable relationship built; a relationship that's less about haircuts and more about giving someone their dignity back. Don't be surprised if you see her wearing shades. The sunglasses are part of her bold personality but Raquel says there's another reason, "I usually I have my eyewear on because I'm usually tearing up under my glasses. Cause they're telling me these stories. They're interacting with me. They've lived like, ten lives that I never could have had the strength to live in 52." We're proud of Raquel for constantly building bridges and helping people realize their self-worth. Community action like that is definitely star-worthy! Take your place in the Bay Area sky full of ABC7 Stars, Raquel. Every light like yours inspires a new one and we need more energy like that.
See more of the Tendercuts story on
Instagram
and
Facebook
. TenderCuts is also looking for a little support. Check them out on
GoFundMe
.
CINEMATIC CHAMPION:
Picture it. A young girl with Crohn's Disease, missing out on fun with friends and hospitalized for days at a time. Sounds like the script for a sad movie, right? Well, not exactly. Enter budding filmmaker and
ABC7 Star, Alex Gomez
. Alex struggles with Crohn's but she refuses to let it rule her life. She's redirected her condition into something creatively positive; learning the art of filmmaking. With the help of a program called
BayKids Studios
, Alex is writing, directing and starring in her own documentary. The film is about her experience with Crohn's Disease and how outward appearances don't tell a person's full story. The movie is still a work in progress but Alex's trailer for the film has already received positive attention.
Watch the trailer
for yourself and be on the lookout for the full feature called, "But You Don't Look Sick." You're right, Alex, you don't look sick...but you sure do look like an Bay Area star.
Learn more about BayKids Studios at
BayKids.org
.
DREAM CATCHER:
It's been said that if you believe in them enough, your dreams can come true. That's the case for many young people when they visit DreamCatcher Youth Services. DreamCatcher is a safe spot for many homeless, disconnected and at-risk kids. These are teens who haven't had easy lives or much support, but at DreamCatcher, they have Dwayne Chenevert. Dwayne helped launch the Oakland youth center and still works there every day, though he might not call it "work." To put it in Dwayne's words, "A job is something that you know you've got to go to pay your bills, right? DreamCatcher is my calling. This is something I'm passionate about because I know I can help the youth...and the youth know that they can come on and depend on me." Dwayne provides guidance to the kids and most importantly, gives them an adult they can trust. DreamCatcher is more than a place to do laundry, get a good meal or simply relax in a safe place. It's also a much-needed stepping stone for kids who have lost their way or were never shown one in the first place. That's why Dwayne Chenevert is on our list. Believing in teens who are in tough situations is definitely something an ABC7 Star does. Thank you, Dwayne, for helping Bay Area youth discover...and hold on to their dreams!
Learn more about Dwayne Chenevert and DreamCatcher here.
Volunteer, donate, and learn more about DreamCatcher Youth Services at
alamedafs.org/dreamcatcher
.
GUIDING LIGHT:
Navigating any chronic medical condition is no easy task. For older patients, it just becomes more difficult. Something as simple as just getting to the doctor can seem daunting. That's where
Dr. Monica Gandhi
comes in. She's an expert in infectious diseases and the medical director of Ward 86, the oldest HIV/AIDS clinic in the country based at Zuckerberg San Francisco General Hospital. At Ward 86, Dr. Gandhi oversees the
Golden Compass Program
, guiding older HIV/AIDS patients though their healthcare process, including heart health, mental health, bone health, strength and fitness; dental, hearing and vision services. The Golden Compass Program even helps HIV/AIDS patients over 50 with social networking and transportation support. It truly is a wellness program that puts people first. As Dr. Gandhi says, "It's so hard to navigate health care. It's so hard to navigate public transportation when you're older and you feel frail. We want everything here." We all know that the healthcare system doesn't come with a map but Dr. Monica Gandhi sure is a good guide.
RESILIENT VOICE:
When the world knocks you down, it's hard to get back up.
Belo Cipriani
knows that very well. He lost his eyesight after a brutal beating in 2007; a life-changing experience that put him in a very dark place. Using his talent for writing as an outlet and drawing strength from his loving family, Belo was able to find the light he needed to lift himself up. Now, Belo is helping others find that light in their own lives! He's an inspiring activist for people living with disabilities and a strong voice in the Bay Area's LGBT community. He was even the first blind person to Grand Marshal San Francisco's Gay Pride Parade. Belo is an ABC7 Star for using adversity in his own life to make a positive change in the world. What does a man out to change the world need more than anything else? A lovable, helpful sidekick! For Belo, that's his service dog, Oslo. Oslo helps Belo every step of the way, so that Belo can keep helping others. What a team!
MASTERFUL MENTOR:
We all have that one teacher who left a lasting impression. For many Bay Area students, that teacher is
Patti Carothers
. She spent 38 years in the classroom sharing her love of science with high school students, encouraging their curiosity, and winning multiple awards for doing both. Outside of the classroom, Patti loves a good fair...a science fair, that is! She is the Founding Director of the
Alameda County Science and Engineering Fair
where she's helped mentor many students to international levels of science fair greatness. As if we weren't already impressed, Patti also has the smarts to pass along her mentoring skills. She is the co-founder of
Science Alliance
, an award-winning program that trains high school students to mentor younger kids in scientific research. An undying dedication to teaching science is star-worthy enough, but we love Patti for something even bigger -- inspiring our next generation of innovators.
GIVING GROWER:
Kelly Carlisle
is growing a better community one kid at a time. This Navy veteran started the urban farm and non-profit, Acta Non Verba, in the same East Oakland neighborhood where she grew up. But
Acta Non Verba
is much more than your typical farm. It's a safe space, a welcoming garden, and, most importantly, an outdoor classroom for kids that need it most. Kelly's lessons start with the basics -- how to work with the earth and grow your own food. From there, the kids get the opportunity to harvest and taste the finished product. Then, Kelly helps them sell the produce. Sometimes a neighbor comes through and buys straight from the bed. Other times, Kelly takes the kids to farmers markets in the Bay Area for a real-world business experience. The money earned for all this hard work goes right back to the little farmers. Kelly collects the funds and uses them as seed money to start college savings accounts for the kids in the program. How's that for a well-rounded education? So many important lessons from one little farm and an amazing teacher. If you dig this ABC7 Star, find out more or get involved at
anvfarm.org/support-anv
.
THE CARING CREATIVE:
"Cancer sucks. Art heals."
Purvi Shah
has been living that motto since her son Amaey, was diagnosed with leukemia at the age of 3. Sadly, Amaey passed away 6 years later. Realizing he was happiest when he was drawing or painting, Purvi found a creative way to keep the memory of her spirited little one alive. She started the non-profit, Kids & Art. The organization pairs kids and families who have been touched by cancer with Bay Area artists. Together, they create original pieces using a little imagination and a lot of love. After each workshop, every piece goes up for auction. The proceeds go back to Kids & Art and to other cancer charities. The whole idea is to give these families a creative escape from a difficult disease. As Purvi would say, "Whether we like it or not, kids do get cancer. We might not be able to take their cancer away but we can definitely be there for them through their journey." See the art, find the next Kids & Art auction, and show your support for this colorful cause at
kidsandart.org
.
EARTHY ARTIST:
Sometimes tackling a serious issue just takes the right perspective. Conservation artist,
Linda Gass
knows that well.
Linda takes a slightly different and very creative approach
to educating people about water issues in California. Using a mix of maps, aerial photography, and sometimes a sewing machine, Linda creates breathtaking pieces that are both approachable and engaging. Her traveling exhibit,
Shaped by Water
, even earned her a
Silicon Valley Water Conservation Award
. The constant threat of a drought is always a reality where you live. Linda brings that reality to life reminding us all that water conservation is a beautiful thing.
Looking for your own creative ways to conserve? Here are a few suggestions from Linda:
h2ouse.org
,
home-water-works.org/calculator
,
whollyh2o.org
.
ALL-STAR TEEN:
Do you know any hockey players that can also twirl a baton...or three batons at once? We do. Meet
Amelia DiPaola
. Amelia is one busy and very impressive teenager...and not just for her interesting combo of baton-hockey skills. She is the only girl on her elite hockey team, holds a world championship in baton twirling, also plays volleyball and soccer, is trying out for track, coaches younger girls in hockey, and is pursuing her ultimate dream of taking home gold for the U.S. in years to come. Whew! It's tiring just telling Amelia's sporty Star Story, yet, she is full of energy and always up for a challenge. In fact, she already has her sights set on her next big accomplishment; a full scholarship to college for either hockey or baton (her two favorites). With so much talent in one 14-year-old, we had to ask Amelia if there is any sport she can't play. Amelia told us she's not a very good basketball player. Hey, we all have something we can work on, right? This young athlete is a great reminder of how much anyone can accomplish with a just little focus and some big dreams.
PEACEMAKERS:
Heidi and Gary Kuhn
started a movement from the basement of their own home in 1997. From the beginning they had one big idea - do something to promote world peace. That idea grew into the international non-profit now known as,
Roots of Peace
. Headquartered in Marin County, Roots of Peace is on a mission to turn "mines to vines" in war torn countries. They travel the world to take on the dangerous but important task of removing leftover landmines. The idea? Replace heartbreak with hope in the form of grapes and fruit trees. The result? Safer post-conflict countries with a greater opportunity to thrive. Heidi and Gary have truly earned their place among our ABC7 Stars for their dedicated effort to grow peace worldwide.
TRUE BELIEVERS:
Daquan Jackson had no one to talk to. He felt like he couldn't trust anyone. He was surrounded by negativity and bounced around from family to foster care. He was just 11 years old. It was hard for Daquan to see any hope for his future. Then he met the people that changed his life,
Yvonne and Lee Ball
. Yvonne and Lee met Daquan through a very special program called
CASA
(Court Appointed Special Advocates for Children). CASA trains volunteers to become the voice and support for kids who find themselves in the court system. Eventually these three became a different kind of family. Yvonne and Lee gave Daquan what he needed most; direction and someone to rely upon. They pushed him to be his best, they supported him, and most importantly, they believed in him. Eventually Daquan achieved what seemed out of his reach, a high school diploma. He was even asked to speak at his graduation ceremony. Now, Daquan is over 18 years old and living life on his own. A lot has changed but for one thing always stays the same -- Yvonne and Lee by his side, believing in him every day.
LIFE SAVERS:
The Bodega Bay Fire Protection District
takes every emergency seriously, but when the call came in about a
4-year-old who had fallen down a sheer cliff
,
Jason Downing
,
Marco Barros
and
Lou Stoerzinger
feared the worst. They all know that treacherous stretch of coastline, and they knew they had to act fast! Once on the scene, Marco Barros rappelled down, 255 feet, to pull a badly injured little Sebastion Johnson to safety. Today, Sebastion is happy and healthy, but these
heroic first responders
know the outcome could have been much different! Sebastion might be one tough kid... but if you ask him, he'll tell you these guys are more than heroes; they're his own "personal angels."
Learn more about these real life heroes
Where You Live, at
www.bbfpd.org
BRAVE VOLUNTEER:
After a disaster, people like Red Cross volunteer,
John Saguto
jump right in to lend a hand. When the
Napa quake
struck just miles from his home in Sonoma, John did what he has trained to do for the past 15 years; serve his community. We sure are glad to know the Bay Area has brave volunteers like John, ready to help at a moment's notice. In his words,
The Red Cross
is "Like your family...they're there when you need them the most." Go to
redcross.org/ca/san-francisco
to find a volunteer opportunity Where You Live.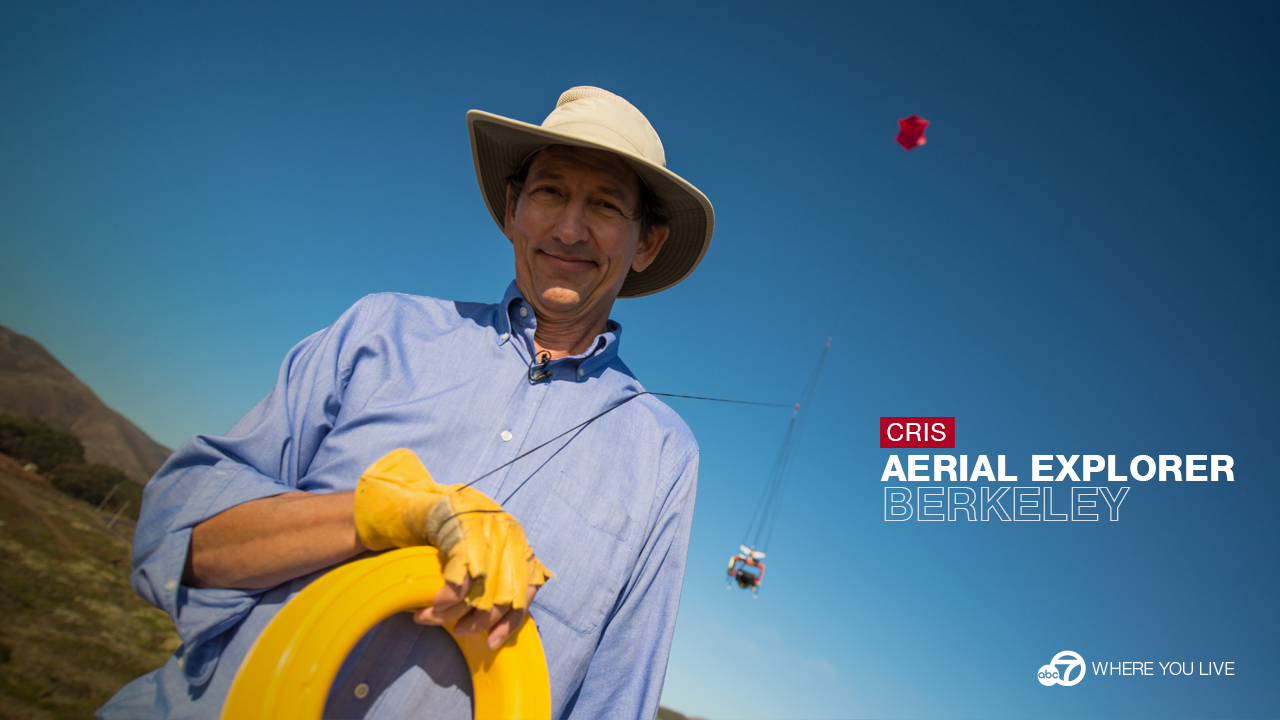 AERIAL EXPLORER:
Cris Benton
has spent the last 18 years
photographing San Francisco Bay.
His vantage point is unique and his equipment is unconventional. Using a kite to fly a radio-controlled camera, Cris's aerial images bring a dramatic view to the salt ponds at the southern end of the bay- from 300 feet in the air! His high-flying photography is now helping to document one of the greatest landscape transformations under way in America. What started out as a photographic interest in colors and textures has become a valuable study in the area's environmental history. ABC7 salutes this Bay Area star for taking his hobby to great heights!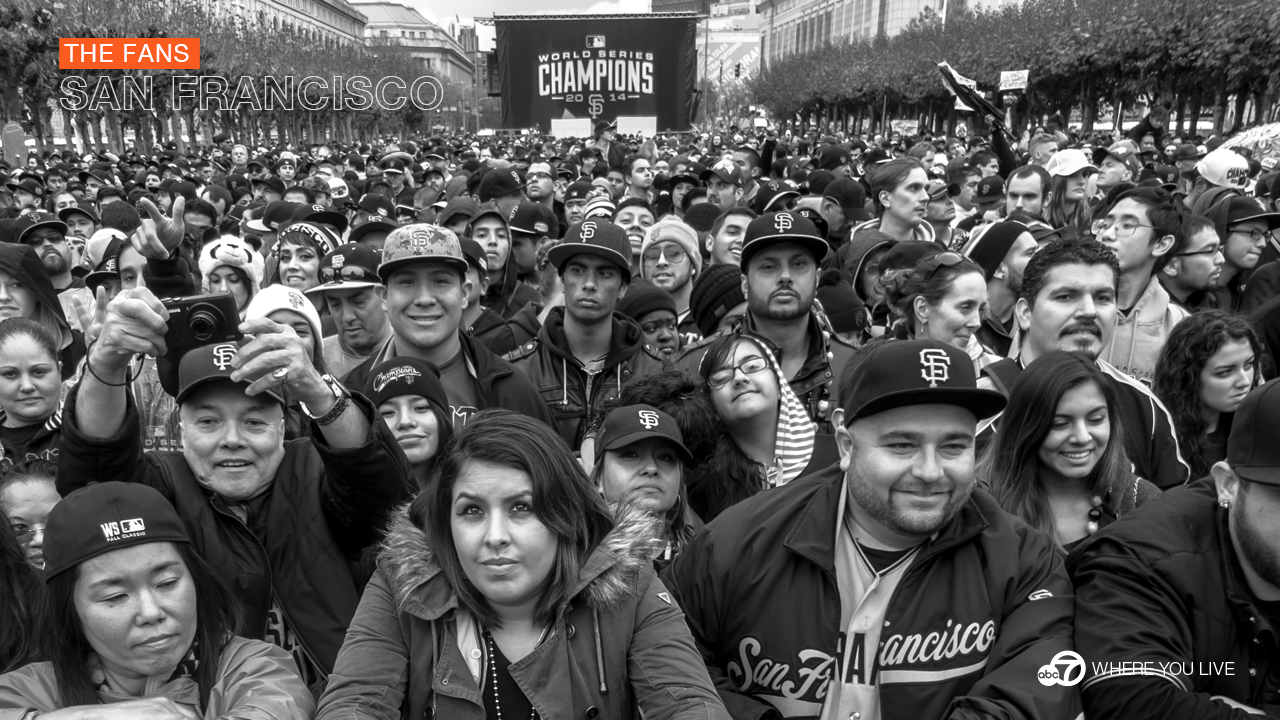 THE FANS:
How do you become a sports dynasty? Having the best fans in baseball doesn't hurt -- like
San Francisco Giants fans
who never, ever stop believing. Fans who hang in there, even when it doesn't look good. Fans who wait for up to 15 hours to celebrate with their team... in the pouring rain. Fans like the ones you see in this shot captured by ABC7's Wayne Freedman. They came from different parts of the Bay Area, but our guess is these fans have one GIANT thing in common -- they all bleed orange.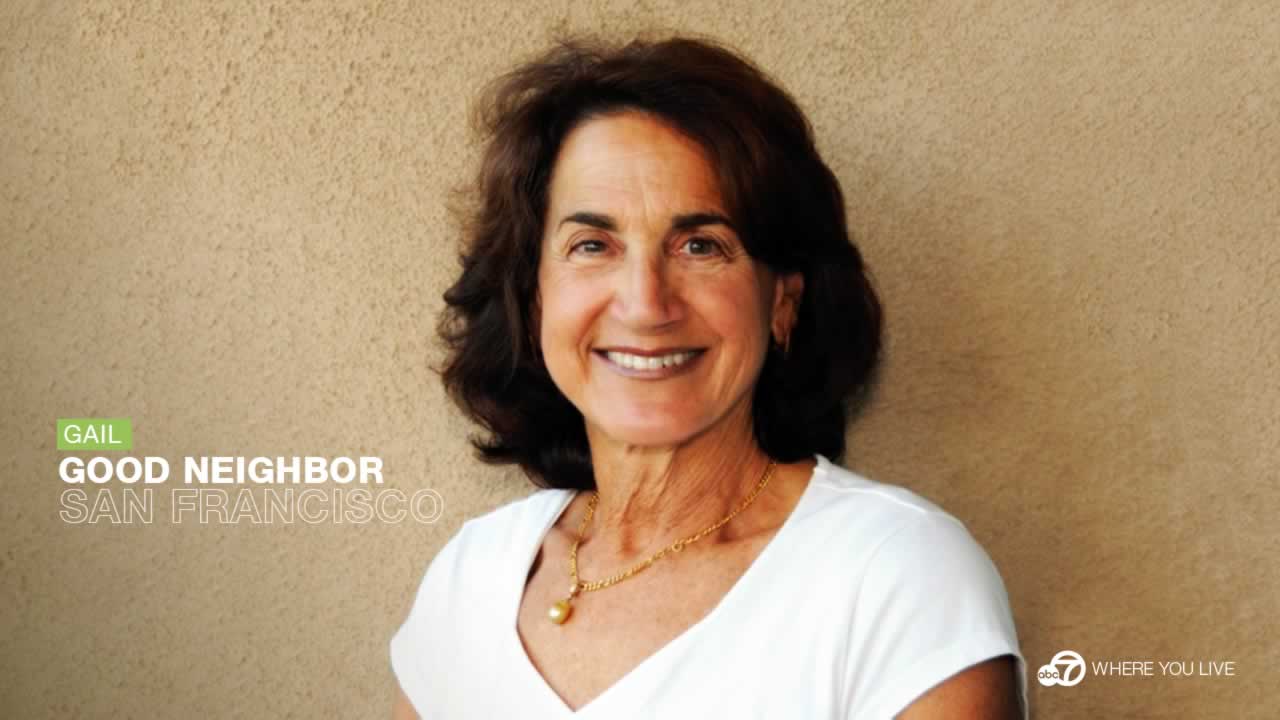 GOOD NEIGHBOR:
Gail Goldyne
is a good example of what community spirit can accomplish. After the Loma Prieta Earthquake, she and her neighbors were determined to be ready for the next disaster, so they turned to the fire department for help. That was the start of San Francisco's "Neighborhood Emergency Response Team," now known as NERT. NERT trains residents how to take care of themselves and their neighborhood before offical help can arrive. Gail still vividly remembers Loma Prieta and feels others should do the same. She is working to get a monument built in the Marina, "to remember this earthquake, to teach the public about earthquake preparedness and to honor the fire department and the NERT program."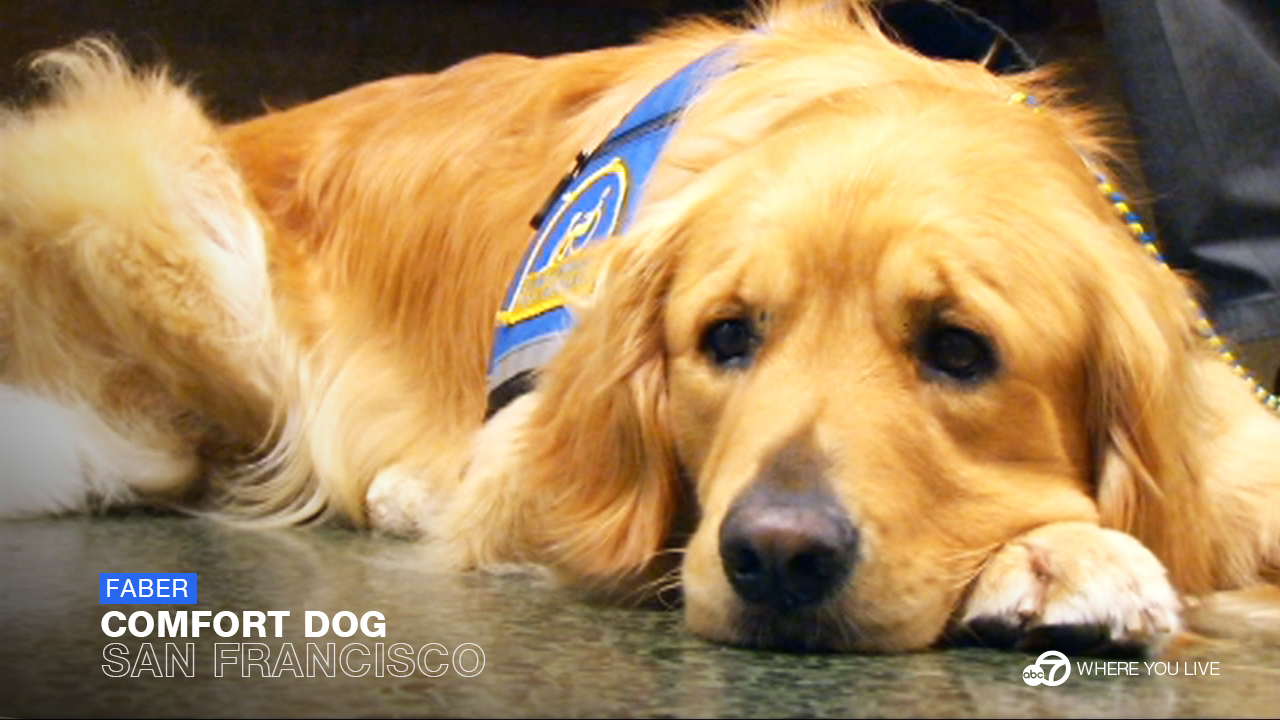 COMFORT DOG:
When you're scared or nervous, it helps to have a best friend. Good thing
Faber
is a trained professional! Faber is San Francisco's first courthouse dog, and it's his job to provide comfort to witnesses, victims and children in the criminal justice system. Faber came to the court through Canine Companions for Independence; a Bay Area non-profit, recognized worldwide for its exceptional service dogs. He quietly does his job in interview rooms and hallways, but hopefully Faber will soon be allowed in the courtroom when victims testify. Comforting those in need... now that's what we call a star!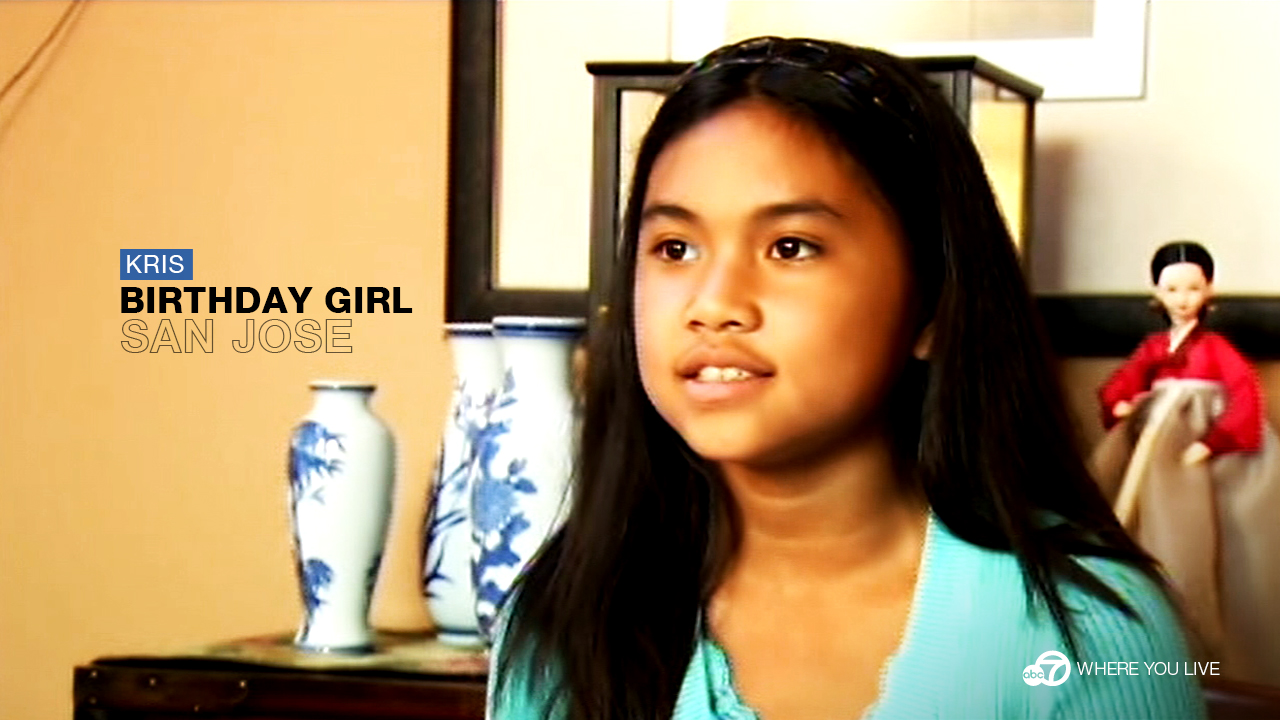 BIRTHDAY GIRL:
Kris Dufala
thinks every kid in the world should have a happy birthday, and she's doing whatever she can to make that happen! Adopted at the age of 2, it was during a visit to an orphanage when she was 6, that Kris saw how happy the children were with her simple gifts of cake and ice cream. Since then, Kris has been sending birthday treats to children around the world, spreading happiness through her non-profit "Sweets for the Holidays." What does the 10-year old have planned next? "Kris Campus" a fully functioning orphanage in the Philippines. If she has her way, Kris will break ground and have it up and running by the time she's 16.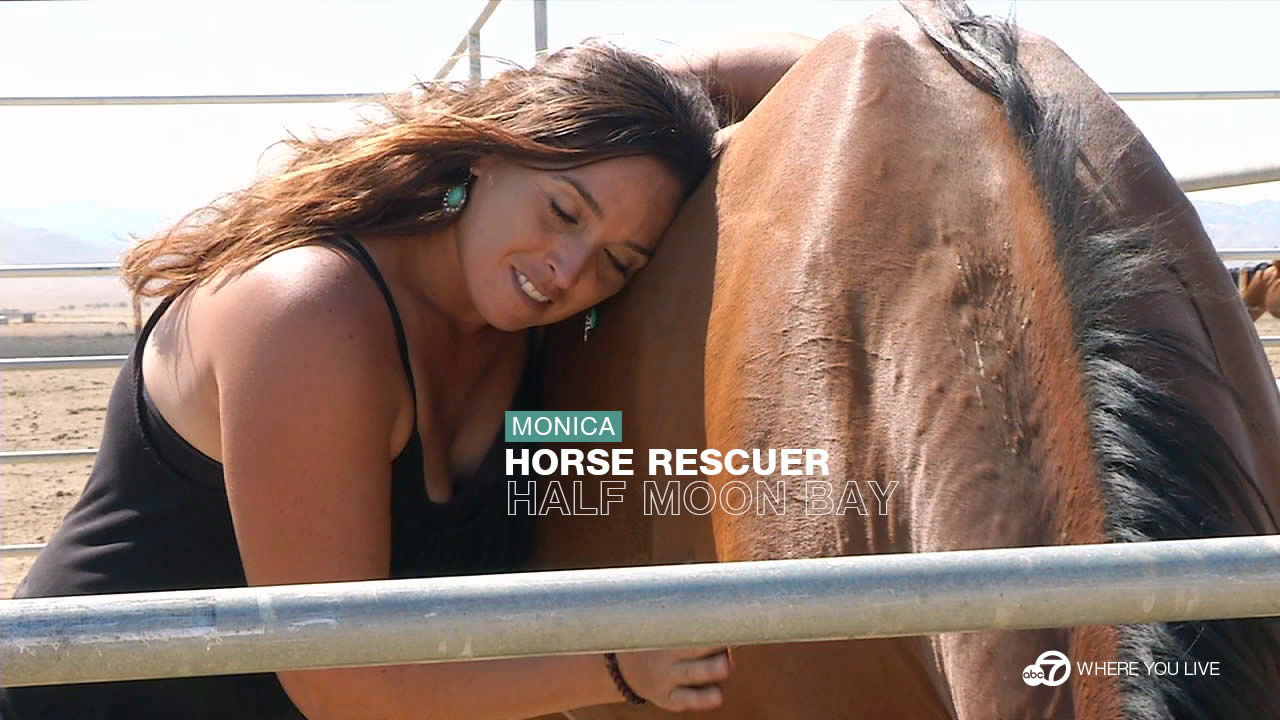 HORSE RESCUER:
Monica Hardeman
always dreamed of dedicating her life to caring for horses. She never imagined a personal tragedy would set her on a path to fulfilling that dream. After her sister was murdered in 1995, Monica turned to horses to help cope with her grief. That experience inspired Monica to start the
Equine Rescue Center & Sanctuary
, where she and a group of volunteers now care for horses in need of help, healing, or just time to find a new home. The focus is on rescuing horses headed to slaughter; giving them a second chance at life, health and bonding with humans. What does pure horse happiness look like? Just ask any of the volunteers at the center...thanks to Monica, they see it every day!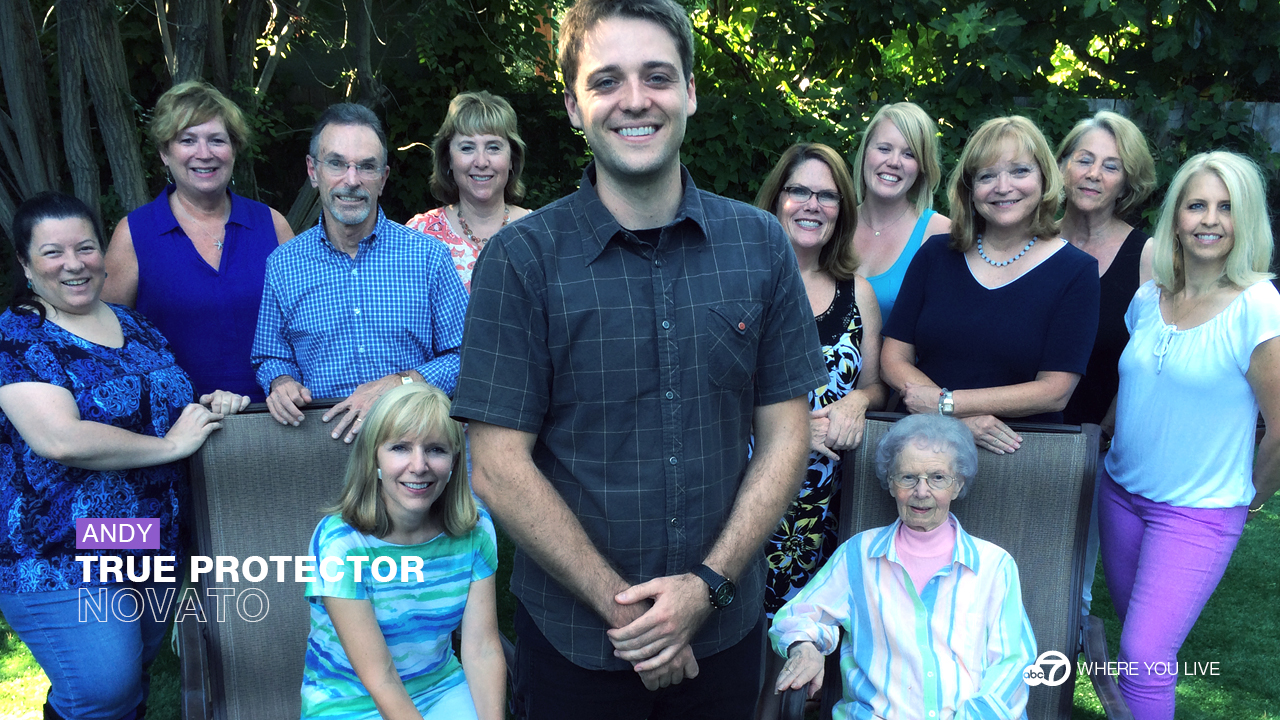 TRUE PROTECTOR:
Ask a member of the congregation at Novato's Good Shepherd Lutheran church about
Andy Blalock
, and they'll probably tell you he has opened their eyes to a shocking truth. Andy has done more than that; in addition to raising awareness about child exploitation and sex trafficking around the world, Andy is bringing his community together to help! Volunteers in Novato raise funds for young girls victimized by child sex traffickers in Cambodia. And while Andy works full time with a humanitarian aid organization there, he knows even the smallest effort has an impact. "There's a place for everyone to make a tremendous difference," he says. "Everyone can give something important."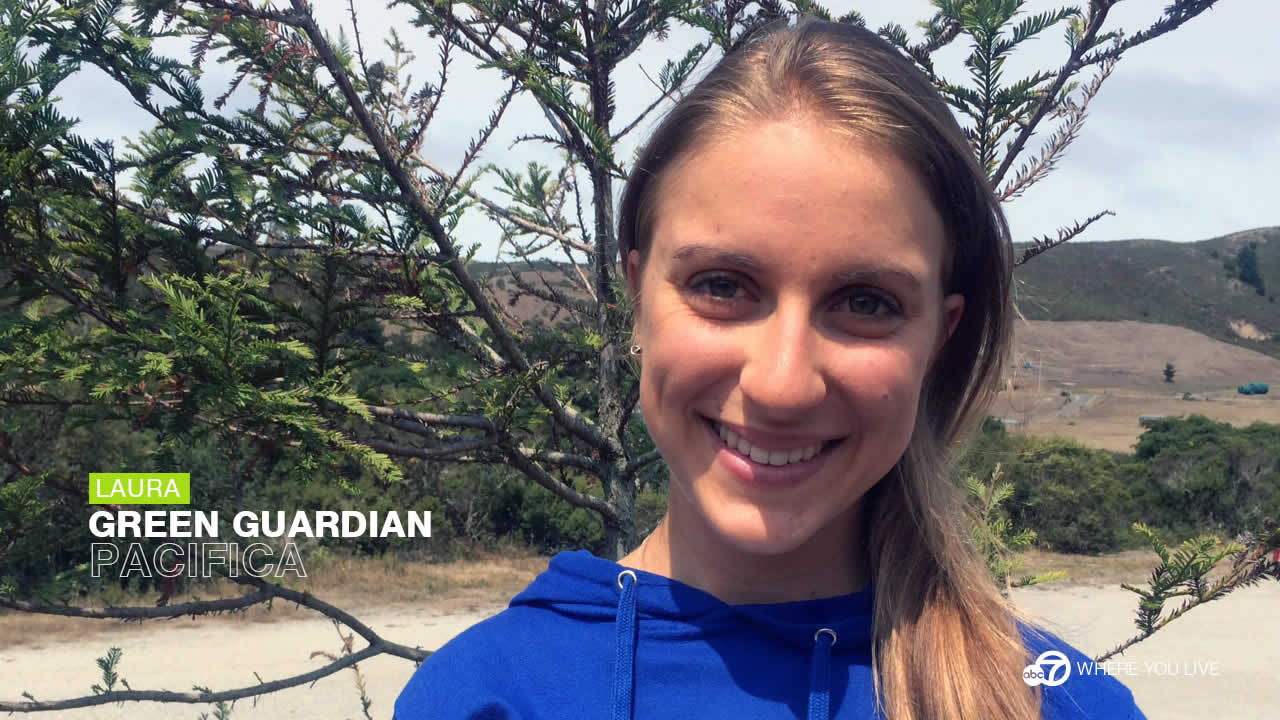 THE GREEN GUARDIAN:
Dedication and a LOT of help! That's what it took to make the
4-H Million Trees Project
a success. Laura Webber's idea to combat global climate change, by planting one million trees began with her Pacifica 4-H club and grew into a worldwide service-learning project. Together, more than 140,000 4-H club members have planted trees in their communities. Today, those trees are taking root around the world, thanks to the power of a single idea. What about the one millionth tree? Just like the first one planted, it's Laura's and it's right here in the Bay Area.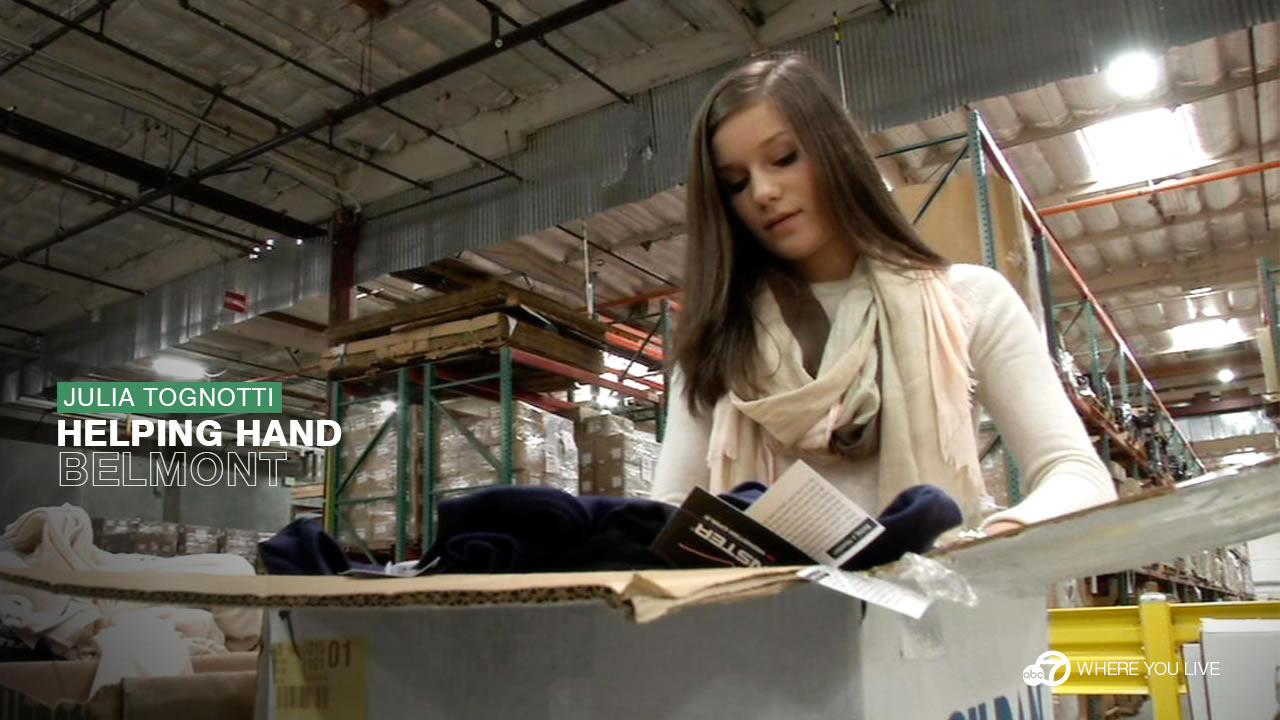 THE HELPING HAND:
Julia Tognotti
is on a mission, and she'll do anything she can to make sure you know about it! After watching a documentary in her 11th grade Spanish class, Julia was
determined to do something
to help kids who are caught in the middle of the growing immigration crisis on the border with Mexico. Instead of a summer job, Julia now spends her time sorting clothing, shoes and toiletries, donated by family and friends. She's already sent dozens of boxes to a border patrol facility in Nogales, Mexico, and she's not stopping there. Julia's plan for Senior year...a teaching trip to the border, for students and faculty at her school!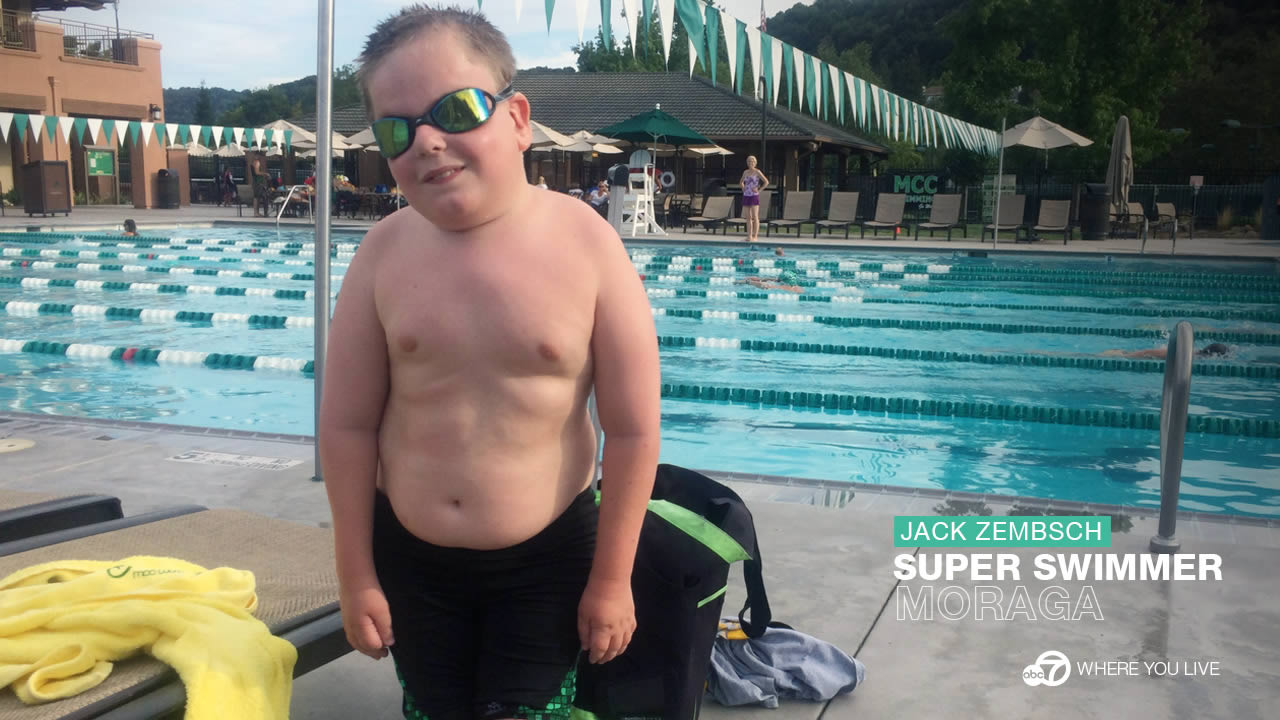 THE SUPER SWIMMER:
Jack Zembsch
has never won a race, but that doesn't stop him from swimming on one of the most competitive teams in the Bay Area! Metal rods in his back limit Jack's flexibility, but not his determination. He swims a grueling workout five times a week, training alongside his teammates and inspiring them to work just as hard as he does. For Jack, it's not about winning a medal; "I know I'm not as fast as the other kids," he says, "so I just put the focus on popping my time." Sounds like a great strategy Jack.
Congratulations
on setting a new fastest time in the backstroke!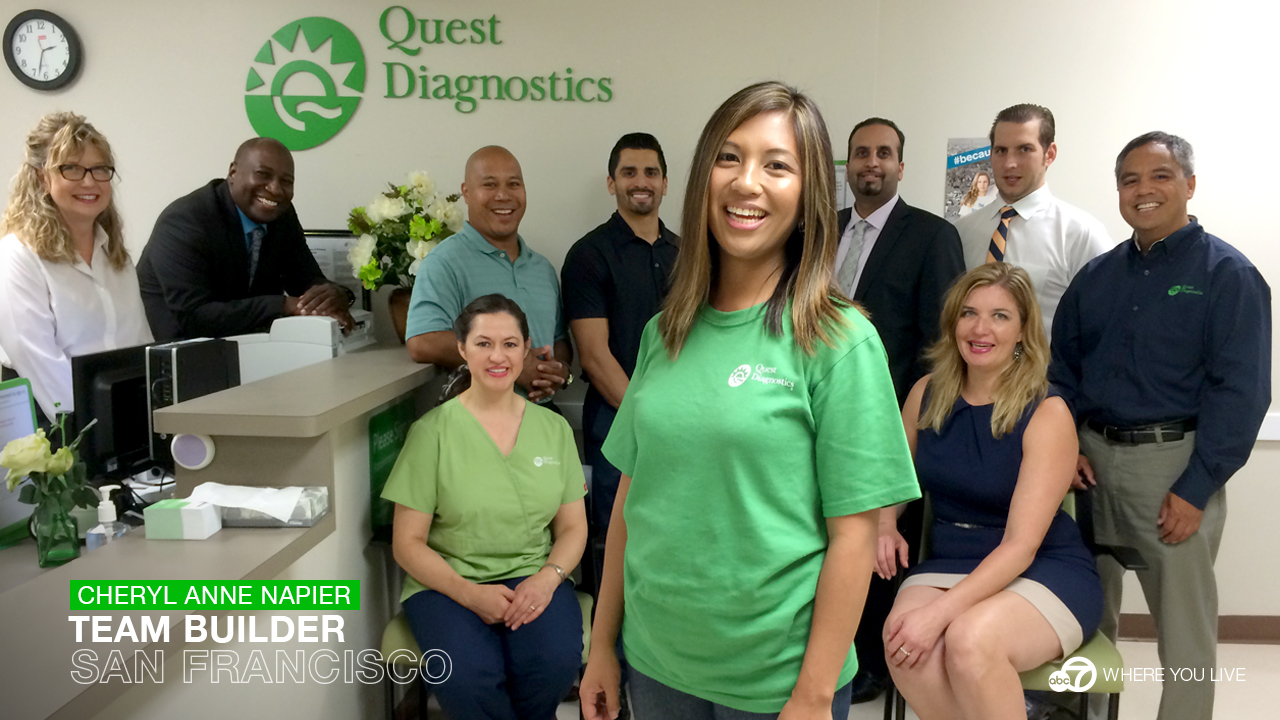 THE TEAM BUILDER:
One good deed can lead to another.
Cheryl Anne Napier
is a shining example of how that works. Her star story began with one small move to make a big difference; deciding to walk in AIDS Walk San Francisco. But Cheryl Anne went beyond just volunteering herself, she talked to her employer (Quest Diagnostics) and the company became the AIDS Walk SF Premier sponsor. She didn't stop there...she also helped recruit a team of over 140 co-workers to join her at the walk. Pretty impressive! Cheryl Anne and her team prove that another day at the office can be your inspiration to do something good.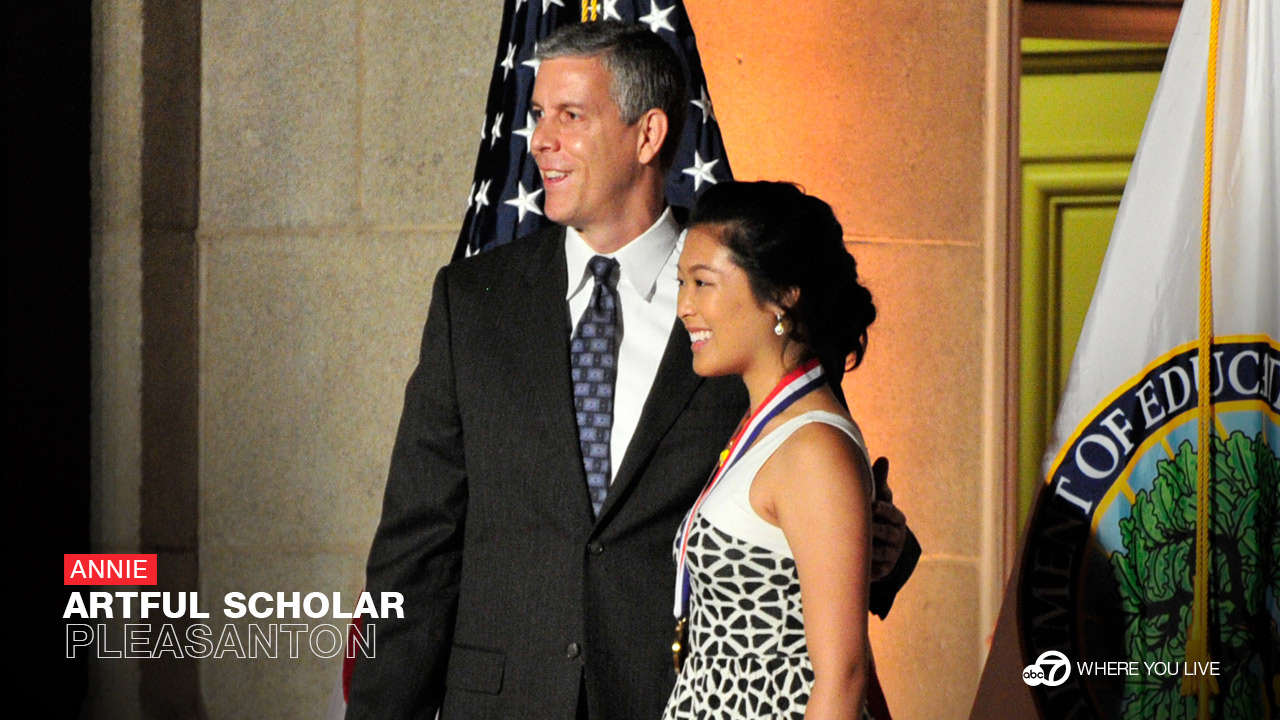 THE ARTFUL SCHOLAR:
For Pleasanton's
Annie Wu
, graduating with Foothill High School's class of 2014 was just the beginning. The 18 year-old is also part of the 50th class of U.S. Presidential scholars! Annie is one of just 20 U.S. Presidential Scholars in the Arts Award recipients in the entire country. The award, presented on behalf of the President of the United States, is the highest honor that can be bestowed upon an artistically talented graduating high school senior. What's next for Annie? A dual five-year program at Harvard University and the New England Conservatory of Music. But, that's after she goes on tour with the National Youth Orchestra of the United States this summer!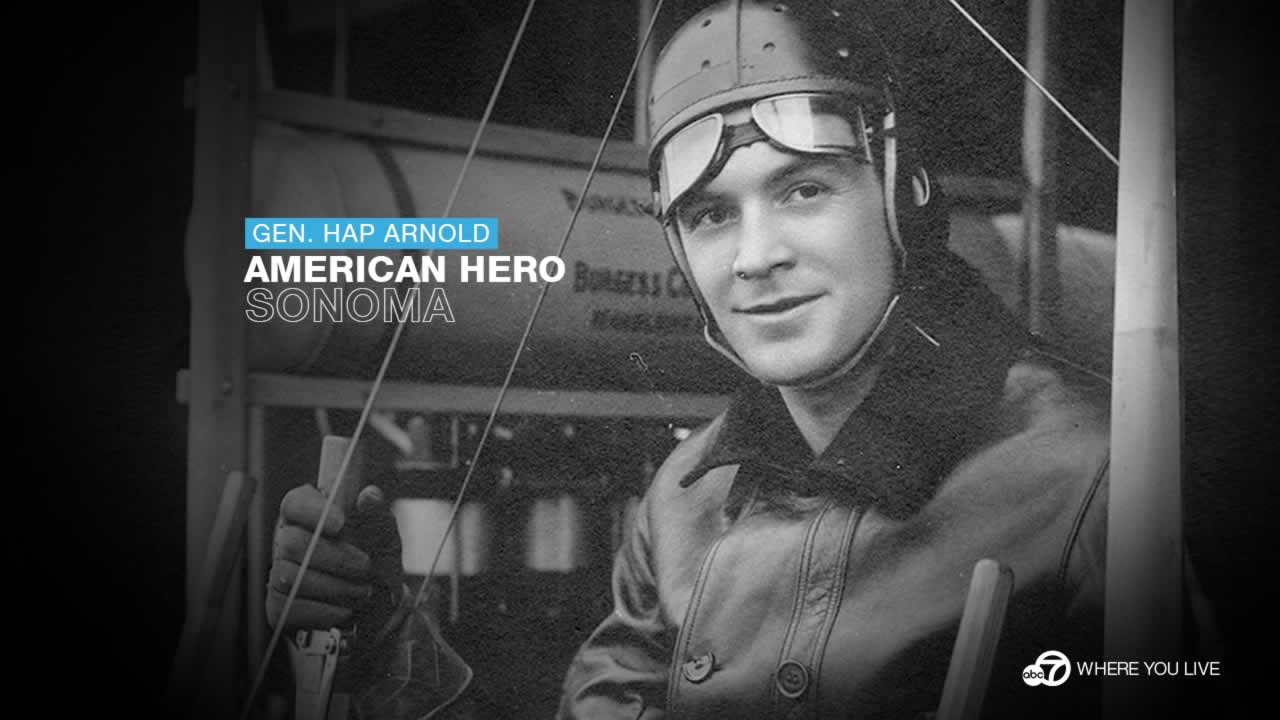 AN AMERICAN HERO:
The late
General Henry Arnold
is one of only nine American officers who have worn five stars on their shoulders, among the likes of Eisenhower & Macarthur. His friends called him Hap and his flying career spanned from the Wright Brothers to supersonic jets. We think Hap's story is one for the history books, and his adopted hometown of Sonoma is making sure he's not forgotten!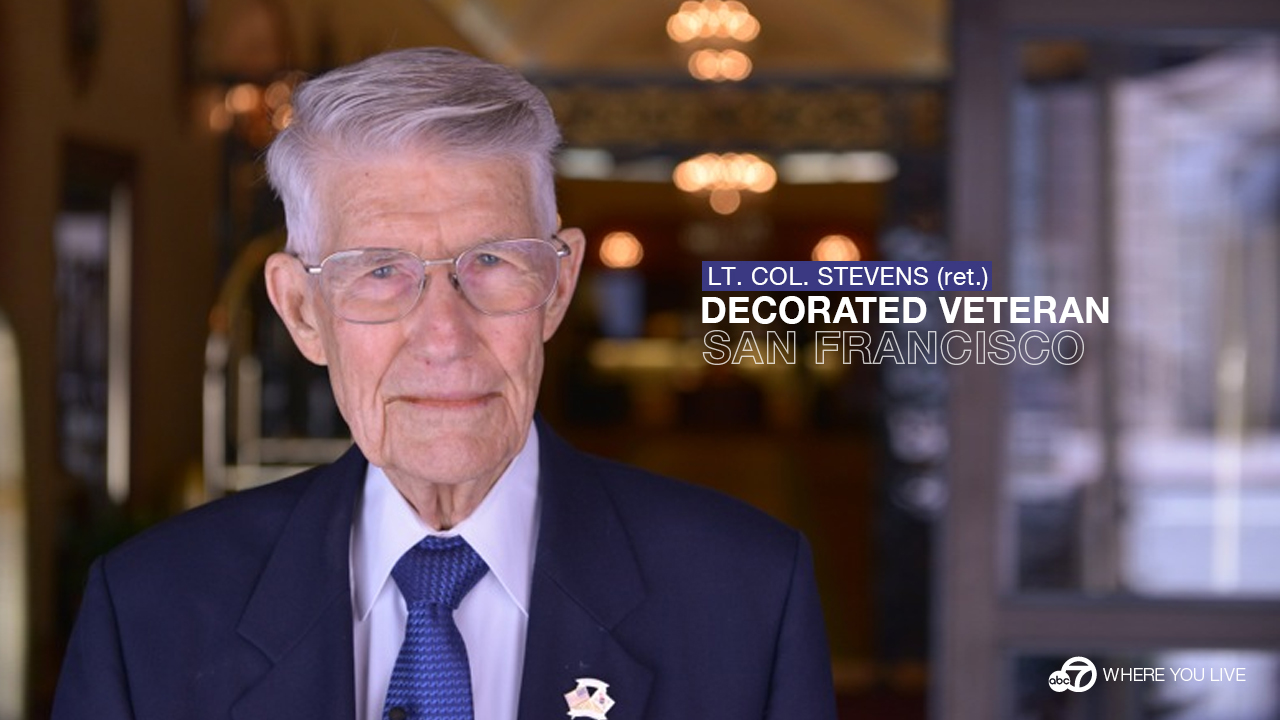 THE DECORATED VETERAN:
From Pearl Harbor through the Korean War, this man lived the history many of us only study in books. At 93 years old, United States Marine Corps Retired Lieutenant Colonel
John Stevens
still goes to the office every day, dedicated to building a Korean War memorial in the Presidio. Watch his brave story of survival, and join us as we say thank you to all the men and women who serve this great country.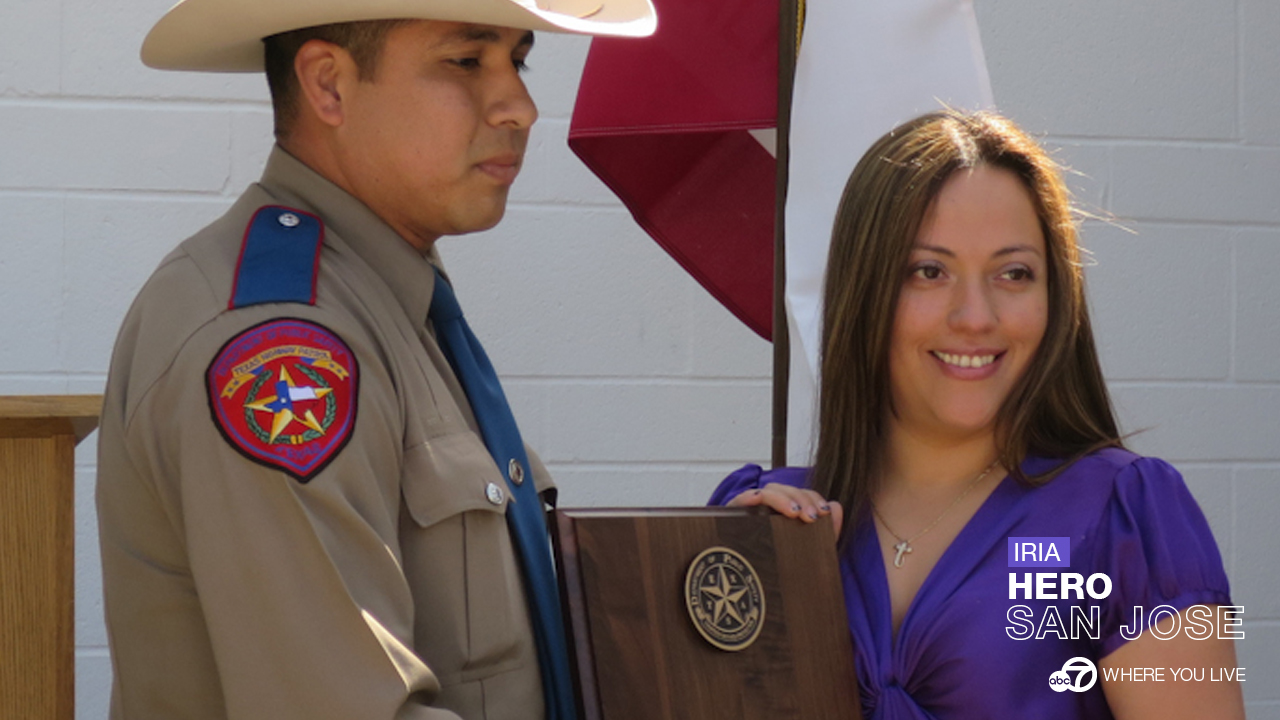 LIFE-SAVING HERO:
It is said there are heroes among us, but we never know who they are until their instincts kick in during a crisis. There's no doubt in our mind that
Iria Wolnick
of San Jose is one of those heroes. She's being honored for her extraordinary courage after saving the life of an unborn baby on the side of a desolate highway in south Texas. Iria's story will move you, and hopefully give us all the same strength under pressure.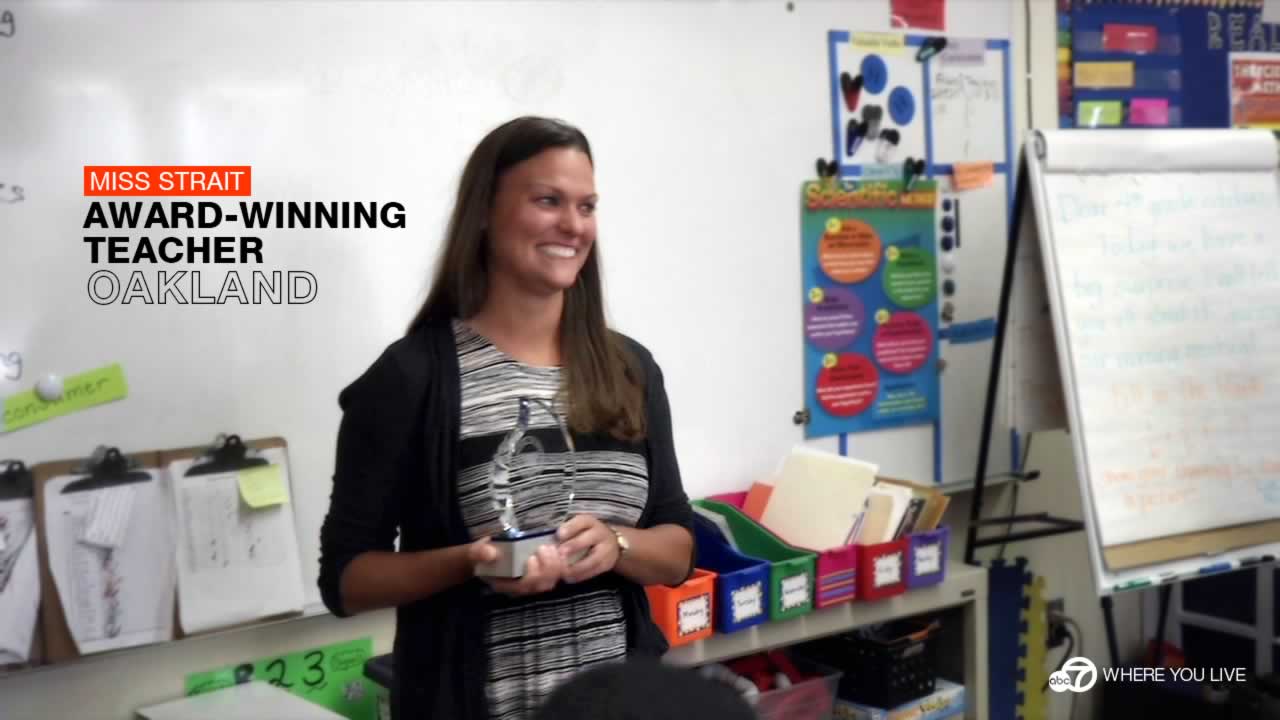 AND THE AWARD GOES TO:
East Oakland teacher
Laura Strait
! Laura is one of only 4 teachers nationwide to win the 2014 Fishman award. She was singled out for the individual attention she gives her students at the Aspire ERES Academy. Along with the prestige of being the first California teacher ever to win, Laura receives a $25,000 prize and summer residency to share her knowledge with educators across the country. Way to go, Miss Strait!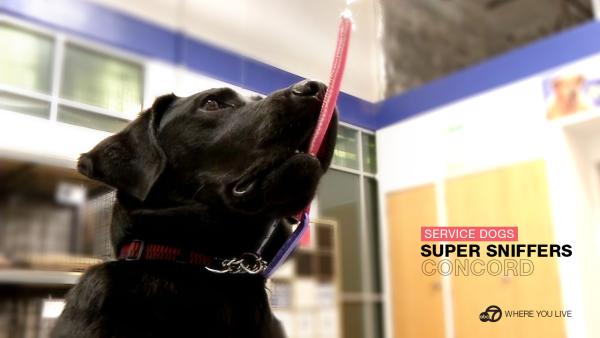 SUPER SNIFFERS:
Highly trained, super dedicated, and obviously cute. He's a service dog for his human, Suzi, who is living with diabetes. Laser was trained right here in the Bay Area by a unique non-profit called
Dogs 4 Diabetics
. With just a sniff, he can sense changes in his human's blood sugar. Pretty amazing, right? We think so. ABC7 gives two paws up to all dogs that protect and serve.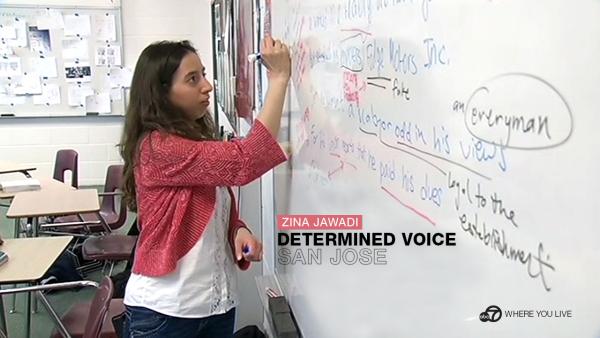 THE DETERMINED VOICE:
From a young age,
Zina Jawadi
had to learn to be heard. Since then, she's never stopped speaking out. To put it in her own words, "rather than shying away from my hearing loss, I have embraced my disability and made it the central focus of my life." She's not only an advocate for the hard of hearing but she's also started her own program that provides used hearing aids for those in need. To top it all off, Zina is a talented pianist who got nothing but A's in high school and now has been accepted to 11 of the country's top colleges. Her dedication and drive have definitely paid off. We see a bright future ahead for this ABC7 star.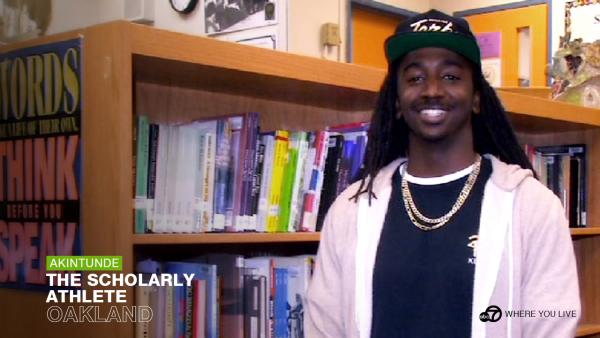 THE SCHOLARLY ATHLETE:
He has a 5.0 GPA and a 2100 out of 2400 on the SAT. He plays 3 instruments, played basketball for 3 years, and is an Oakland Athletic League baseball MVP. He also has acceptance letters from Yale, Brown, Columbia, Northwestern, the University of Southern California, UCLA, Howard, Chapman, Cal Poly and Cal State East Bay. With a track record like that, it should come as no surprise that we wanted to recognize
Akintunde Ahmad
. But it's not just numbers and offers that make this Oakland Tech student so impressive. He is modest, incredibly focused and defies stereotypes every day. 'Tunde (as he is called by family and friends) describes himself like "any other street dude on 98th Avenue." But we think that he is a truly a star!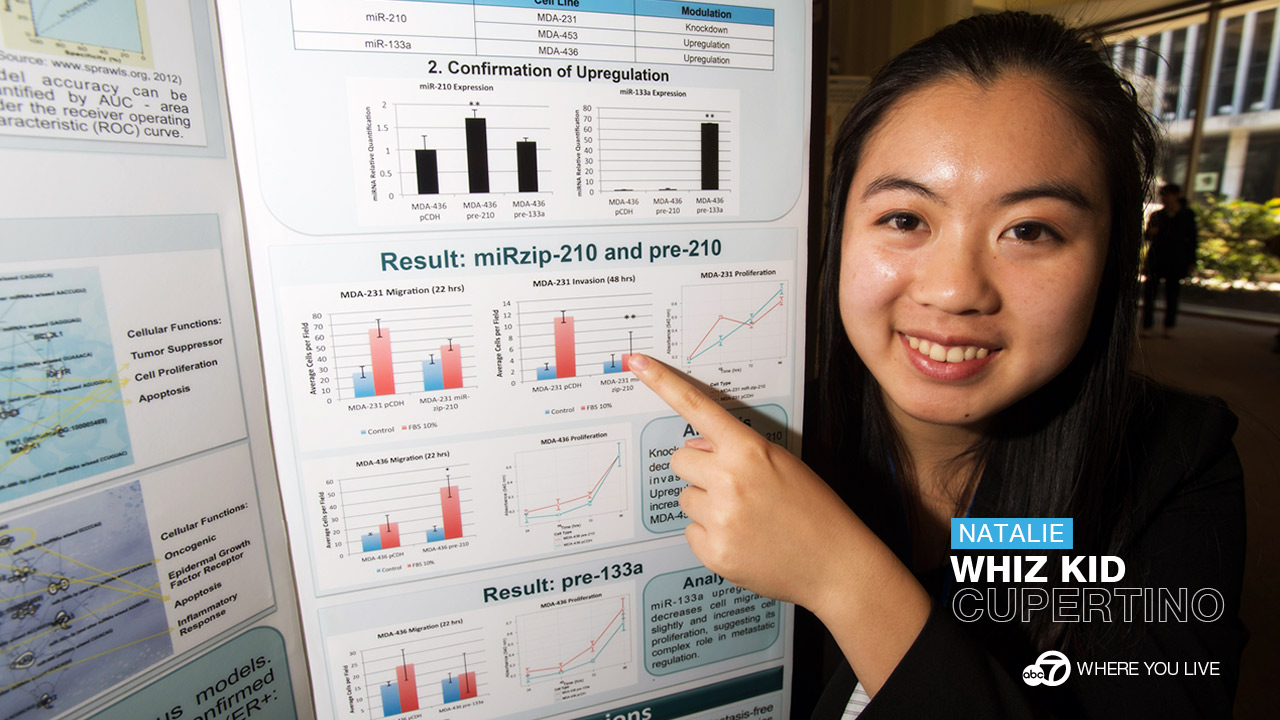 WHIZ KID:
We're not the only ones who think
Natalie Ng
of Cupertino, is a whiz kid. Intel Corporation thinks so, too! Natalie received a $30,000 award at the Intel Science Talent Search 2014 for developing a diagnostic tool to more accurately predict the spread of breast cancer cells to other parts of the body. By the way, she's a senior in high school! We can't wait to what else she'll do.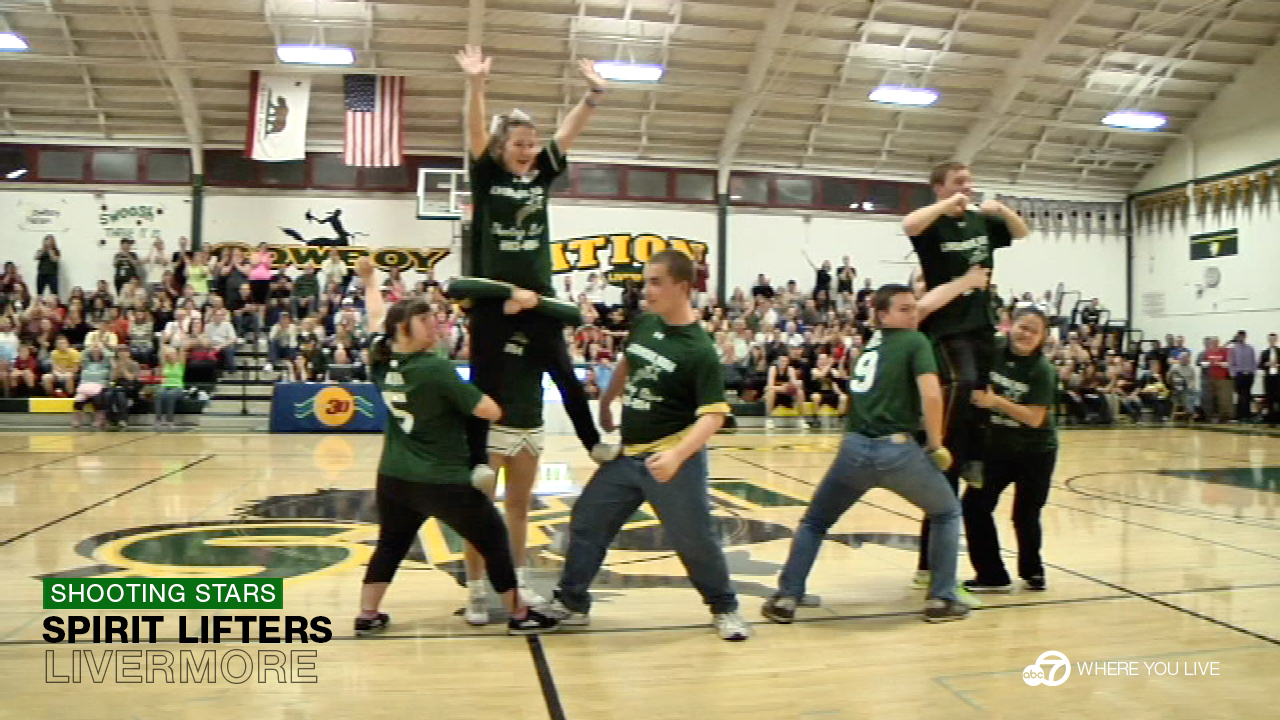 THE SHOOTING STARS:
This is no ordinary cheerleading squad! Livermore High School's
Shooting Stars
are known to spark the biggest cheers of the night, regardless of the score. Part of the school's special education program, this group of cheerleaders and their coaches share a winning spirit for the entire community to rallying behind. They're a true inspiration and prove to us that when everyone is allowed to cheer, everybody wins!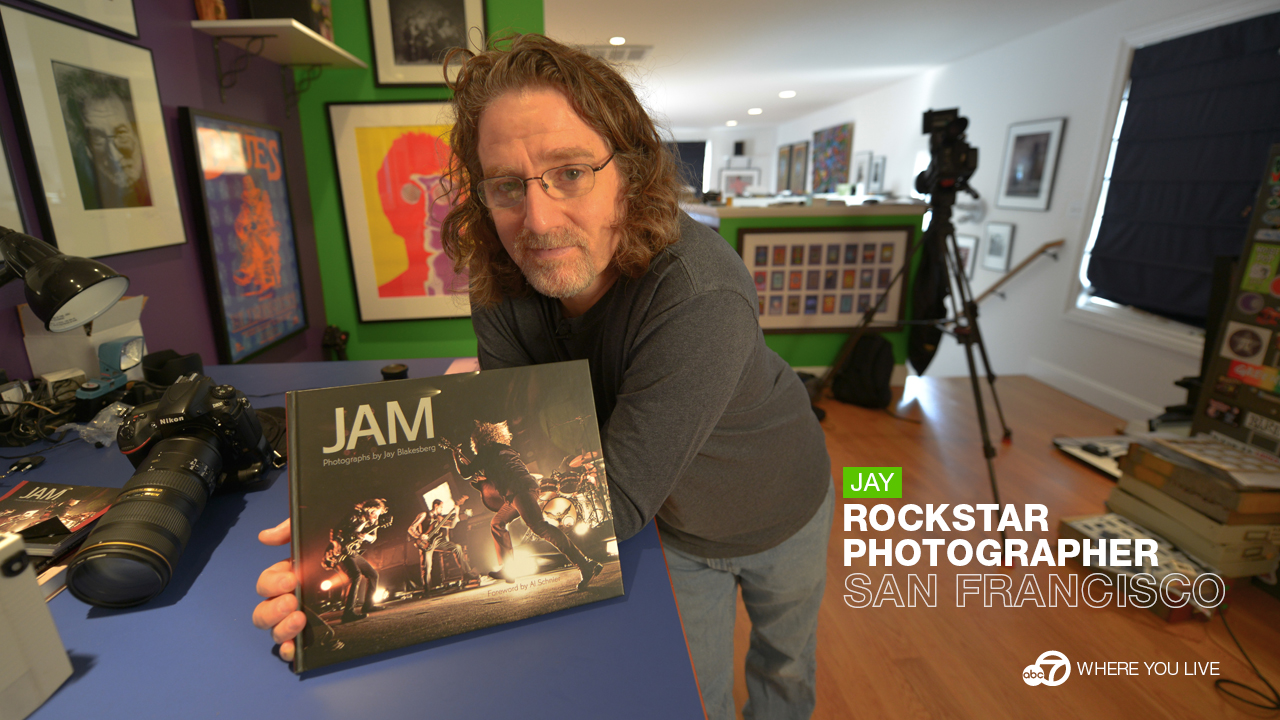 THE ROCK STAR PHOTOGRAPHER:
Jay Blakesberg
is the biggest rock-n-roll legend you've never seen. He's made an art of blending into the background to photograph iconic musical moments. His pictures are pop culture history that prove in the rock world, nothing trumps access. He's your
VIP pass
into the real world of rock and roll.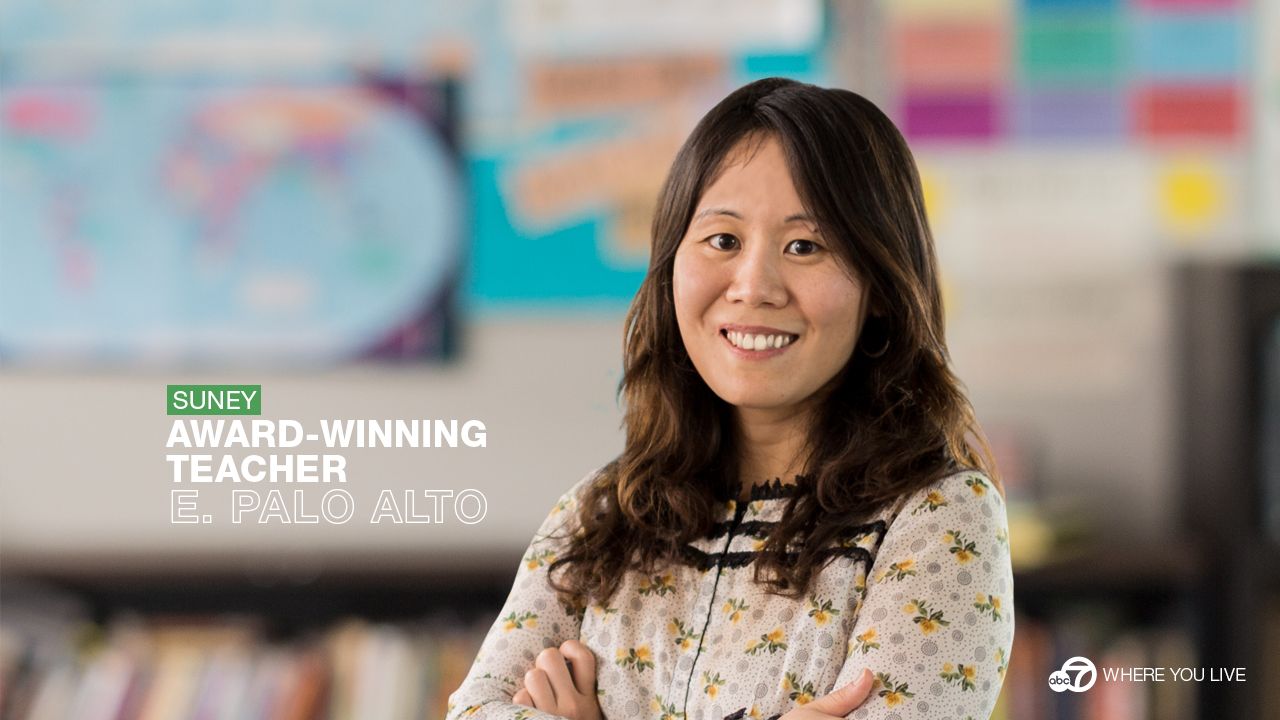 THE AWARD-WINNING TEACHER:
Suney Park
is ready to "school" you on the real world. She teaches science with a lesson plan focused on practical solutions. Suney's students will tell you
how passionate she is
, but if you want a more authoritative source, just ask President Obama. He gave this teacher an award for her skills.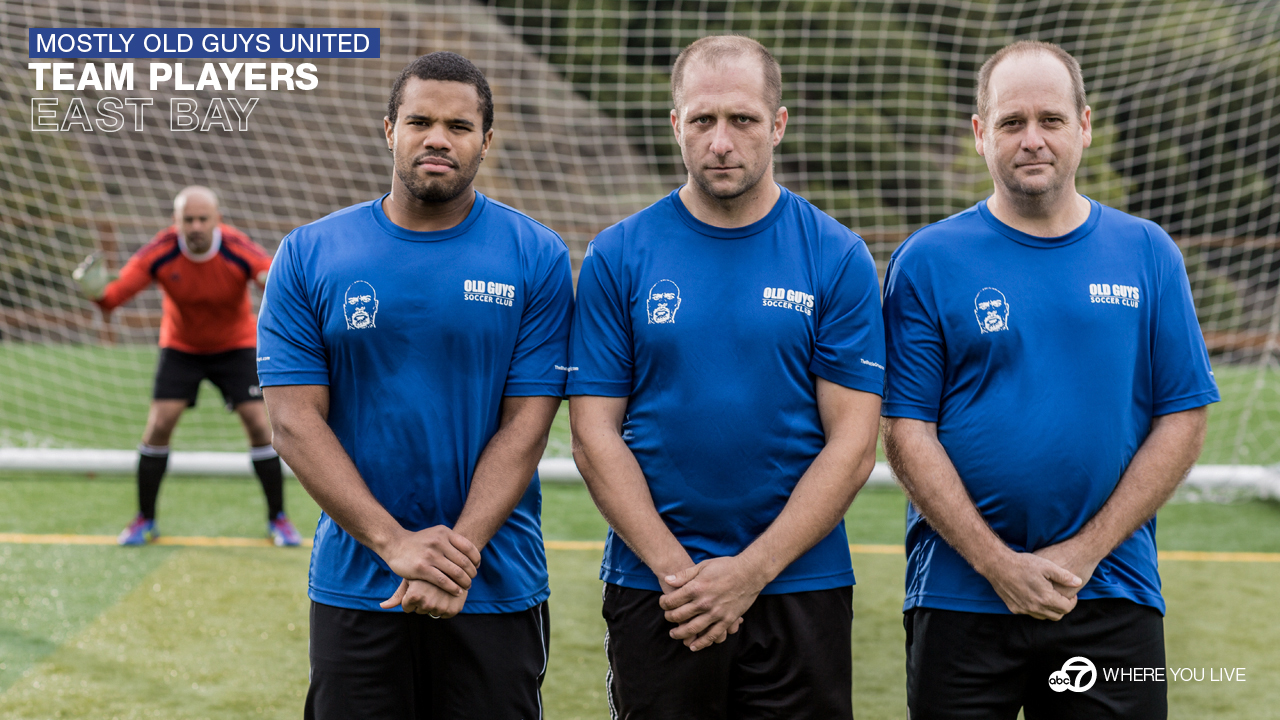 TEAM PLAYERS:
Vivek is team captain and goalie of
Mostly Old Guys United
, an East Bay soccer club. Yep, you guessed it, they're mostly "old" guys, but they still play hard. Cheers to all you weekend warriors who stay at the top of your game while having a whole lot of fun!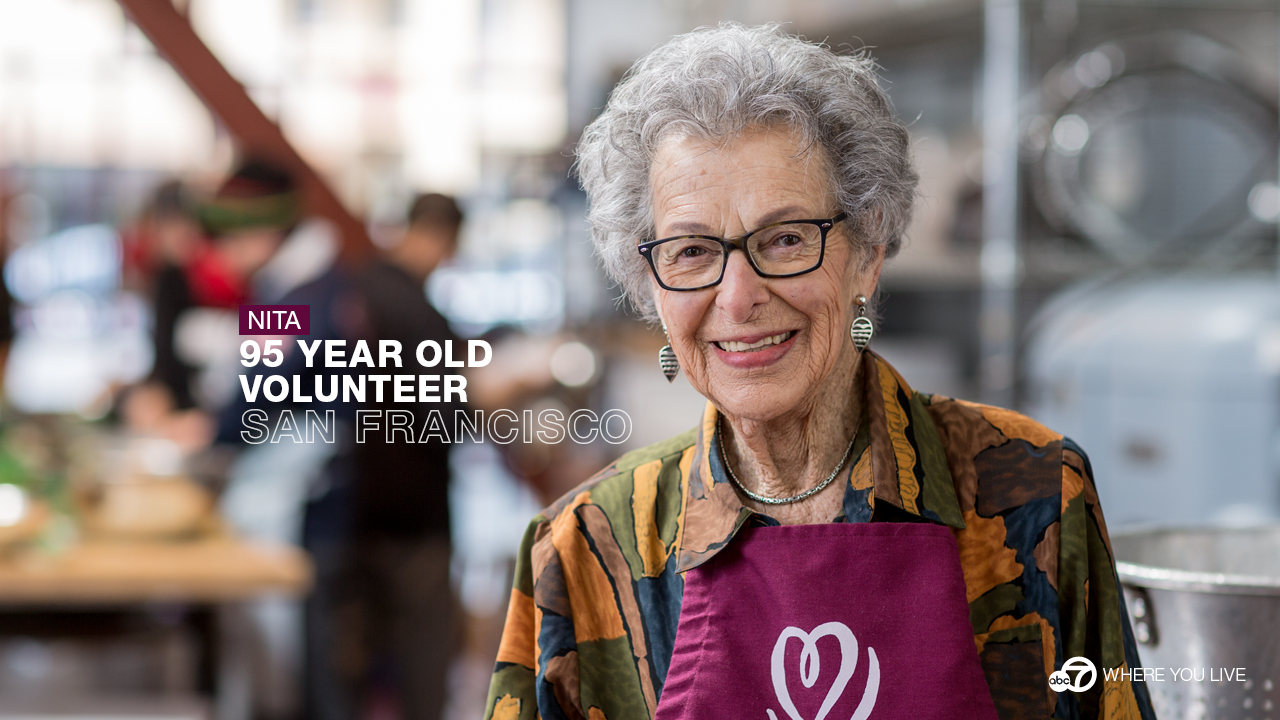 THE DEDICATED VOLUNTEER:
Nita Juelich
has 95 years of life under her belt. She has spent the last 25 of those volunteering at
Project Open Hand
. The non-profit feeds 2,500 people in need every day. Nita is honored to be an ABC7 Star, but she only agreed to be on TV with one condition -- this has to help Project Open Hand or, "No dice!" Now that's dedication! You can get involved, too at
www.openhand.org
.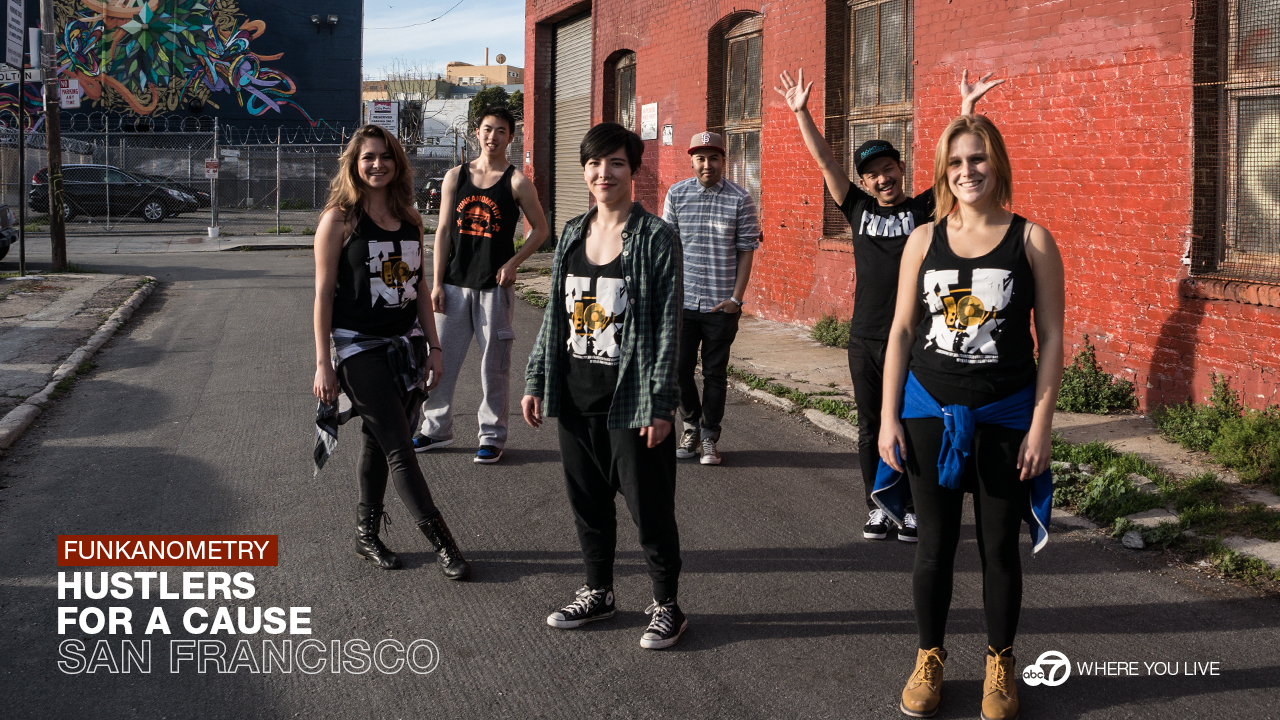 THE HUSTLERS:
Meet
Funkanometry
, a non-profit hip-hop dance troupe that really hustles...for charity. The Funks recently raised thousands of dollars for survivors of Typhoon Haiyan in the Philippines. Their mission: to entertain, unite and educate all through the love of dance. See how they're helping the Bay Area and shaping the future of hip-hop at
www.funkanometry.org
.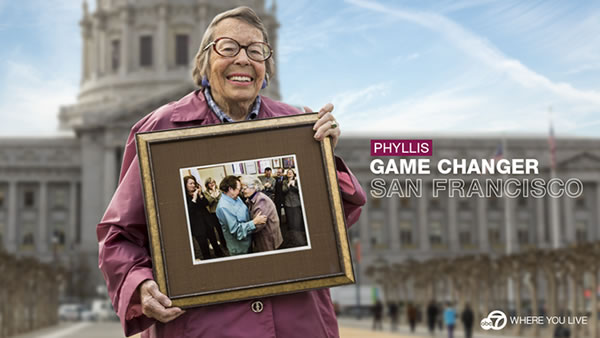 THE GAME CHANGER:
Phyllis Lyon
is 89 years young and a self-proclaimed troublemaker. She and her late wife
Del Martin
have a long legacy of fighting for change. In 2004, they were the first same-sex couple to be legally married in San Francisco. Since Del is no longer with us, Phyllis brought along this photo to remember what she calls one of the happiest days of her life. We believe Phyllis and Del are true Game Changers.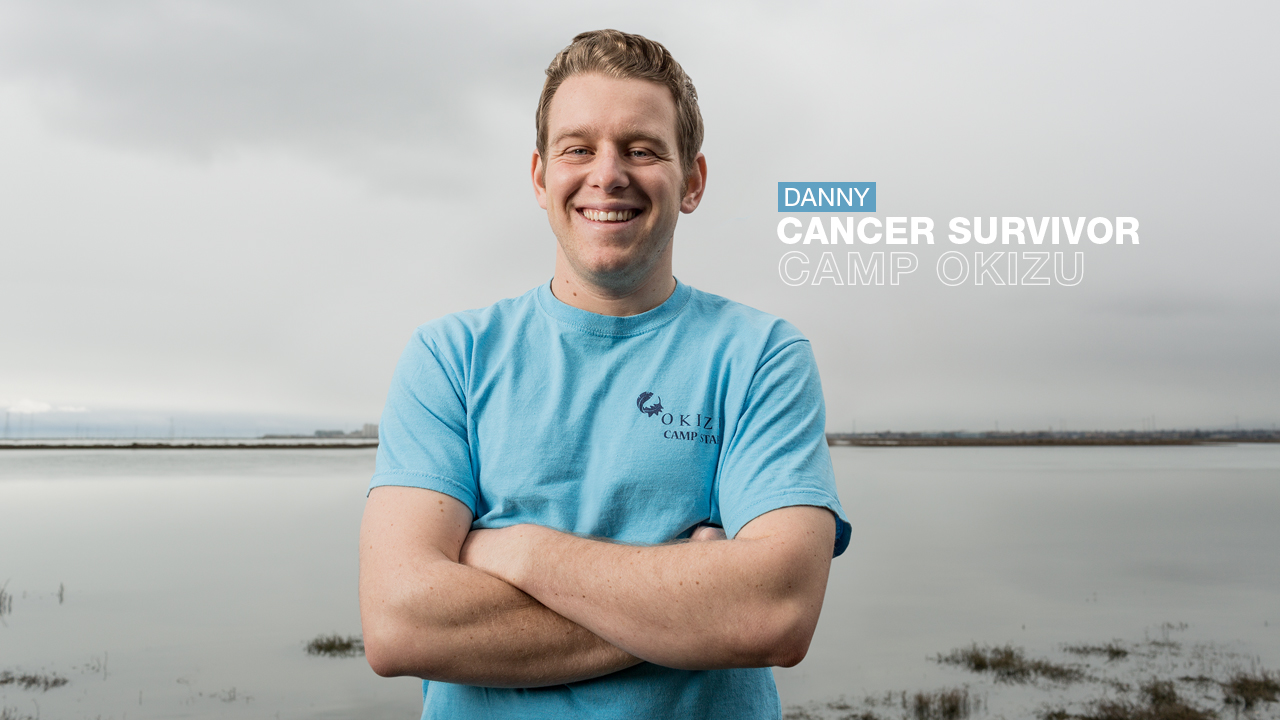 THE SURVIVOR:
Danny's smile says it all. He's overcome cancer twice in his 27 years, with some loving support from his friends at
Camp Okizu
. Now he's giving back to the community that helped him through his healing process. Watch Danny's story to see how you can spread the Camp Okizu hope.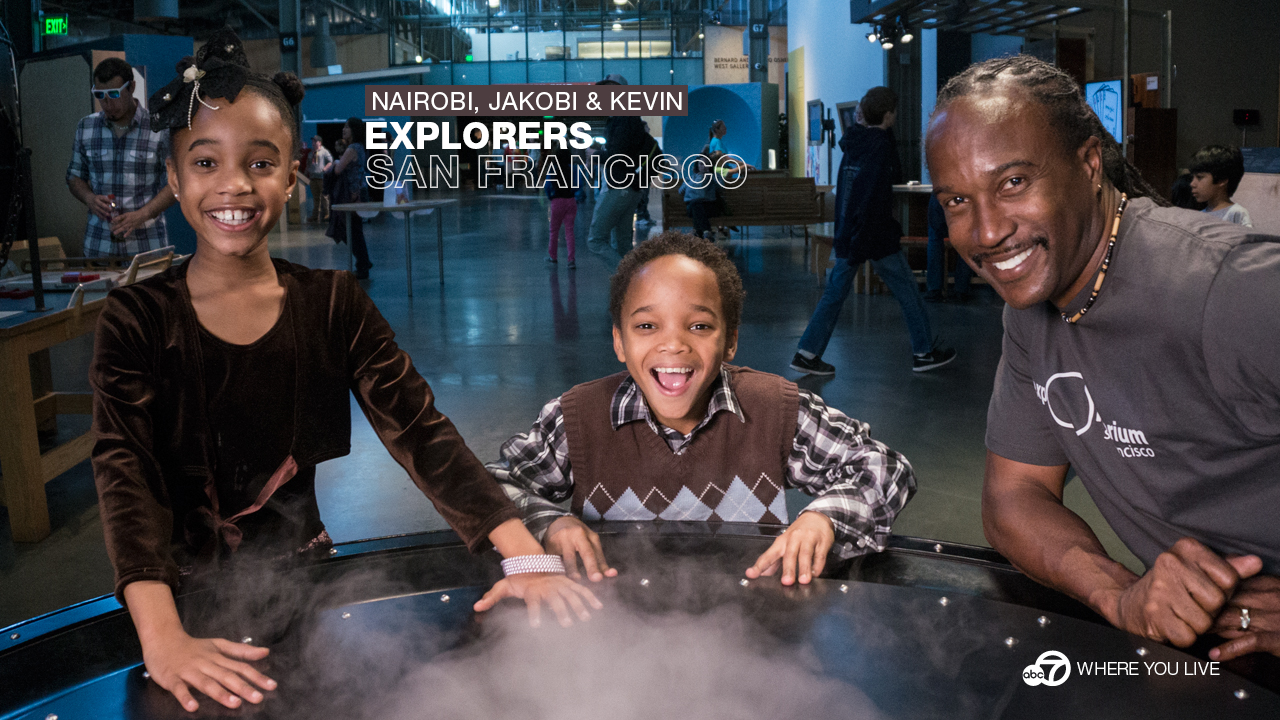 THE EXPLORERS:
Twins Nairobi and Jakobi (along with dad Kevin) love to explore...and what better place to satisfy curious minds than the
Exploratorium
! ABC7 is a proud neighbor and partner of the Exploratorium. If you haven't seen
their new space at Pier 15
, check it out! P.S. Mom Sakai would usually be exploring, too, but she's on tour singing with the Bay Area band Train.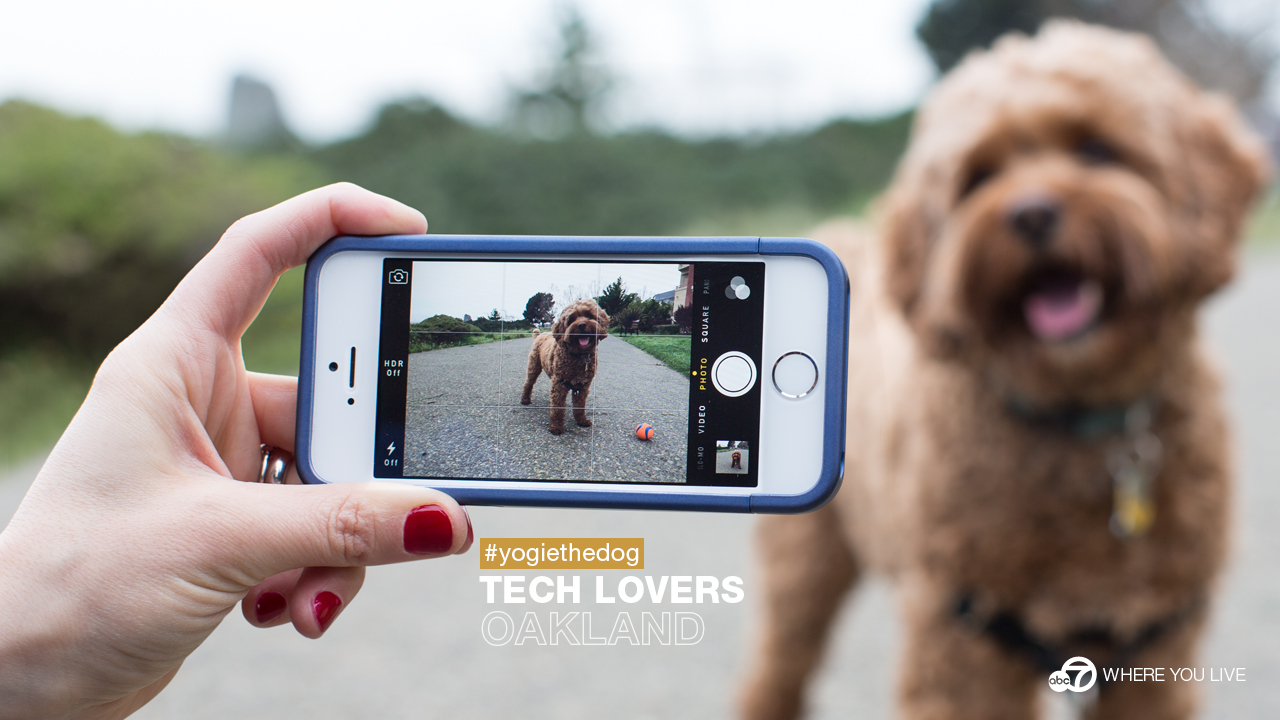 THE TECH LOVERS:
People in the Bay Area love their technology...and their pets! Meet #yogiethedog from Oakland. He loves long hikes, lazy naps, and chasing his favorite ball Chucky. His mom Katie posts it all on Instagram. Share your pet pics with #abc7pets and maybe you'll see them on TV!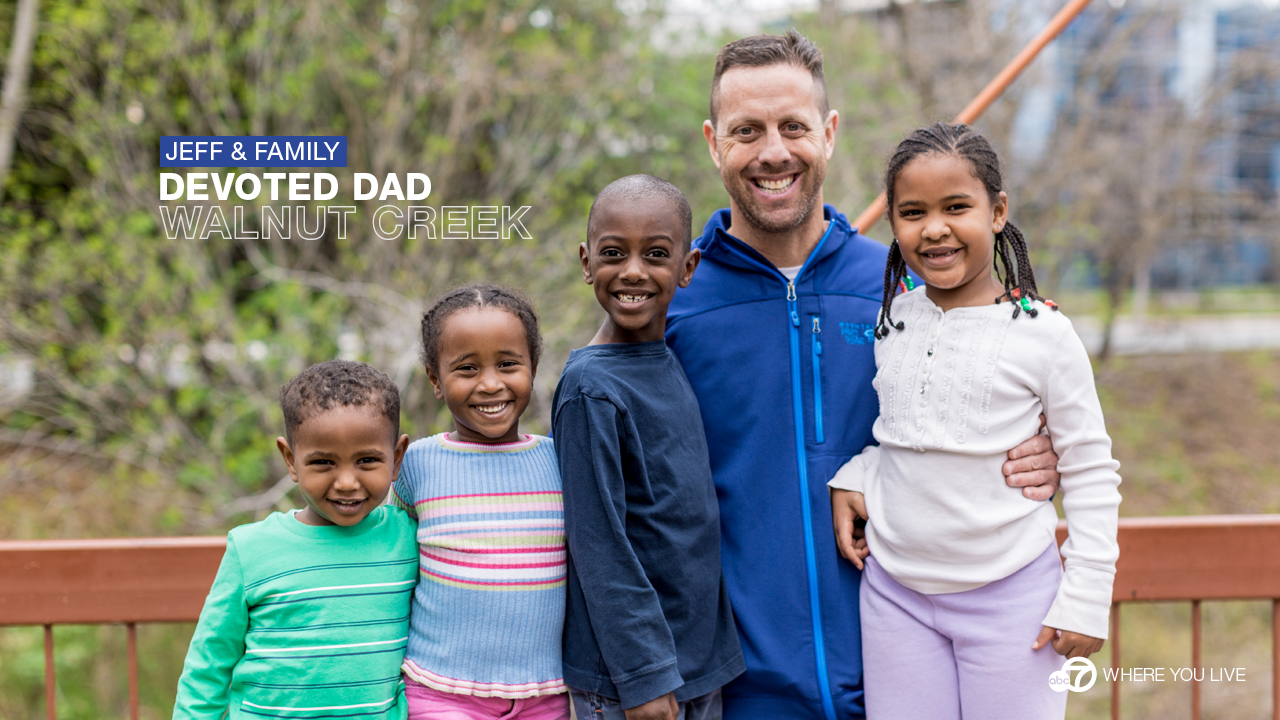 THE DEVOTED DAD:
We fell in love with this
Loving Family
.
Jeff Loving
and his wife Brenda adopted 4 beautiful children from Ethiopia. Sadly, Brenda passed away shortly after their family was complete. Jeff may be a single dad now, but he's far from alone. "Mr. Loving," as he's known to his students, has the support of the whole Walnut Creek community...and beyond. We believe his story will inspire you.
Help
the Loving Family with their happy ending!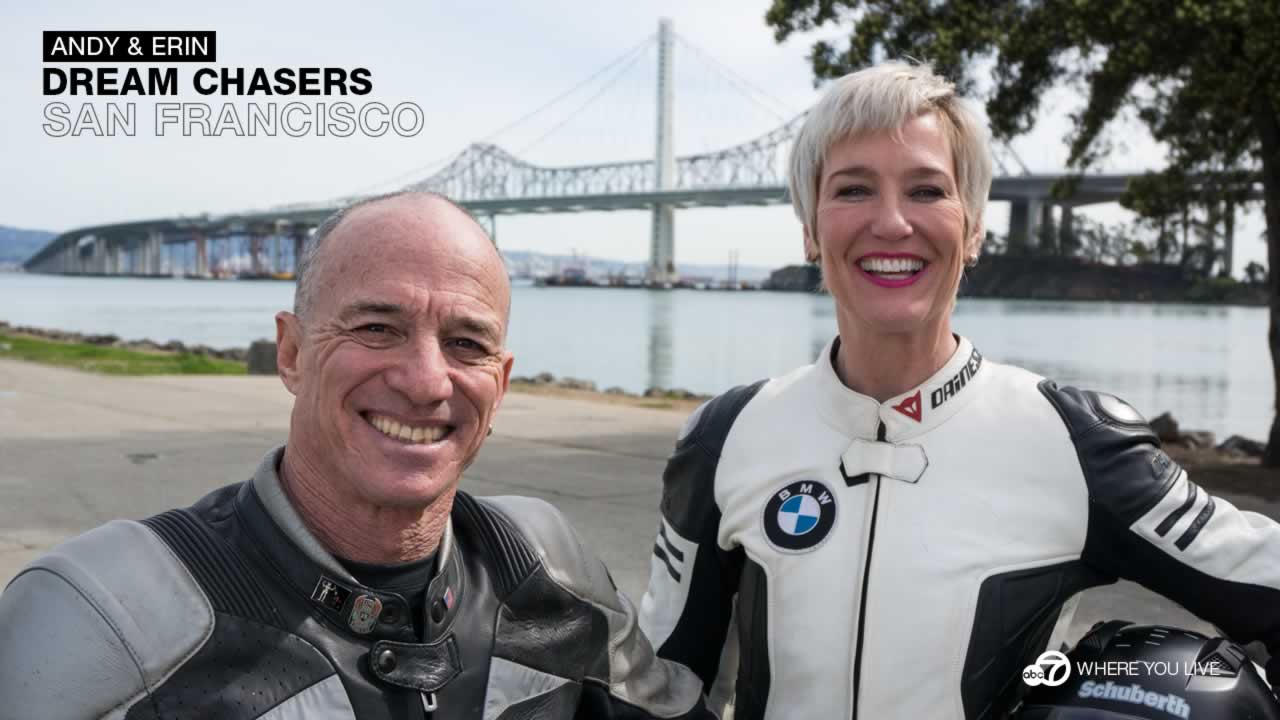 THE DREAM CHASERS:
Andy Sills and Erin Hunter Sills
chase their dreams right into the record books. In fact, together this couple holds more than 20 World, National and Guinness World Records. They live life full-throttle, even when they're not on their bikes. Keep up with
Hunter Sills Racing
on Facebook!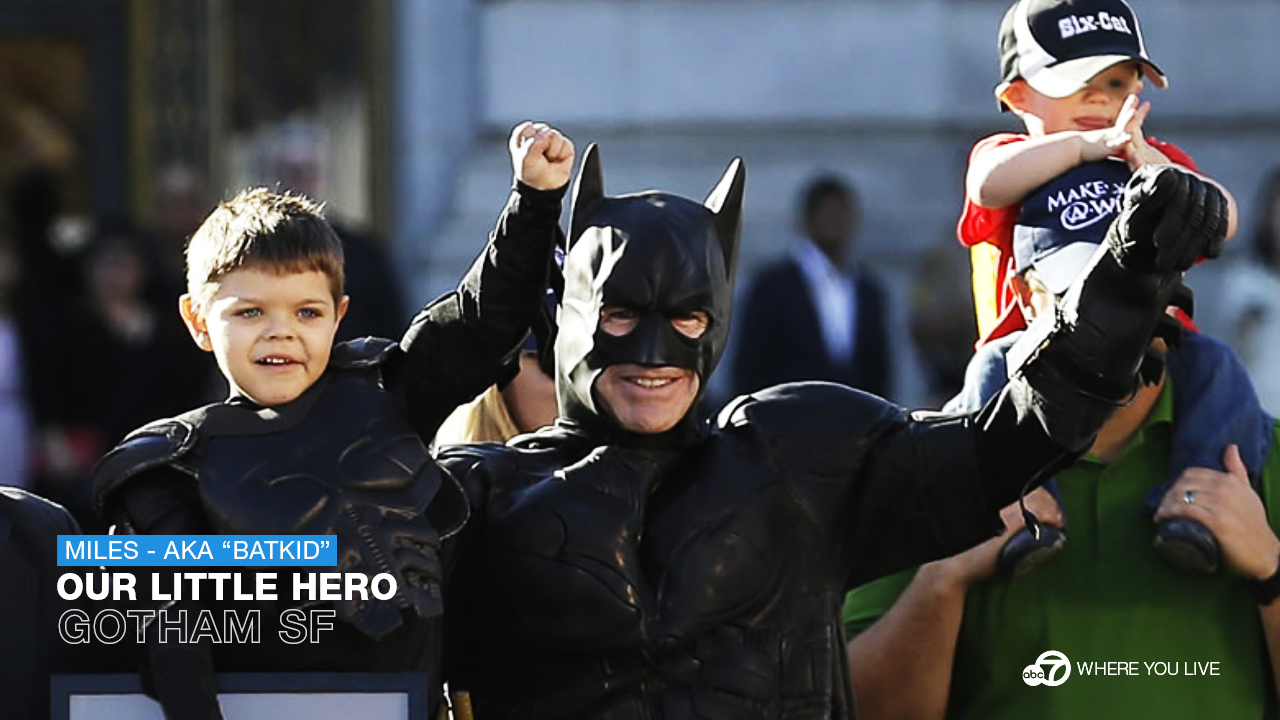 OUR LITTLE HERO:
Where were you the day
Batkid
saved the City? Probably glued to your TV or Twitter -- we were, too! Who knew that Mile's one wish would make everyone in the Bay Area stop, enjoy the moment and spread the joy. Best day ever!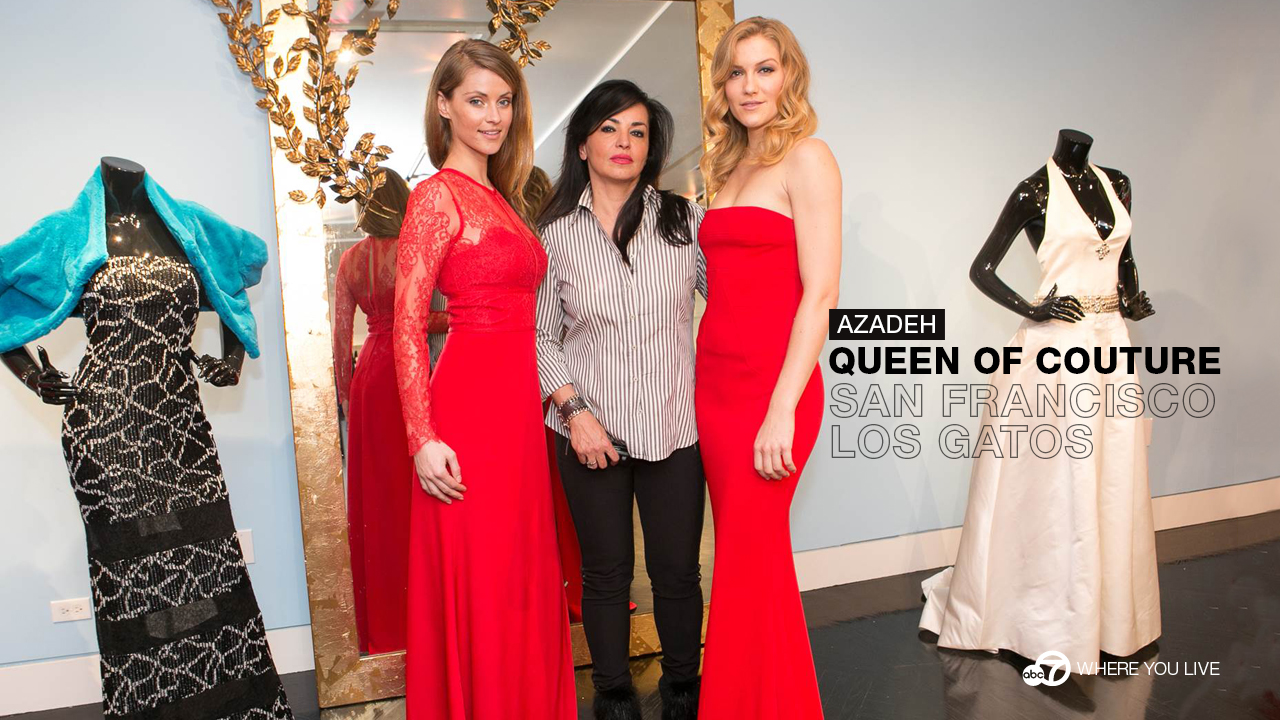 QUEEN OF COUTURE:
Azadeh
is Bay Area fashion royalty; in fact her designs are literally fit for a queen. She created garments for the Royal family of Saudi Arabia before styling her way to the Bay Area more than 20-years ago. Today, Azadeh's designs grace hi-fashion catwalks and Oscar's red carpet, but this "Queen of Couture" believes anyone can have great style! Find Azadeh on
Facebook
.