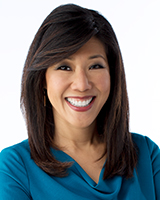 I got my start in TV playing a boy. In Taiwan where I was born, my mother was a Chinese Opera singer and actress. So I grew up on the set, playing walk-on roles. The journalism part came later, after my family moved to the U.S. and settled in the Bay Area on the Peninsula. In high school, I began writing for the school newspaper, honing my newly-acquired English skills. I loved it. I had a ticket to meet people, ask questions and get answers. The mission forced me to come out of my shell and overcome my shyness! At U.C. Berkeley, I reported for the campus radio station KALX while interning at nearly every Bay Area TV station. I felt my news sense kick into high gear during the Loma Prieta quake. I had driven across the Bay Bridge only an hour before the partial collapse. I immediately drove to the station where I was interning. Since it was all hands on deck, I got the chance to get interviews and write some stories. When I heard the first story I wrote go over the air, it was a defining moment. I knew this was it for me. I reported in Binghamton, New York, Fresno, Philadelphia and New York City before coming home to the Bay Area and ABC7 News in 1998. Dream come true!

What I find most rewarding in anchoring is providing continuous coverage during breaking news. That is when our community needs us most, when it counts on us to deliver accurate, important information in real time. That's also why I enjoy tweeting during the newscast. It's gratifying getting instant feedback and sharing information with our viewers! Tweet me anytime or find me on Facebook and Instagram.

When I'm not anchoring, I'm volunteering at my two kids' school, rooting for my Cal Bears and the Giants, bargain-hunting or thinking about running.

Kristen Sze has been with ABC7 News since 1998. She currently co-anchors ABC7 News at 11 a.m. and 5 p.m. weekdays. Her reports can be seen on ABC7 News at 4 p.m. and 6 p.m.

Voted 'Best News Anchor' in 2011 by San Francisco BayList, Sze also won a 2002 Emmy Award for her work hosting ABC7's "Profiles of Excellence." In 1999, she won an Emmy Award for best Children/Youth Segment.

Sze has Bachelor of Arts in Political Science at the University of California at Berkeley. She is member of the Phi Beta Kappa Honor Society. A scholarship from the Asian American Journalists Association enabled Sze to study at Oxford University in England.

Kristen Sze also volunteers with a number of community organizations, among them the Ronald McDonald House of San Francisco, the Chinese American Voter Education Committee, Chinatown Community Children's Center, San Mateo County's Childcare Coordinating Council, Self Help for the Elderly, Chinese Historical Society in San Francisco, Angel Island Immigration Station Foundation, Professional Businesswomen's Conference, Rotary Club of San Mateo's "Reach for the Stars," honoring high school leaders. She has also worked with both the San Mateo County Women's Hall of Fame and the Crisis Center where she has been a crisis counselor and helped fundraise for San Francisco City College's Culinary Arts and Hospitalities program.
---