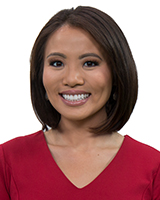 My first day on-air at ABC7 started with an engineer handing me a big red bag which contained my fireproof suit, a helmet and face mask. Dumbfounded, I stood there staring at the bag and asked myself: "What have I gotten myself in to!?"

The North Bay fires had just broken out and within an hour, I was in the epicenter of the destruction. The adrenaline kicked in. From neighborhoods of multi-million dollar homes to mobile home parks, the flames showed no mercy. Fire victims were stumbling through the street, dazed and covered in thick black ash. The air so thick with smoke, it burned your lungs and tears would stream down your face.

Despite the chaos and gut-wrenching sadness, being able to tell their stories was an honor and a privilege and it reminded me of why I got into this crazy TV news business in the first place.

The path to ABC7 News started when I was a small child, and my parents, two immigrants from Hong Kong and Taiwan wanted me to learn how to speak "proper" English and would sit me in front of the TV to watch ABC's 20/20. Hugh Downs and Barbara Walters were my heroes. It struck me as I got older, maybe I could give others a voice like they did.

Former mentors, starting from my high school TV teacher, Mr. Lewis, to another Mr. Lewis who was, at the time, news director at a station in Hartford, Connecticut helped give me my start as a student reporter.

From there, the business brought me to Springfield, Massachusetts as a bureau reporter, then Kansas City as a weekend and then weekday morning anchor, primary evening anchor/reporter in Charlotte and most recently, main anchor/reporter in Tampa Bay. The journey has taken me from ground zero after hurricanes and tornadoes to broadcasting in a booth next to Michelle Obama at the Democratic National Convention, and to Hollywood for red carpet TV show premieres. You really never know what your day is going to be like in this business.

While I don't have any personal Emmy awards, I am proud to have been voted "Best Morning Anchor" and "Best TV Personality" by different publications in Kansas City and Charlotte, and then named one of the nation's top 18 leaders under 34 in TV by Broadcast & Cable Magazine. To me, those kinds of acknowledgments mean more than a golden statue.

Having those roles allowed me to pursue community involvement projects, such as developing programs for women's professional groups and students revolving around the theme of laughter, empowerment and being authentic. This is my passion. Using those platforms, sharing my own personal struggles in navigating a very competitive business as a minority woman, I've contributed to the Huffington Post and written a series for Amy Poehler's Smart Girls website and signed on last year as an author for Full Circle Literary.

When I'm not on TV, you'll find me with friends exploring all the amazing food available in the Bay Area, traveling around the world and volunteering and acting as an ambassador for the non-profit Best Buddies. My husband, a professional poker player and I are the parents of a Miniature Dachshund named Daphne and a Yorkie named Georgie. Fun Fact: I have a sushi roll named after me at The Cowfish restaurant in Charlotte, Atlanta and inside Universal Studios City Walk...and yes. My parents were big Dionne Warwick fans!
---